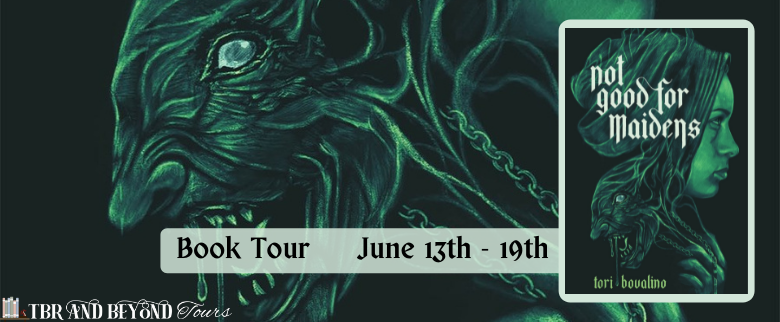 Welcome to my stop on the blog tour for Not Good For Maidens by Tori Bovalino.  This tour is being hosted by TBR and Beyond Tours.
Not Good for Maidens by Tori Bovalino
Genre: Young Adult Fantasy Horror
Publishing Date: June 21, 2022
Salem's Lot meets The Darkest Part of the Forest in this horror-fantasy retelling of Christina Rossetti's "Goblin Market."
Lou never believed in superstitions or magic–until her teenage aunt Neela is kidnapped to the goblin market.
The market is a place Lou has only read about–twisted streets, offerings of sweet fruits and incredible jewels. Everything–from the food and wares, to the goblins themselves–is a haunting temptation for any human who manages to find their way in.
Determined to save Neela, Lou learns songs and spells and tricks that will help her navigate this dangerous world and slip past a goblin's defenses–but she only has three days to find Neela before the market disappears and her aunt becomes one of them forever.
If she isn't careful, the market might just end up claiming her too.
Content warnings: on-page gore, on-page body horror, violence, trauma
Book Links:
Goodreads: https://www.goodreads.com/book/show/58724694-not-good-for-maidens 
Amazon: https://www.amazon.com/gp/product/1645674665/ref=x_gr_w_bb_sin?ie=UTF8&tag=x_gr_w_bb_sin_ca-20&linkCode=as2&camp=15121&creative=330641 
Barnes & Noble: https://www.barnesandnoble.com/w/not-good-for-maidens-tori-bovalino/1139985311?ean=9781645674665 
Book Depository: https://www.bookdepository.com/Not-Good-For-Maidens-Tori-Bovalino/9781789098150?ref=grid-view&qid=1648671502035&sr=1-1 
Indigo: https://www.chapters.indigo.ca/en-ca/books/not-good-for-maidens/9781645674665-item.html?ikwid=not+good+for+maidens&ikwsec=Home&ikwidx=0#algoliaQueryId=b24e6fa29b6f510907300060bf4cb73c 
IndieBound: https://www.indiebound.org/book/9781645674665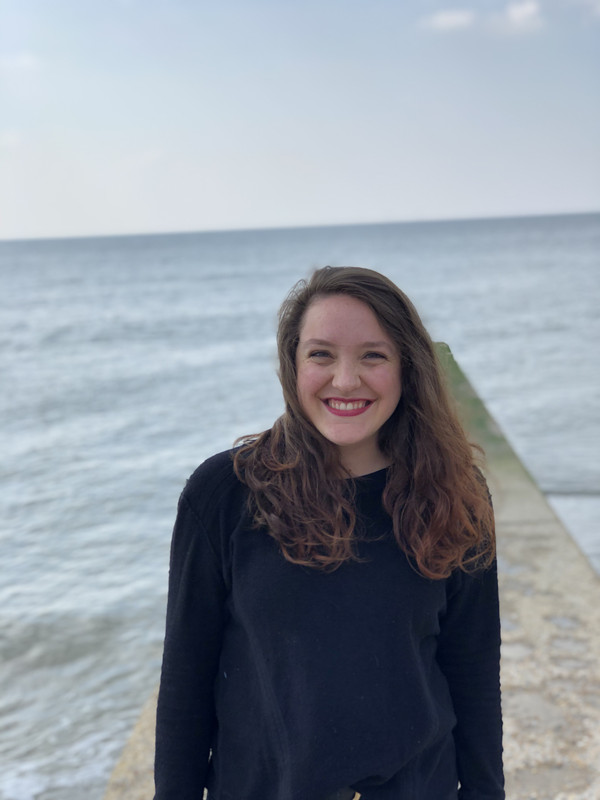 Tori Bovalino grew up near Pittsburgh, Pennsylvania, and never knew she wanted to live abroad until she was already in London. She's awful at picking favorites, but her consistent go-to books are Pride and Prejudice, Fire, and The Picture of Dorian Gray. She's enamored with books that make her cry.
Tori holds a BA in English fiction writing and anthropology and a minor in German from the University of Pittsburgh and an MA in Creative Writing from Royal Holloway, University of London. She is currently on the Creative and practice-based PhD course at RHUL, researching the relationship between Russian folklore and YA fantasy novels. In her free time, Tori enjoys reading (duh), embroidering, and traveling.
She is represented by Dr. Uwe Stender and Amelia Appel at TriadaUS Literary Agency. She writes short stories, poetry, and novels.
Author Links:
Website: https://toribovalino.com/ 
Twitter: https://twitter.com/toribov 
Instagram: https://www.instagram.com/toribovalino/ 
Goodreads: https://www.goodreads.com/author/show/17672189.Tori_Bovalino 
Follow The Tour:
June 13th
Kait Plus Books – Interview
Nine Bookish Lives – Promotional Post
Brinn's Books – Review, Favorite Quotes
Becky's Book Blog – Review
June 14th
The Cozy Archives – Review & Favorite Quotes
Confessions of a YA Reader – Promotional Post
Althea Is Reading – Review
Clouded Galaxy Reads – Review
June 15th
Book Notes by Athina – Promotional Post
Ink Slinger – 15 Reactions While Reading Not Good for Maidens
Beneath A Thousand Skies – Review
Metaphors and Miscellanea – Review & Favorite Quotes
June 16th
Quills and Stardust – Interview
Inking & Thinking – Review & Playlist
Stuck in the Stacks – Review
Modest Hiccup – Top 5 Reasons to Read Not Good for Maidens & Mood Board
June 17th
Phannie the ginger bookworm – 15 Reactions While Reading Not Good for Maidens
The Book Dutchesses – Promotional Post
Justice For Readers – Top 5 Reasons to Read Not Good for Maidens
Gwendalyn's Books – Review
June 18th
stories with saima – Review
Lu is lost in books – Review
The Bookish Coven – Promotional Post
The Nerdy Nook – Review & Favorite Quotes
June 19th
A Court of Coffee and Books – Interview
Stuck in Fiction – Promotional Post
Unabridged Adventures – Review & Favorite Quotes
Literary Liza – Review & Favorite Quotes
Instagram:
June 13th
kerasalwaysreading – Review
tbrandbeyond – Promotional Post
ninebookishlives – Blogger's Choice
brinnsbooks – Blogger's Choice
June 14th
the.mixed.pages – Review & Favorite Quotes
folowing.fantasies – Top 5 Reasons to Read Not Good for Maidens
the.cozy.archives – Blogger's Choice
cloudedgalaxyreads – Blogger's Choice
June 15th
booknotes_athina – Blogger's Choice
aamnaiswriting_ – Blogger's Choice
metaphorsandmisc – Blogger's Choice
June 16th
onemused – Review
stuck.in.the.stacks – Blogger's Choice
modesthiccup – Blogger's Choice
June 17th
pcreads – Review & Favorite Quotes
justiceforreaders – Blogger's Choice
gwendalyn_reads – Blogger's Choice
June 18th
writingrosereads – Promotional Post
bookish.by.trade – Top 5 Reasons to Read Not Good for Maidens
luislostinbooks – Blogger's Choice
thenerdynoon – Blogger's Choice
June 19th
acourtofcoffeeandbooksblog – Blogger's Choice
feliciareads11 – Blogger's Choice
unabridged_adventures – Blogger's Choice
literarylize – Blogger's Choice