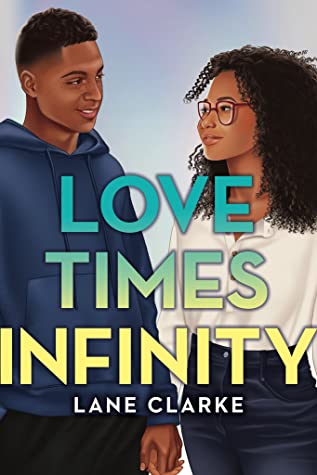 Love Times Infinity by Lane Clarke
Lane Clarke's debut LOVE TIMES INFINITY, about a 16-year-old girl busy with big dreams for college and the biggest crush on the school's new basketball superstar—but when her estranged mother suddenly reappears in her life, she faces important questions about the chances she's willing to take on herself and her future, to Alexandra Hightower at Poppy, in a significant deal, at auction, in a two-book deal, for publication in summer 2022, by Pete Knapp at Park & Fine Literary and Media (world English).
Content Warnings: depictions of anxiety and depression, discussions of sexual assault, discussions of abortion, alcohol use, discussions of alcoholism, parental abandonment, grandparent death (backstory, off page)
Love Times Infinity is a book about family, friendship, and realizing that you're not just your experiences.
Michie lives with her grandma. She moved in with her when she was 5 years old and her mom gave her a choice. Michie's mom got pregnant after being raped at 15. She kept the baby, but she also resented her. Michie was a reminder of the worst day of her life and she didn't know how to be a mom. She was smart and had goals for college and her future. Being a mom wasn't a part of that. Because of this, Michie struggles with self worth. She figures that if her mom can't love her, then no one can. She doesn't think she deserves it and pushes people away. JoJo is her best friend (I loved her) and she has been with her through everything, including the previous incident (see warnings below). Michie goes to group therapy and it helps, but she is having a hard time believing that she even deserves to go to the college of her choice. A new boy at school, Derek, starts spending time with her. It's obvious that they both like each other as more than friends, but Michie is afraid to give in to love. Derek and JoJo both have their own family struggles that they're dealing with too. When Michie's mom says she wants to see her, Michie has to figure out if it will be worth the pain. She struggles a lot, but she has her grandma and friends that love her unconditionally. They're her biggest cheerleaders.
I gave this book 4 stars. Thank you to the publisher and Netgalley for my earc.
Warnings for depression, anxiety, death, parental abandonment, sexual assault, abortion, alcoholism, wanting to die.
Have you read this yet?  Is it on your TBR?