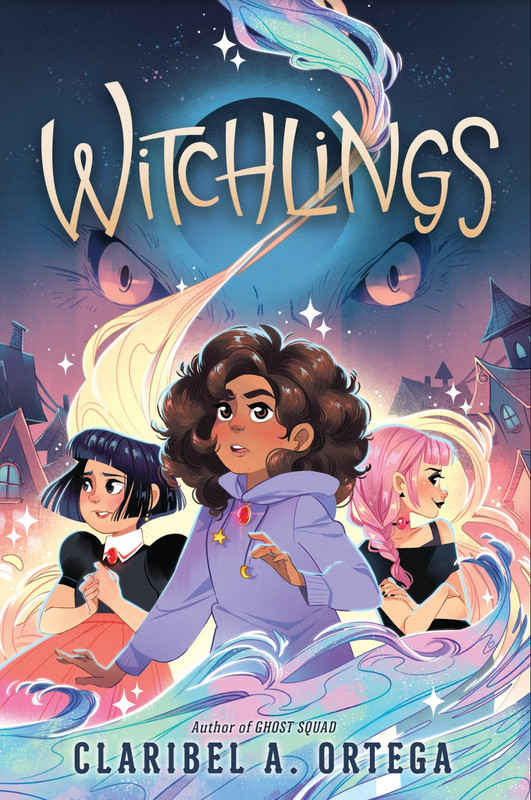 Witchlings by Claribel A. Ortega 
A magical adventure for fans of Amari and the Night Brothers and Nevermoor, about three witchlings who must work together to do the impossible if they have any hope of earning their full powers.
Every year, in the magical town of Ravenskill, Witchlings who participate in the Black Moon Ceremony are placed into covens and come into their powers as full-fledged witches.
And twelve-year-old Seven Salazar can't wait to be placed in the most powerful coven with her best friend! But on the night of the ceremony, in front of the entire town, Seven isn't placed in one of the five covens. She's a Spare!
Spare covens have fewer witches, are less powerful, and are looked down on by everyone. Even worse, when Seven and the other two Spares perform the magic circle to seal their coven and cement themselves as sisters, it doesn't work! They're stuck as Witchlings—and will never be able to perform powerful magic.
Seven invokes her only option: the impossible task. The three Spares will be assigned an impossible task: If they work together and succeed at it, their coven will be sealed and they'll gain their full powers. If they fail… Well, the last coven to make the attempt ended up being turned into toads. Forever.
But maybe friendship can be the most powerful magic of all…
With action-packed adventure, a coven of quirky witchlings, Claribel A. Ortega's signature humor and girl-power vibes, this middle grade Latine witch story is truly a modern classic.
I really loved this one.
Seven and Poppy are best friends. They are getting chosen for their covens soon and they want to be together. There are 28 kids and each coven has 5. The leftover 3 are spares and they basically lose their magic and get treated poorly. Seven is already good with her magic and she's sure she'll get her chosen coven. When Poppy gets picked, Seven gets excited. But then her necklace didn't light up. Not only is she a spare, but she's a spare with the new girl Thorn and her bully Valley. Instead of just letting it go, Seven invokes this Clause of the Impossible Task. If they complete this task, they can get their circle closed. Only 8 covens have invoked it and only 1 solved it. The girls are tasked with finding a nightbeast and this might just kill them. They have to not only find it, but stop it from eating children and growing stronger. The beast wants Seven's brother because he's really strong.
The girls have to work together and it's not easy at first. But over time, their friendship grew and they learned to trust each other. The friendship was great in this one and I really liked all of it. There is a little mention and hints of abuse, so please be aware.
I gave this book 5 stars.
Have you read Witchlings yet?