I have no idea how it's already June.  This month, TBR and Beyond will be doing a challenge for Pride month.  You can join HERE.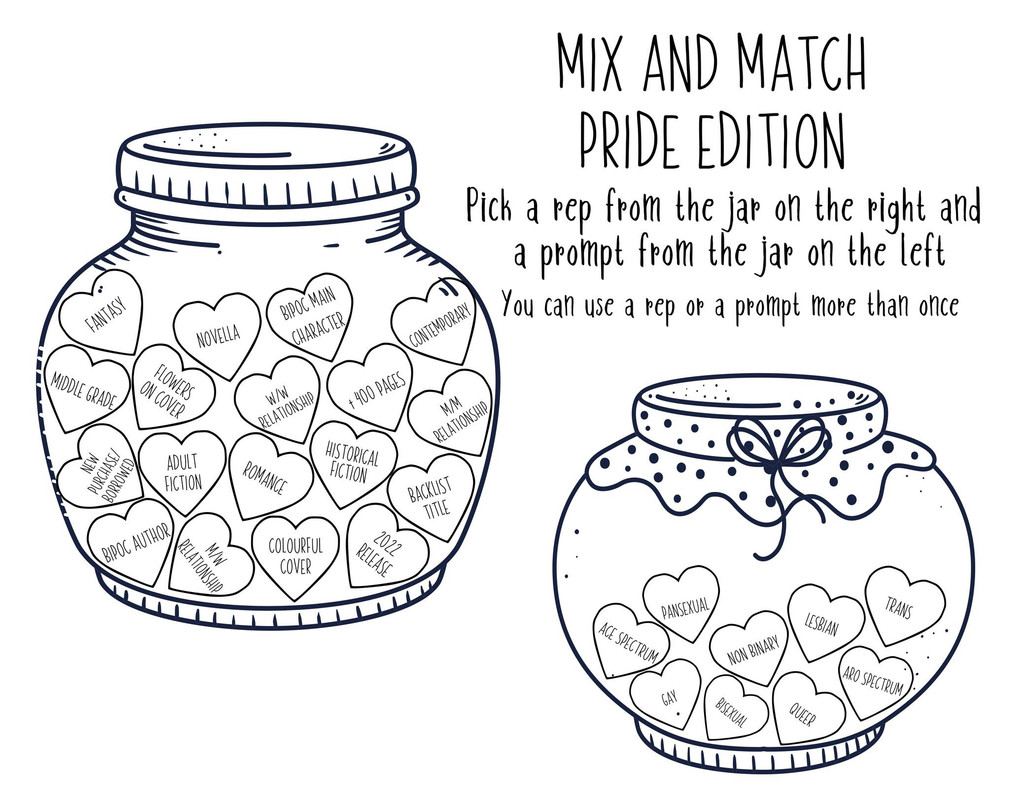 The Rules:
This month our challenge is Mix and Match – Pride Edition!
Very easy, Pick LGBTQ+ Representation from the Rep jar and then pick a Prompt from the Prompt jar and read a book that matches both. You don't have to complete every prompt. You can pick either prompts or reps multiple times, Mix and Match your heart away! The graphics for the challenge are attached to this post, as well in the general feed.
Feel free to print it out and mark it up as you please.
You can interpret the words however you wish.
Prize this month will be any book from Book Depository (up to $15 US).
Prize Entries –
Each book read is worth one entry.
Finish 5 prompts – 5 extra entries.
Finish 10 prompts – 50 extra entries
This is a nice easy challenge. I hope you all have fun.
Representations:
-Pansexual
-Non-Binary
-Lesbian
-Trans
-Ace Spectrum
-Gay
-Bisexual
-Queer
-Aro Spectrum
Prompts:
-Fantasy
-Middle Grade
-New Purchase/Borrowed
-BIPOC Author
-M/W Relationship
-Adult Fiction
-Flowers on the cover
-Novella
-W/W Relationship
-Romance
-Colourful Cover
-BIPOC Main Character
– +400 pages
-Historical Fiction
-2022 Release
-Backlist Title
-M/M Relationship
-Contemporary
Will you be joining this challenge?  What books do you have planned for June?