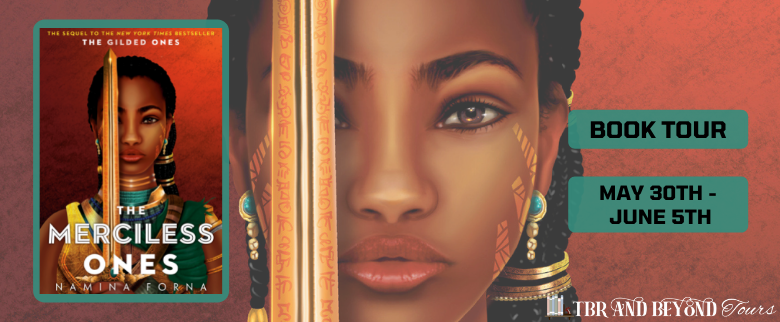 Welcome to my stop on the blog tour for The Merciless Ones by Namina Forna.  This tour is being hosted by TBR and Beyond Tours.
The Merciless Ones (The Gilded Ones #2) by Namina Forna
Genre: Young Adult Fantasy
Publishing Date: May 31, 2022
Fans of The Gilded Ones and Children of Blood and Bone will love the second book in an epic fantasy series about a girl who is the key to saving the empire–or its greatest threat.
It's been six months since Deka has freed the goddesses and discovered who she really is. There are now wars waging across the kingdom. Otereans now think jatu are traitors to the nation. Deka is called a monster.
But the real battle has only just begun and Deka must lead the charge. Deka is tasked with freeing the rest of the goddesses. Only as she begins to free them, she begins to see a strange symbol everywhere in places of worship and worn on armor. There's something unnatural about that symbol; just looking at it makes Deka lose her senses. Even worse, it seems to repel her powers. She can't command or communicate with the new deathshrieks. In fact, she can't even understand them when they speak.
Deka knows freeing the goddesses is just the beginning. She can tell whatever dark force out is powerful and there is something sinister out there threatening the kingdom connected to that symbol–something merciless–that her army will need to stop before humanity crumbles. But Deka's powers are only getting stronger…and her strongest weapon could be herself.
Content Warning: scenes of violence, including some graphic violence and description of sexual assault
Book Links:
Goodreads: https://www.goodreads.com/book/show/40126014-the-merciless-ones 
Amazon: https://www.amazon.com/gp/product/1984848720/ref=x_gr_w_bb_sin?ie=UTF8&tag=x_gr_w_bb_sin_ca-20&linkCode=as2&camp=15121&creative=330641 
Barnes & Noble: https://www.barnesandnoble.com/w/the-gilded-ones-2-namina-forna/1139798120?ean=9781984848727 
Book Depository: https://www.bookdepository.com/Gilded-Ones-2-Merciless-Ones-Namina-Forna/9781984848727?ref=grid-view&qid=1647367767911&sr=1-3 
Indigo: https://www.chapters.indigo.ca/en-ca/books/the-gilded-ones-2-the/9781984848727-item.html?ikwid=the+merciless+ones&ikwsec=Home&ikwidx=0#algoliaQueryId=285cd09e9ada7c584ed24d77d4ed52f7 
IndieBound: https://www.indiebound.org/book/9781984848727 
This is a book two, so there are spoilers for book one below.
This is a tough one to review without giving anything away. Deka can understand all the descendants of the Gilded Ones now that she's the Nuru. She can even make them obey commands. But a symbol shows up and it makes her feel weird. And she can't control them now. There are rumors of another God, but Deka knows that the mothers are the only Gods. But the name Idugu keeps coming up. The mothers send Deka and her friends to get information and then kill Elder Kadrili. He's been the one speaking for Idugu. The mothers also task them with getting the angoro. They said it's basically a weapon that Idugu has. Deka starts feeling Idugu and believes he's real. But if there is another god, why did the mothers day he isn't real? There are memories that are also being erased and no one knows why. They start to remember and then lose their train of thoughts. Something is really wrong and Deka starts to question the mothers more. But if she questions or doubts them, they will reject her. She's torn on what to do, but she knows her powers are growing and no one seems to be honest with her.
The second half of the book was very fast paced. The friendships are just incredible in this book. I also enjoyed the bits of romance throughout the book, but I was also glad it wasn't the main focus. There are some parts that are violent and hard to read, but this is a great second book. I'm really looking forward to book three.
I gave this 4 1/2 stars rounded up to 5 on Goodreads.
Thank you to the publisher and Netgalley for my earc.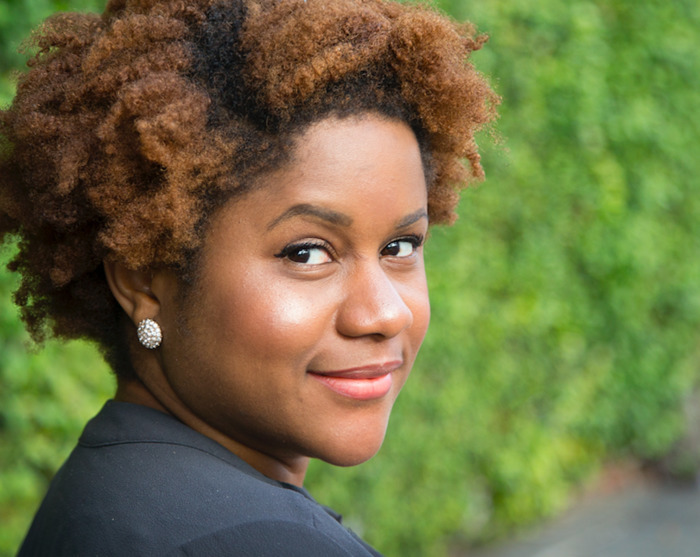 Namina Forna is a young adult novelist based in Los Angeles, and the author of the upcoming epic fantasy YA novel The Gilded Ones. Originally from Sierra Leone, West Africa, she moved to the US when she was nine and has been traveling back and forth ever since. Namina has an MFA in film and TV production from USC School of Cinematic Arts and a BA from Spelman College. She works as a screenwriter in LA and loves telling stories with fierce female leads.
Author Links:
Website: https://naminaforna.com/home 
Twitter: https://twitter.com/NaminaForna 
Instagram: https://www.instagram.com/namina.forna/?hl=en 
Goodreads: https://www.goodreads.com/author/show/17999114.Namina_Forna 
Follow The Tour:
May 30th
Nine Bookish Lives – Promotional Post
Reading Stewardess – Review
Lit lemon books – Review & Favorite Quotes
laura's bookish corner – Promotional Post
May 31st
Stuck in Fiction – Promotional Post
Amani's Honest Reviews – Review & Playlist
One More Chapter – Review
Kerri McBookNerd – 15 Reactions While Reading The Merciless Ones
June 1st
Kait Plus Books – Promotional Post
Purposely Unperfect – Review & Playlist
The Girl Who Reads – Review
Ashes of a Book Dragon – Top 5 Reasons to Read The Merciless Ones
June 2nd
Rae's Reading Lounge – Review & Favorite Quotes
A Realm of Books – Review
paperbacktomes – Top 5 Reasons to Read The Merciless Ones
June 3rd
AndOnSheReads – Review
Literary Liza – Review & Favorite Quotes
Book Notes by Athina – Promotional Post
Avni Reads – Review
June 4th
Book Lover's Book Reviews – Promotional Post & Tik Tok
Confessions of a YA Reader – Review
Modest Hiccup – 15 Reactions While Reading The Merciless Ones
The Written Journey – Review & Favorite Quotes
June 5th
Oyinda Loves Books – 15 Reactions While Reading The Merciless Ones
The Bookish Coven – Review & Favorite Quotes
The Book Dutchesses – Promotional Post
Boekensteeg – Review & Favorite Quotes
Instagram:
May 30th
stitchsaddiction – Review
harshlareads – Review & Favorite Quotes
ninebookishlives – Blogger's Choice
booksandpops4000 – Blogger's Choice
May 31st
pcreads – Top 5 Reasons to Read The Merciless Ones
feliciareads11 – Blogger's Choice
_leahreads – Blogger's Choice
kerri_mcbooknerd – Blogger's Choice
June 1st
thebookwebb – Promotional Post
purposelyunperfect – Blogger's Choice
bookstagramofmine – Blogger's Choice
ashesofabookdragon – Blogger's Choice
June 2nd
luna_reads_ – Journal Spread
jl_books – Blogger's Choice
paperbacktomes – Blogger's Choice
June 3rd
tbrandbeyond – Promotional Post
literary_lizard – Blogger's Choice
booknotes_athina – Blogger's Choice
avnireads – Blogger's Choice
June 4th
writingrosereads – Promotional Post
bookloversbookreviews – Blogger's Choice
modesthiccup – Blogger's Choice
thewrittenjourney_ – Blogger's Choice
June 5th
the_ya_assassin – Top 5 Reasons to Read The Merciless Ones
iambibliomane – Review
oyindalovesbooks – Blogger's Choice
boekensteeg – Blogger's Choice