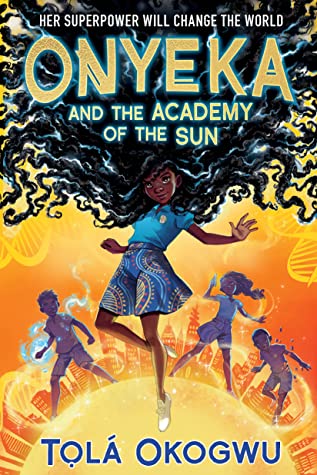 Onyeka and the Academy of the Sun by Tola Okogwu
Black Panther meets X-Men in this action-packed and empowering middle grade adventure about a British Nigerian girl who learns that her Afro hair has psychokinetic powers—perfect for fans of Amari and the Night Brothers, The Marvellers, and Rick Riordan!
Onyeka has a lot of hair­—the kind that makes strangers stop in the street and her peers whisper behind her back. At least she has Cheyenne, her best friend, who couldn't care less what other people think. Still, Onyeka has always felt insecure about her vibrant curls…until the day Cheyenne almost drowns and Onyeka's hair takes on a life of its own, inexplicably pulling Cheyenne from the water.
At home, Onyeka's mother tells her the shocking truth: Onyeka's psycho-kinetic powers make her a Solari, one of a secret group of people with super powers unique to Nigeria. Her mother quickly whisks her off to the Academy of the Sun, a school in Nigeria where Solari are trained. But Onyeka and her new friends at the academy soon have to put their powers to the test as they find themselves embroiled in a momentous battle between truth and lies…
Expected publication: June 14th 2022 by Margaret K. McElderry Books
This is a great start to a new series full of great characters.
Onyeka is twelve and has always had hair that no one can manage. People stare and talk about her. The only one who doesn't seem bothered by it is her best friend, Cheyenne. When Onyeka and Cheyenne are swimming, Cheyenne starts to drown. Onykea goes after her, but she can't help and is starting to drown too. But then somehow, Onyeka's hair saves them. No one saw it, but Onyeka knew what she felt. Her emotions brought out a power she didn't know she had. Onyeka's mom finally has to tell her the truth about her father. He is a Solari. They're kind of like mutants and each one has power. Onyeka's dad disappeared and her mom took her to England to keep her safe. They moved around a lot and she was able to help Onyeka control her emotions. She knew that it would bring out the power and they had to hide. But since she now knows, Onyeka's mom takes them back to Nigeria. Her mom is going to find her dad and Onyeka is left at an academy to learn how to use and control her power. Here she meets other kids like her. Over time, they bond and become family. There is someone who has been after Onyeka and know one understood why. Once they find out, the kids have to decide if they should stick together as a team or not.
I loved this and gave it 5 stars.
Thank you to Simon and Schuster for my review copy.
Have you read this yet?  Is it on your TBR?