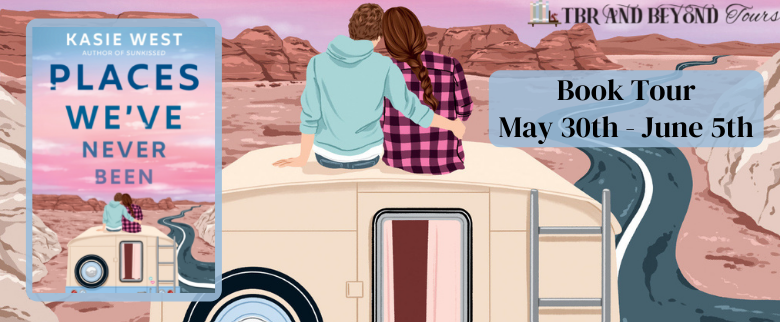 Welcome to my stop on the blog tour for Places We've Never Been by Kasie West.  This tour is being hosted by TBR and Beyond.
Places We've Never Been by Kasie West
Genre: Young Adult Contemporary
Publishing Date: May 31, 2022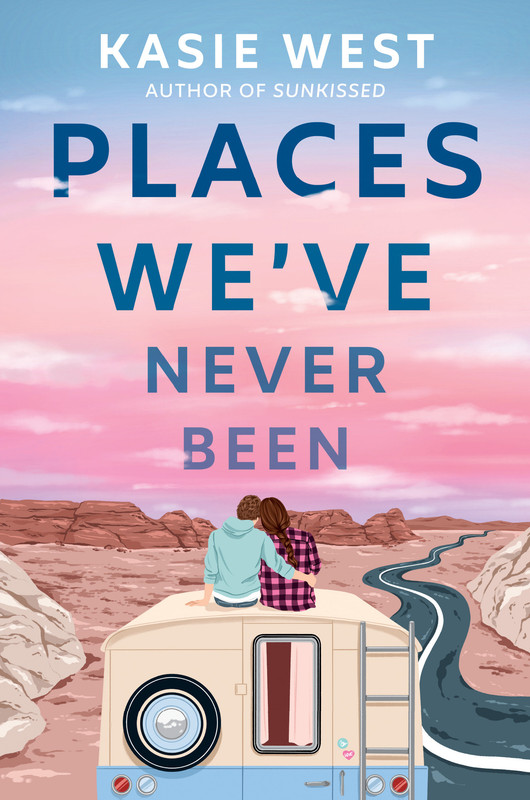 A sweet and swoony contemporary Young Adult novel about a cross-country family road trip that puts one girl and her childhood best friend on an unexpected road to romance!
Norah hasn't seen her childhood best friend, Skyler, in years. When he first moved away, they'd talk all the time, but lately their relationship has been reduced to liking each other's Instagram posts. That's why Norah can't wait for the joint RV road trip their families have planned for the summer.
But when Skyler finally arrives, he seems…like he'd rather be anywhere else. Hurt and confused, Norah reacts in kind. Suddenly, her oldest friendship is on the rocks.
An unexpected summer spent driving across the country leads both Norah and Skyler down new roads and to new discoveries. Before long, they are, once again, seeing each other in a different light. Can their friendship-turned-rivalry turn into something more?
Book Links:
Goodreads: https://www.goodreads.com/book/show/58784452-places-we-ve-never-been 
Amazon: https://www.amazon.com/Places-Weve-Never-Been-Kasie/dp/0593176308/ref=sr_1_1?keywords=places+we%27ve+never+been&qid=1648500119&sr=8-1 
Barnes & Noble: https://www.barnesandnoble.com/w/places-weve-never-been-kasie-west/1140394045?ean=9780593176306 
Book Depository: https://www.bookdepository.com/Places-We-ve-Never-Been/9780593572542 
Indigo: https://www.chapters.indigo.ca/en-ca/books/places-weve-never-been/9780593176306-item.html?ikwid=places+we%27ve+never+been&ikwsec=Home&ikwidx=0#algoliaQueryId=721eee821e8064db6f3ce25b4402f5d5 
IndieBound: https://www.indiebound.org/book/9780593176306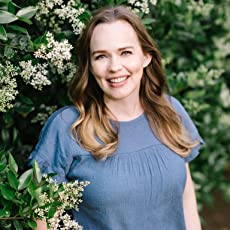 Kasie West is the author of many YA novels, including The Fill-in Boyfriend, P.S. I Like You, Lucky in Love, and Listen to Your Heart. Her books have been named ALA-YALSA Quick Picks, JLG selections, and ALA-YALSA Best Books for Young Adults. When she's not writing, she's binge-watching television, devouring books, or bury-ing her toes in the sand of the Central Coast. Kasie lives in Fresno, California, with her family.
Author Links:
Website: http://www.kasiewest.com/ 
Twitter: https://twitter.com/kasiewest 
Instagram: https://www.instagram.com/kasiewest/ 
Goodreads: https://www.goodreads.com/author/show/5027236.Kasie_West 
Facebook: https://www.facebook.com/profile.php?id=100057934607048
Follow The Tour:
May 30th
Stuck in Fiction – Review
The Book Dutchesses – Promotional Post
Books and Ladders – Review
May 31st
Nine Bookish Lives – Interview
Lost in Neverland – Review
Jen Jen Reviews – Review
Purposely Unperfect – Review & Playlist
June 1st
TeaTimeLit – Review
Confessions of a YA Reader – Promotional Post
I'm All Booked Up – Review
June 2nd
Kait Plus Books – Interview
Sophie Reads YA – Review
Paiges of Novels – Review & Playlist
PopTheButterfly Reads – Review
June 3rd
The Clever Reader – Interview
heylittlesiren – Review
Whispering Stories – Review & Favorite Quotes
June 4th
paperbacktomes – Mood Board
The Book View – Review & Mood Board
Cindy's Love of Books – Review
One More Chapter – Review
June 5th
The Human Curveball – Review
The Bookish Raven – Review
bookloversbookreviews – Promotional Post & Tik Tok
Instagram:
May 30th
augustisreading – Review & Favorite Quotes
cozybooktraveller – Book Look & Top 5 Reasons to Read Places We've Never Been
feliciareads11 – Blogger's Choice
booksandladders – Blogger's Choice
May 31st
justa.gal.andherbooks – Review
booksaremagictoo – Review
ninebookishlives – Blogger's Choice
purposelyunperfect – Blogger's Choice
June 1st
writingrosereads – Promotional Post
bookish.caterpillar – Review
lady_westfall19 – Review
readbycait – Blogger's Choice
imallbookedupya – Blogger's Choice
June 2nd
tbrandbeyond – Promotional Post
bhaneereads_ – Review
dhirviepages – Review & Favorite Quotes
paiges_of_novels – Blogger's Choice
popthebutterfly – Blogger's Choice
June 3rd
austismreading_mom – Review
bluepoohreads22 – Review & Favorite Quotes
gryffindorbookishnerd – Promotional Post
thecleverreader – Blogger's Choice
heylittlesiren – Blogger's Choice
June 4th
tinybooknest – 15 Reactions While Reading Places We've Never Been
katiereads23 – Review
paperbacktomes – Blogger's Choice
_leahreads – Blogger's Choice
June 5th
bookdreamr – Book Look
TheShopOfStarlight – Review
the_bookish_raven – Blogger's Choice
bookloversbookreviews – Blogger's Choice