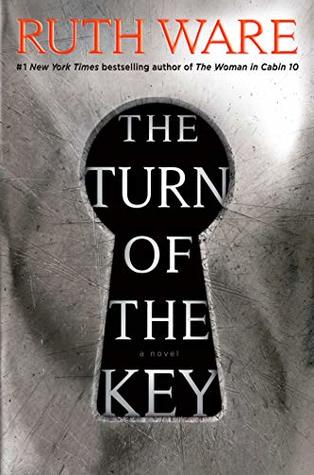 The Turn of the Key by Ruth Ware
When she stumbles across the ad, she's looking for something else completely. But it seems like too good an opportunity to miss—a live-in nannying post, with a staggeringly generous salary. And when Rowan Caine arrives at Heatherbrae House, she is smitten—by the luxurious "smart" home fitted out with all modern conveniences, by the beautiful Scottish Highlands, and by this picture-perfect family.

What she doesn't know is that she's stepping into a nightmare—one that will end with a child dead and herself in prison awaiting trial for murder.

Writing to her lawyer from prison, she struggles to explain the unravelling events that led to her incarceration. It wasn't just the constant surveillance from the cameras installed around the house, or the malfunctioning technology that woke the household with booming music, or turned the lights off at the worst possible time. It wasn't just the girls, who turned out to be a far cry from the immaculately behaved model children she met at her interview. It wasn't even the way she was left alone for weeks at a time, with no adults around apart from the enigmatic handyman, Jack Grant.

It was everything.

She knows she's made mistakes. She admits that she lied to obtain the post, and that her behavior toward the children wasn't always ideal. She's not innocent, by any means. But, she maintains, she's not guilty—at least not of murder. Which means someone else is.

Full of spellbinding menace and told in Ruth Ware's signature suspenseful style, The Turn of the Key is an unputdownable thriller from the Agatha Christie of our time.
This was another great book from Ruth Ware. I am looking forward to reading more from her soon.
The book started with Rowan writing letters to an attorney. She is asking for his help, saying that she did not kill the child. The book continues with her writing to him with her full story. She starts by telling him how she found the nanny job and how she got the position. She did lie about some things, but she wanted to be there and spend time with the girls. The oldest was away at school, so Rowan mostly dealt with the three youngest, Maddie, Ellie, and Petra. She thought she would have time with the mom at home, but she got pulled away early. So Rowan was stuck in this home alone with girls that don't seem to want her there. The home is a smart home with cameras all over. Everything is done by tablet, phone, or voice. Things start getting weird quickly. There are strange sounds that sound like pacing coming from above Rowan's room. But there is nothing above her. She finds out about the history of the home and the deaths there. She finds a garden with poison and finds out that a child died there from ingesting one of the plants. The house starts turning on lights and sounds with no one doing anything. The doorbell rings, but there is no one there. Rowan is barely sleeping and can't even sleep in her room. She finds some other super creepy things that she can't explain, but she also doesn't believe in ghosts. But something is happening and she wants to find answers. When one of the children ends up dead, Rowan is arrested. Her secrets come out and we do finally get an answer in the end.
The pacing was great and the book had some creepy moments. I really enjoyed it.
I gave this book 4 1/2 stars rounded up to 5 on goodreads.
Have you read this?  Is it on your TBR?  Have you read any other Ruth Ware books?