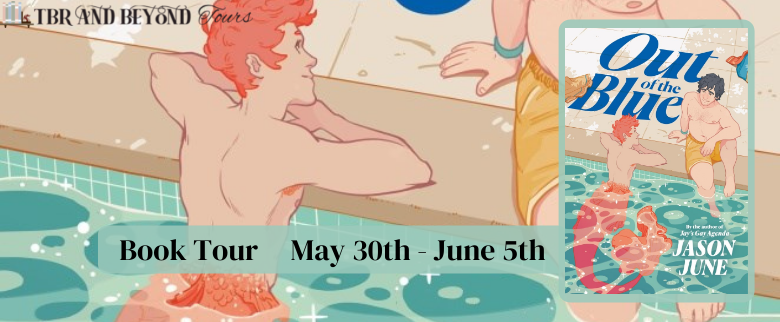 Welcome to my stop on the blog tour for Out of the Blue by Jason June.  This tour is being hosted by TBR and Beyond Tours.
Out of the Blue by Jason June
Genre: Young Adult Fantasy
Publishing Date: May 31, 2022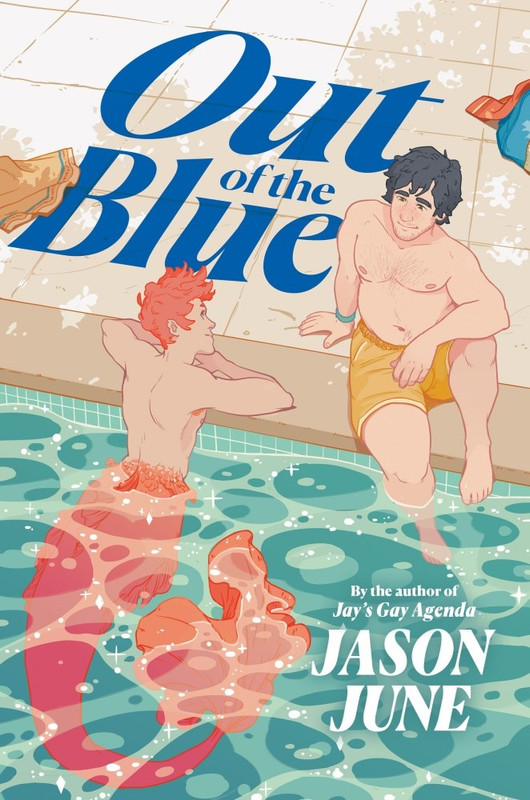 Crest is not excited to be on their Journey: the monthlong sojourn on land all teen merfolk must undergo. The rules are simple: Help a human within one moon cycle and return to Pacifica to become an Elder–or fail and remain stuck on land forever. Crest is eager to get their Journey over and done with: after all, humans are disgusting. They've pollluted the planet so much that there's a floating island of trash that's literally the size of a country.
In Los Angeles with a human body and a new name, Crest meets Sean, a human lifeguard whose boyfriend has recently dumped him. Crest agrees to help Sean make his ex jealous and win him back. But as the two spend more time together and Crest's pespective on humans begins to change, they'll soon be torn between two worlds. And fake dating just might lead to real feelings…
This sophomore novel from Jason June dives into the many definitions of the world home and shows how love can help us find the truest versions of ourselves. 
Book Links:
Goodreads: https://www.goodreads.com/book/show/58931216-out-of-the-blue 
Amazon: https://www.amazon.com/gp/product/006301520X/ref=x_gr_w_bb_sin?ie=UTF8&tag=x_gr_w_bb_sin_ca-20&linkCode=as2&camp=15121&creative=330641 
Barnes & Noble: https://www.barnesandnoble.com/w/out-of-the-blue-jason-june/1140112786?ean=9780063015203 
Book Depository: https://www.bookdepository.com/Out-Blue-Jason-June/9780063015203?ref=grid-view&qid=1648502838624&sr=1-9 
Indigo: https://www.chapters.indigo.ca/en-ca/books/out-of-the-blue/9780063015203-item.html?ikwid=out+of+the+blue&ikwsec=Home&ikwidx=0#algoliaQueryId=ff4e52e73f23c055f77b8e55a249ef9c 
IndieBound: https://www.indiebound.org/book/9780063015203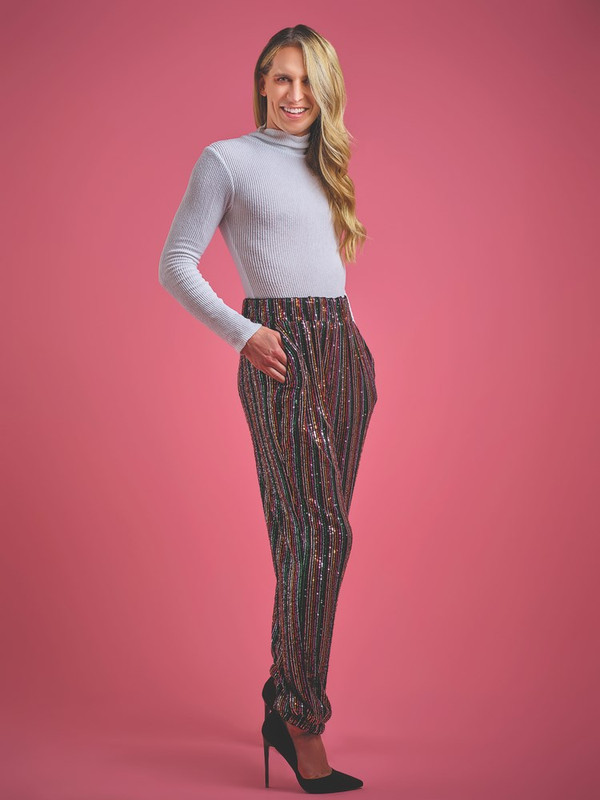 You've come here wondering, "What is the meaning of life?" Er, I mean, Jason June's life. Jason June (it's a two-name first name, like Mary-Kate without the hyphen or the Olsen twin) is a genderqueer writer mermaid who loves to create picture books that mix the flamboyantly whacky with the slightly dark, and young adult contemporary rom-coms full of love and lust and hijinks.
When not writing, JJ zips about Austin, Texas. He loves dinosaurs, unicorns, Pomeranians, and anything magical that takes you to a different world or time. JJ is a tried and true Laura Dern stan, and he is actively looking for an Andalite friend.
​
​His picture books include WHOBERT WHOVER, OWL DETECTIVE, illustrated by Jess Pauwels, and PORCUPINE CUPID, a queer-inclusive Valentine's Day story, illustrated by Lori Richmond, both from Margaret K. McElderry Books/Simon & Schuster. For under-the-sea whimsical adventures, check out the MERMICORN ISLAND chapter book series from Scholastic! And get ready for JAY'S GAY AGENDA, Jason June's debut YA, queer rom-com, coming June 1, 2021 from HarperTeen!
Author Links:
Website: https://www.heyjasonjune.com/ 
Twitter: https://twitter.com/heyjasonjune 
Instagram: https://www.instagram.com/heyjasonjune/ 
Goodreads: https://www.goodreads.com/author/show/15906433.Jason_June 
Follow The Tour:
May 30th
Confessions of a YA Reader – Promotional Post
Althea Is Reading – Review
May 31st
Melancholic Blithe – Interview
Books and Ladders – Review
Book Corner – Review & Favorite Quotes
June 1st
Lemmi Bookmark That! – Review & Favorite Quotes
Lu is lost in books – Review
Artfully Bookish – Review & Mood Board
June 2nd
The Book Dutchesses – Promotional Post
One More Chapter – Review
Sadie's Spotlight – Promotional Post
PopTheButterfly Reads – Review
June 3rd
Kait Plus Books – Interview
Phannie the ginger bookworm – 15 Reactions While Reading Out of the Blue
Nine Bookish Lives – Promotional Post
June 4th
Kappa Reads Books – Promotional Post
Unconventional quirky Bibliophile – Review & Mood Board
confessions of a reading addict – Review & Playlist
June 5th
The Clever Reader – Interview
Read in the Clouds – Review
heylittlesiren – Review
Kerasalwaysreading – Review
Instagram:
May 30th
findangoh – Book Look & Top 5 Reasons to Read Out of the Blue
writingrosereads – Promotional Post
May 31st
fangirlpixiebooks – Promotional Post
booksandladders – Blogger's Choice
delightful.reading – Blogger's Choice
June 1st
feliciareads11 – Promotional Post
stillreadingat4am – Book Look
natashaleigton_ – Blogger's Choice
June 2nd
luna_reads_ – Journal Spread
_leahreads – Blogger's Choice
sadiesspotlight – Blogger's Choice
popthebutterfly – Blogger's Choice
June 3rd
augustisreading -Top 5 Reasons to Read Out of the Blue
tinybooknest – Top 5 Reasons to Read Out of the Blue & Favorite Quotes
ninebookishlives – Blogger's Choice
June 4th
acourtofrunesandroses – Review
sxnvi.b – Promotional Post,
quirkybibliophile – Blogger's Choice
June 5th
tbrandbeyond – Promotional Post
thecleverreader – Blogger's Choice
heylittlesiren – Blogger's Choice
kerasalwaysreading – Blogger's Choice