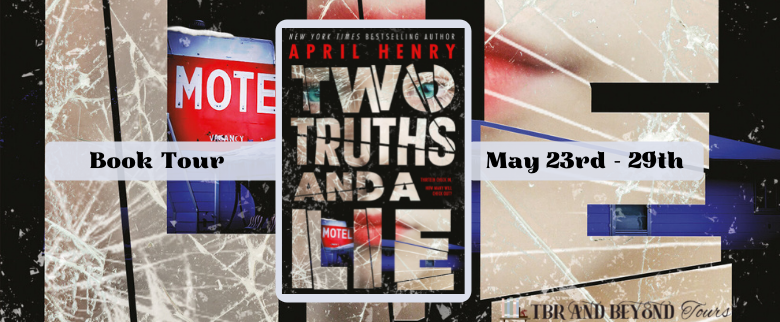 Welcome to my stop on the blog tour for Two Truths and a Lie by April Henry.  This tour is being hosted by TBR and Beyond Tours.
Two Truths and a Lie by April Henry
Genre: Young Adult Thriller
Publishing Date: May 24, 2022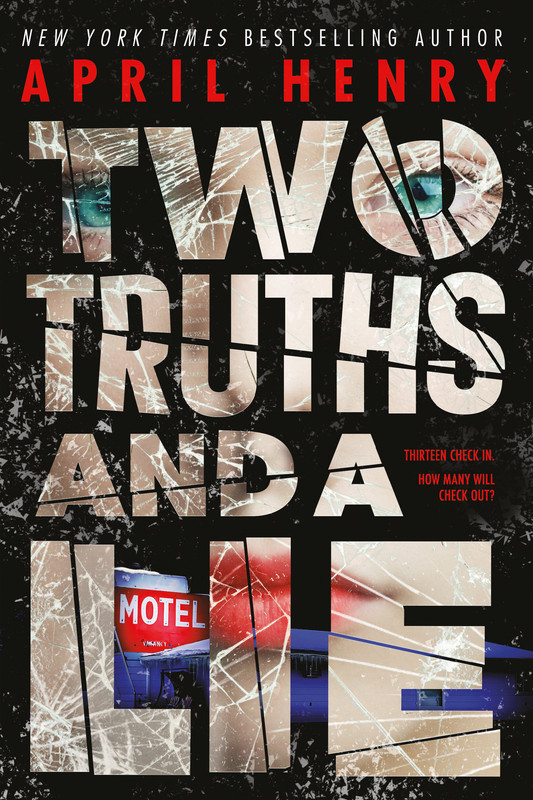 A group of teens are trapped in an old motel with a murderer in this chilling YA mystery by New York Times bestselling author April Henry.
Nell has always wanted to be an actor, but doubts her ability. As a member of her school's theater program, she prefers working backstage. On the way to a contest, an unexpected blizzard strands her acting troupe in a creepy motel. Soon they meet a group of strangers from another high school—including the mysterious and handsome Knox, who insists they play the game Two Truths and a Lie. When it's Nell's turn, she draws a slip of paper inked in unfamiliar handwriting:
I like to watch people die.
I've lost count of how many people I've killed.
Suddenly a night of harmless fun turns into a matter of life and death. As guests go missing, it becomes clear that a murderer is hiding in their midst ready to strike again. In a room full of liars and performers, the truth is never quite what it seems. Nell is going to have to act like her life depends on it—because it does.
Book Links:
Goodreads: https://www.goodreads.com/book/show/58950704-two-truths-and-a-lie 
Amazon: https://www.amazon.com/gp/product/0316323330/ref=x_gr_w_bb_sin?ie=UTF8&tag=x_gr_w_bb_sin_ca-20&linkCode=as2&camp=15121&creative=330641 
Barnes & Noble: https://www.barnesandnoble.com/w/two-truths-and-a-lie-april-henry/1140137048?ean=9780316323338 
Book Depository: https://www.bookdepository.com/Two-Truths-Lie-April-Henry/9780316323338?ref=grid-view&qid=1647291003118&sr=1-10 
Indigo: https://www.chapters.indigo.ca/en-ca/books/two-truths-and-a-lie/9780316323338-item.html?ikwid=two+truths+and+a+lie&ikwsec=Home&ikwidx=5#algoliaQueryId=dfe6c4bb7bb5586ee8f0e4ec226fdafc 
IndieBound: https://www.indiebound.org/book/9780316323338 
Two Truths and a Lie was a really fast read.
Nell and her friends are on their way to a theater contest. Their advisor is having a hard time driving in the blizzard that started. They find a motel and check in. There's nothing nearby, but at least it's safe. Another group of kids shows up a little later. They said they were on their way to a robotics competition. They picked up a guy that was out on the road and gave him a ride. The owner, Stuart, gets everyone checked in. There are only a few others at the motel. They don't serve any food except breakfast and there is no cell coverage. The weather is so bad that the power is expected to go out soon. Luckily there is a fireplace and a room where the kids can hang out. They decide to play two truths and a lie. But when a very scary note is revealed, no one claims that it was theirs. Two of the three things was about murder and watching people die. The kids then learn that a couple was killed in that motel twenty years earlier. When one body is later found, they think that the killer might be back. The kids need to figure out who they can trust and everyone tries to stay alive. The killer has other ideas.
I don't want to get into any more of the plot. I did figure it out fairly easily, but it was still a fun book to read. The pacing was really good.
I gave this book 4 stars.
Thank you to Little Brown for sending me a copy for review.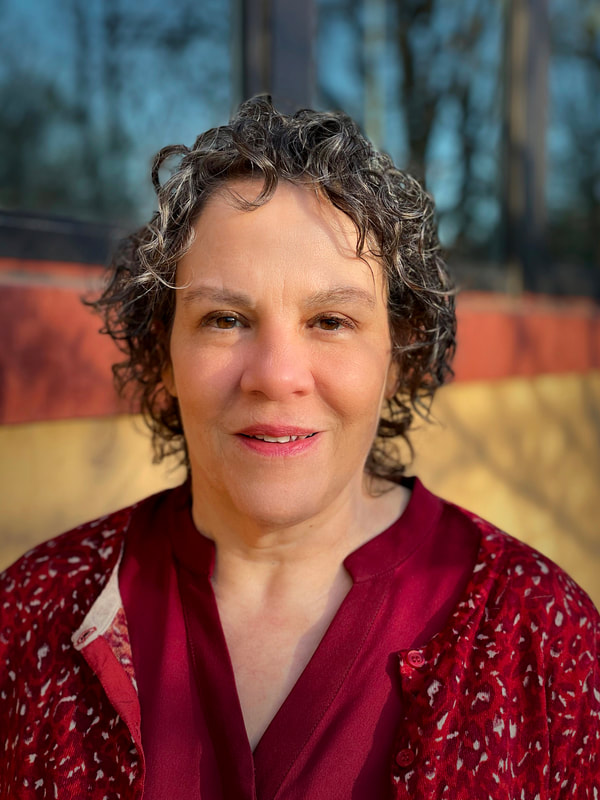 New York Times-bestselling author April Henry knows how to kill you in a two-dozen different ways. She makes up for a peaceful childhood in an intact home by killing off fictional characters. There was one detour on April's path to destruction:  when she was 12 she sent a short story about a six-foot tall frog who loved peanut butter to noted children's author Roald Dahl. He liked it so much he showed it to his editor, who asked if she could publish it in Puffin Post, an international children's magazine. By the time April was in her 30s, she had started writing about hit men, kidnappers, and drug dealers. She has published 26 mysteries and thrillers for teens and adults, with more to come. She is known for meticulously researching her novels to get the details right. 
Author Links:
Website: https://www.aprilhenry.com/ 
Twitter: https://twitter.com/aprilhenrybooks 
Goodreads: https://www.goodreads.com/author/show/88507.April_Henry 
Facebook: https://www.facebook.com/AprilHenry 
Follow The Tour:
May 23rd
Stuck in Fiction – Promotional Post
The Bookwyrm's Den – Review
Balancing Books And Beauties – Book Look
May 24th
Nine Bookish Lives – Promotional Post
Kait Plus Books – Mood Board
The Girl Who Reads – Review
May 25th
The Viewing List – Review
Boys' Mom Reads! – Review
May 26th
Abigail's Lost in a Book – Review & Favorite Quotes
AndOnSheReads – Review
A Court Of Runes and Roses – Review
Jen Jen Reviews – Review
May 27th
The Book Dutchesses – Promotional Post
Books and Babble – Review
The Clever Reader – Review
May 28th
eastendreader98 – Review
Whispering Stories – Review & Favorite Quotes
The Someday Librarian – Promotional Post
May 29th
Confessions of a YA Reader – Review
Book Lover's Book Reviews – Promotional Post & Tik Tok
Stuck in the Stacks – Review
Instagram:
May 23rd
booking.with.janelle – Top 5 Reasons to Read Two Truths and a Lie
feliciareads11 – Blogger's Choice
balancing_books_and_beauties – Blogger's Choice
May 24th
jacleomik33 – Review
ninebookishlives – Blogger's Choice
bookstagramofmine – Blogger's Choice
May 25th
writingrosereads – Promotional Post
katiereads23 – Review
May 26th
shereadytoread – Top 5 Reasons to Read Two Truths and a Lie
abigailslostinabook – Blogger's Choice
acourtofrunesandroses – Blogger's Choice
jenjenreviews – Blogger's Choice
May 27th
biblio.jojo – Top 5 Reasons to Read Two Truths and a Lie
gryffindorbookishnerd – Review
thecleverreader – Blogger's Choice
May 28th
justa.gal.andherbooks – Review
eastendreader98 – Blogger's Choice
thesomedaylibrarian – Blogger's Choice
May 29th
tbrandbeyond – Promotional Post
bookloversbookreviews – Blogger's Choice
stuck.in.the.stacks – Blogger's Choice