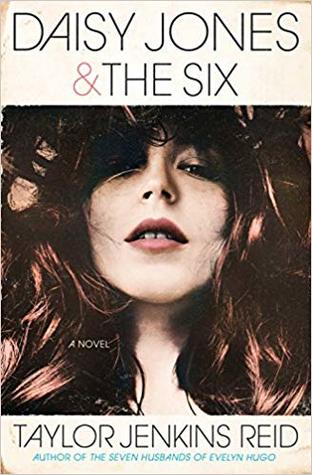 Daisy Jones & The Six by Taylor Jenkins Reid
A gripping novel about the whirlwind rise of an iconic 1970s rock group and their beautiful lead singer, revealing the mystery behind their infamous break up.
Everyone knows Daisy Jones & The Six, but nobody knows the real reason why they split at the absolute height of their popularity…until now.
Daisy is a girl coming of age in L.A. in the late sixties, sneaking into clubs on the Sunset Strip, sleeping with rock stars, and dreaming of singing at the Whisky a Go-Go. The sex and drugs are thrilling, but it's the rock and roll she loves most. By the time she's twenty, her voice is getting noticed, and she has the kind of heedless beauty that makes people do crazy things.
Another band getting noticed is The Six, led by the brooding Billy Dunne. On the eve of their first tour, his girlfriend Camila finds out she's pregnant, and with the pressure of impending fatherhood and fame, Billy goes a little wild on the road.
Daisy and Billy cross paths when a producer realizes the key to supercharged success is to put the two together. What happens next will become the stuff of legend.
It has taken me so long to finally pick up Daisy Jones and the Six. I have no idea why because I've loved everything by Taylor Jenkins Reid so far. I'm not sure exactly what it is about her writing, but I become addicted to her characters. I'm so pulled in and I'm left wanting more when it ends. I tend to think about the characters long after finishing the books.
This book was written in the format of a sort of biography about a band. Almost like interviews, but without the questions. It's just different people talking about things from their time with the band. The two main people are Daisy Jones and Billy. Billy's band, The Six, was a good rock band just starting out. Their label recently signed a young singer/song writer, Daisy Jones. One night Daisy joins Billy singing and it's basically magic. They had an instant connection that no one could look away from. After that, she joined the band. The people in the band were all very flawed. Most of all Billy and Daisy. Both were addicts. Billy was married and cheated on his wife and partied until after she gave birth to their daughter. Daisy started drinking and doing drugs at 14 and just never stopped. She got worse and she got older. Some band members were cool with being in the background while others were pissed that Billy seemed to believe it was his band. But as a whole, the band wanted to be famous. They wanted to tour and be the biggest band in the world and they were willing to deal with just about anything to get there.
I have to mention that the songs are all in the back of the book and I thought it was a great addition that really added to the feelings of the story. Also, I wish I could be someone just like Camila. She was amazing and I'm not sure that Billy really deserved her and her love.
I gave this book 5 stars and finished it in two sittings.
Have you read this?  Is it on your TBR?