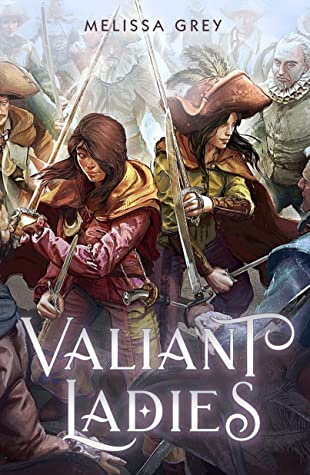 Valiant Ladies by Melissa Grey
Two teen vigilantes set off on an action-packed investigation to expose corruption and deliver justice in Valiant Ladies, Melissa Grey's YA historical fiction novel inspired by real seventeenth century Latinx teenagers known as the Valiant Ladies of Potosí.
By day Eustaquia "Kiki" de Sonza and Ana Lezama de Urinza are proper young seventeenth century ladies. But when night falls, they trade in their silks and lace for swords and muskets, venturing out into the vibrant, bustling, crime-ridden streets of Potosí, in the Spanish Empire's Viceroyalty of Peru. They pass their time fighting, gambling, and falling desperately in love with one another.
Then, on the night Kiki's engagement to the Viceroy's son is announced, her older brother―heir to her family's fortune―is murdered. The girls immediately embark on a whirlwind investigation that takes them from the lowliest brothels of Potosí to the highest echelons of the Spanish aristocracy.
Expected publication: June 14th 2022
Valiant Ladies has chapters from both Kiki and Ana. Ana was left by her mother and raised by the woman who runs the local brothel. But when she met Kiki, her family took Ana in. They have lived together since and both the girls' feelings towards each other became more than just a friendship. But Kiki had been betrothed since she was young. She knew she would be marrying to help her family's status, even though they were already very rich. The boy she is to marry, Sebastian, isn't liked by Ana. She doesn't trust him. There have been some local girls murdered recently and Kiki was looking into it a bit. When her brother is killed and a symbol is on his hand, Kiki knows he didn't kill himself. He had been happy and in love, but wouldn't tell her who. She knew him, as did Ana. The girls decide that they need to investigate and get their revenge. That leads them into some secrets and a lot of danger. The girls are also trying to find a missing friend hoping that she isn't already dead.
The book is full of fighting and quite a bit of blood. I loved how snarky and stubborn Kiki and Ana were and I enjoyed reading about their feelings for each other. The trust they felt was really special.
I gave this book 4 stars. Thank you to the publisher and Netgalley for my earc.
Warnings for blood/cutting, talk of suicide, abuse, fire, mentions of sex, brothels and prostitutes, drinking.
Have you read this yet?  Is it on your TBR?