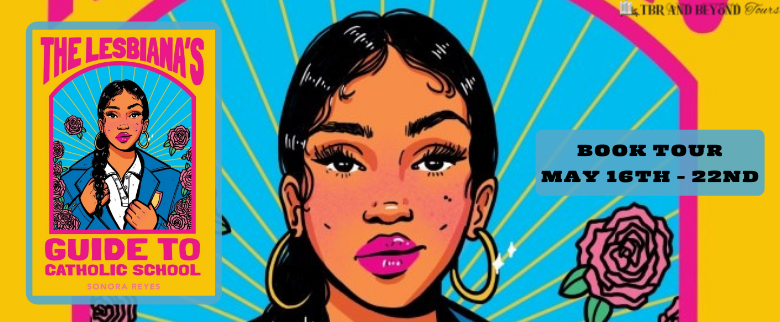 Welcome to my stop on the blog tour for The Lesbiana's Guide to Catholic School by Sonora Reyes.  This tour is being hosted by TBR and Beyond Tours.
The Lesbiana's Guide to Catholic School by Sonora Reyes
Genre: Young Adult Contemporary
Publishing Date: May 17, 2022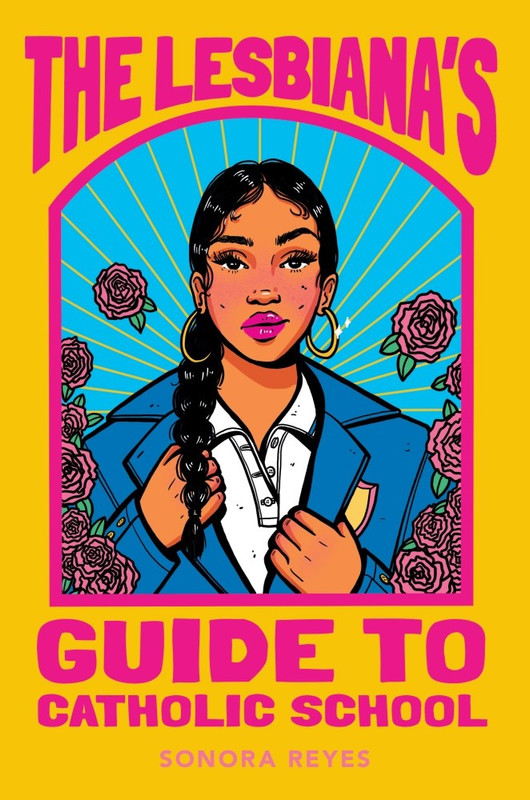 Seventeen-year-old Yamilet Flores prefers drawing attention for her killer eyeliner, not for being the new kid at a mostly white, very rich, Catholic school. But at least here no one knows she's gay, and Yami intends to keep it that way. After being outed by her crush and ex-best friend, she could use the fresh start.
At Slayton Catholic, Yami has new priorities: make her mom proud, keep her brother out of trouble, and most importantly, don't fall in love. Granted, she's never been great at any of those things, but that's a problem for Future Yami.
The thing is, it's hard to fake being straight when Bo, the only openly queer girl at school, is so annoyingly perfect. And smart. And talented. And cute. Either way, Yami isn't going to make the same mistake again. If word got back to her mom, she could face a lot worse than rejection. So she'll have to start asking, WWSGD: What would a straight girl do?
Told in a captivating voice that is by turns hilarious, vulnerable, and searingly honest, The Lesbiana's Guide to Catholic School explores the joys and heartaches of living your full truth out loud.
Book Links:
Goodreads: https://www.goodreads.com/book/show/57435050-the-lesbiana-s-guide-to-catholic-school 
Amazon: https://www.amazon.com/Lesbianas-Guide-Catholic-School/dp/006306023X/ref=sr_1_1?creative=330641&keywords=The+Lesbiana%27s+Guide+to+Catholic+School&qid=1646848470&s=books&sr=1-1 
Barnes & Noble: https://www.barnesandnoble.com/w/the-lesbianas-guide-to-catholic-school-sonora-reyes/1140022825?ean=9780063060234 
Book Depository: https://www.bookdepository.com/The-Lesbiana-s-Guide-to-Catholic-School/9780063060234 
Indigo: https://www.chapters.indigo.ca/en-ca/books/the-lesbianas-guide-to-catholic/9780063060234-item.html?ikwid=the+lesbiana%27s+guide+to+catholic+school&ikwsec=Home&ikwidx=0#algoliaQueryId=7f67e1db64c6ea216c0ef23d62fb0859 
IndieBound: https://www.indiebound.org/book/9780063060234 
Yamilet and Cesar live with their mom in Arizona. Their dad got deported to Mexico years ago, so it's just the three of them trying to get by. Cesar got scholarships to a private catholic school in Scottsdale. Their mom always expects Yami to look out for Cesar, so she has to go there too. But she has to work to help pay for the tuition. While Yami isn't looking forward to this school, she does want to get away. Her best friend outed her at her old school. Not too many people found out, but she stopped talking to everyone. Their mom is very religious and talks badly about anyone gay. So Yami knows she needs to keep it secret. At least for now. She wants to work and save up enough money for an apartment if her mom kicks her out. Yami isn't thrilled with her school, but she does make a few great friends. But she finds herself crushing on her friend again. This time it's Bo, a girl that is out at their school. Bo is proud and doesn't take crap from anyone. Her family is very accepting and Yami starts spending more time there. She misses some big things about her brother's struggles though and blames herself for what happens to him. Yami continues to struggle with who she is and who she pretends to be. Even pretending to have a boyfriend. But she knows that she needs to be honest and tell Bo how she feels.
I really enjoyed this one. It covered some very serious topics while also having a lot of humor. I adored Yami and Cesar's relationship. They were extremely close and they had such a special bond. I also loved the friend group that Yami ended up in.
I gave this book 4 stars. Thank you to the publisher and Netgalley for my earc.
The author mentions these warnings for the book. Racism, homophobia, suicide ideation, and hospitalization of a character. There is outing of a gay character and talks about immigration and deportation.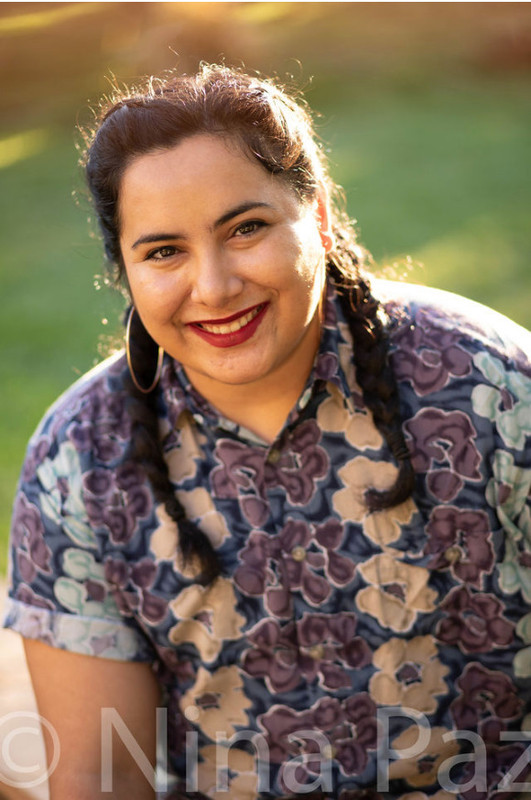 Born and raised in Arizona, Sonora Reyes is the author of the forthcoming contemporary young adult novel: THE LESBIANA'S GUIDE TO CATHOLIC SCHOOL
They write fiction full of queer and Latinx characters in a variety of genres, with current projects in both kidlit and adult categories. Sonora is also the creator and host of the Twitter chat #QPOCChat, a monthly community-building chat for queer writers of color.
Sonora currently lives in Arizona in a multi-generational family home with a small pack of dogs who run the place. Outside of writing, Sonora loves dancing, singing karaoke, and playing with their baby nephew.
Author Links:
Website: https://www.sonorareyes.com/ 
Twitter: https://twitter.com/SonoraReyes 
Instagram: https://www.instagram.com/sonora.reyes/ 
Goodreads: https://www.goodreads.com/author/show/21286978.Sonora_Reyes 
YouTube: https://www.youtube.com/channel/UCLx5ojHluRTcP9o1vbIrqcg?view_as=subscriber 
Follow The Tour:
May 16th
AndOnSheReads – Interview
Stuck in Fiction – Promotional Post
May 17th
Althea Is Reading – Review
Lu is lost in books – Review & Favorite Quotes
Rampant Reading Reviews – Review, Favorite Quotes
May 18th
Twirling Book Princess – Promotional Post
Jenerally Reading – Review, Favorite Quotes
Booked Till Midnight – 15 Reactions While Reading The Lesbiana's Guide to Catholic School
May 19th
Kait Plus Books – Interview
Nine Bookish Lives – Promotional Post
A Book and Chai – Review
May 20th
The Book Dutchesses – Promotional Post
Nikkie Reads – Review & Favorite Quotes
PopTheButterfly Reads – Review
May 21st
Confessions of a YA Reader – Review
bookloversbookreviews – Promotional Post & Tik Tok
In the Lost & Found – Review & Playlist
May 22nd
Melancholic Blithe – Interview
We Have No Apologies – Review
Instagram:
May 16th
writingrosereads – Promotional Post
feliciareads11 – Blogger's Choice
May 17th
libraryofretellingsandstars – Review
shereadytoread – Top 5 Reasons to Read The Lesbiana's Guide to Catholic School
rampant_reading – Blogger's Choice
May 18th
booksatlunch – Top 5 Reasons to Read The Lesbiana's Guide to Catholic School & Favorite Quotes
kerasalwaysreading – Review
bookedtillmidnight – Blogger's Choice
May 19th
tbrandbeyond – Promotional Post
ninebookishlives -Blogger's Choice
May 20th
thegalaxydreamer – Review
biblio.jojo – Review
popthebutterfly – Blogger's Choice
May 21st
rosyreadz – Journal Spread
katreadstoomanybooks – Review
bookloversbookreviews – Blogger's Choice
May 22nd
mulberryreads – Review
fangirlpixiebooks – Promotional Post