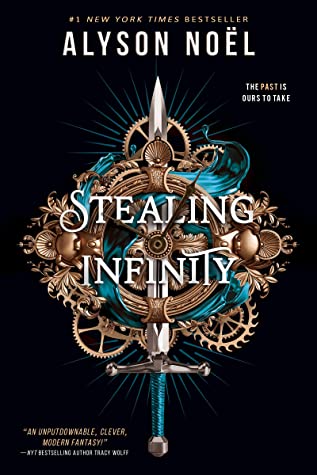 Stealing Infinity by Alyson Noel
My life goes completely sideways the moment I meet the mysterious Braxton. Sure, he's ridiculously hot, but he's also the reason I've been kicked out of school and recruited into Gray Wolf Academy—a remote island school completely off the grid. I never should have trusted a face so perfect.
But the reality of why Gray Wolf wanted me is what truly blows my mind. It's a school for time travelers. Tripping, they call it. This place is filled with elaborate costumes and rare artifacts, where every move is strategic and the halls are filled with shadows and secrets.
Here, what you see isn't always what it appears. Including Braxton. Because even though there's an energy connecting us together, the more secrets he keeps from me, the more it feels like something is pulling us apart. Something that has to do with this place—and its darker purpose. It's all part of a guarded, elaborate puzzle of history and time…and I might be one of the missing pieces.
Now I have all the time in the world. And yet I can't shake the feeling that time is the one thing I'm about to run out of…fast.
Natasha lives with her mom and only has a couple friends. One is Mason. The other is a newer girl named Elodie. Natasha's dad left and her mom was never the same. While hanging out with Elodie, she goes to a club and meets a boy named Braxton. After reading tarot cards, she finds her own grave. Instead of freaking out, she laughs. Shortly after, things go blank and she wakes up the next day at school. She's called out of class and finds stolen clothes in her locker. After being in jail, she's bailed out and finds Braxton. She learns that she's been accepted into Gray Wolf Academy. Her mom already agreed and signed the papers. Because her mom gets her house fixed, a new car, and a monthly stipend, Natasha finally agrees to go. What she finds is an isolated school run by a billionaire named Arthur. She doesn't know much else except that she's the only new recruit.
Natasha starts having flashbacks to her time with her dad. She realizes that he was teaching her things that she needs to be at this school. It's a school for time travel. The students are given assignments for what they need to do when they go back in time. But if they don't get back on time, they don't come back at all. While Natasha enjoys parts of the school, she knows that there are secrets she doesn't know and some are pretty major. And she can't figure out what her dad has to do with it and why she has had these incidents into the past on her own.
This was a good first book to a series. I liked the pacing and found the tarot and numerology stuff to be fun. I'm definitely curious to see what happens in the next book.
I gave this book 4 stars.
Thank you to Entangled Teen and Netgalley for my earc.
Warnings for attempted assault, teenage drinking.
Have you read this yet?  Is it on your TBR?