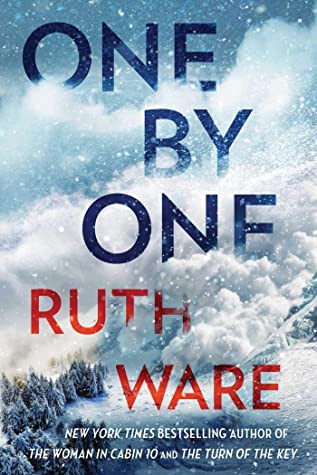 One by One by Ruth Ware
Getting snowed in at a beautiful, rustic mountain chalet doesn't sound like the worst problem in the world, especially when there's a breathtaking vista, a cozy fire, and company to keep you warm. But what happens when that company is eight of your coworkers…and you can't trust any of them?
When an off-site company retreat meant to promote mindfulness and collaboration goes utterly wrong when an avalanche hits, the corporate food chain becomes irrelevant and survival trumps togetherness. Come Monday morning, how many members short will the team be?
The #1 New York Times bestselling author of The Turn of the Key and In a Dark Dark Wood returns with another suspenseful thriller set on a snow-covered mountain.
Just a quick review for this one because I'm sick. But I wanted to get my thoughts down before starting another book.
This is my first Ruth Ware book and it definitely won't be my last. I did not want to put this one down. I loved how we knew right away that some people died and some survived, but there was really no way to know who. I kind of thought I knew the killer, but I also went back and forth. And I struggled with motive. The author did such a great job with the suspense and tension without being overly bloody or horror like. The multiple points of view worked well. I really liked the workers right away. It was hard to like any of the guests except maybe a couple. The thought of being trapped on a mountain with no electricity or water is terrifying and the atmosphere worked really well for the tension.
I gave this book 4 1/2 stars rounded up to 5 on Goodreads.
Have you read this yet?  Is it on your TBR?