Goodreads Monday was hosted by Lauren's Page Turners.   It's now hosted by Budget Tales Book Blog.  All you have to do is show off a book from your TBR that you're looking forward to reading.
It's getting hard to remember which ones I've done already, so I'm sorry if you see a book pop up on these more than once.  It will happen.  Probably a lot.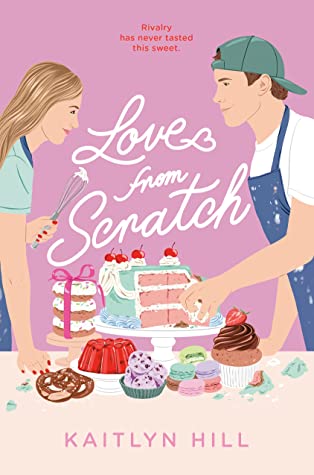 Love From Scratch by Kaitlyn Hill
This summer, Reese Camden is trading sweet tea and Southern hospitality for cold brew and crisp coastal air. She's landed her dream marketing internship at Friends of Flavor, a wildly popular cooking channel in Seattle. The only problem? Benny Beneventi, the relentlessly charming, backwards-baseball-cap-wearing culinary intern–and her main competition for the fall job.

Reese's plan to keep work a No Feelings Zone crumbles like a day-old muffin when she and Benny are thrown together for a video shoot that goes viral, making them the internet's newest ship. Audiences are hungry for more, and their bosses at Friends of Flavor are happy to deliver. Soon Reese and Benny are in an all-out food war, churning homemade ice cream, twisting soft pretzels, breaking eggs in an omelet showdown–while hundreds of thousands of viewers watch.

Reese can't deny the chemistry between her and Benny. But the more their rivalry heats up, the harder it is to keep love on the back burner…
Have you read this yet?  Is it on your TBR?