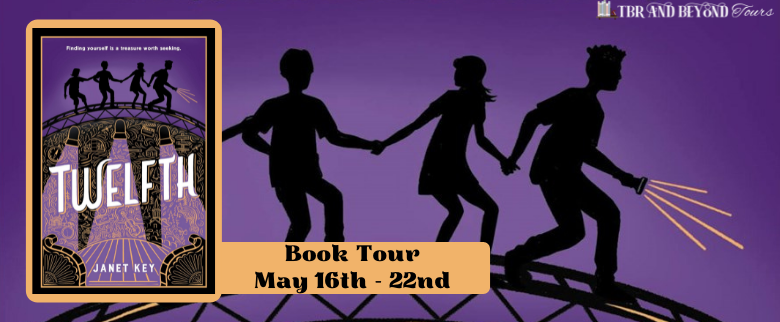 Welcome to my stop on the blog tour for Twelfth by Janet Key.  This tour is being hosted by TBR and Beyond Tours.
Twelfth by Janet Key
Genre: Middle Grade Mystery Historical
Publishing Date: May 17, 2022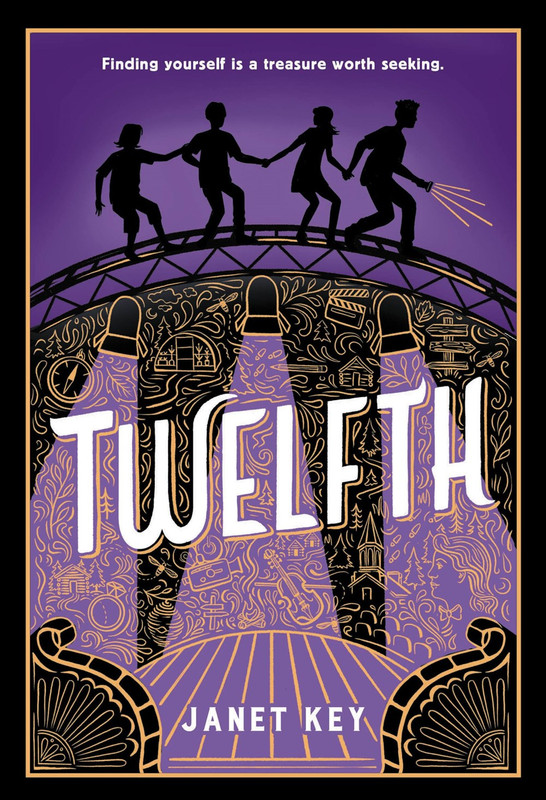 Better Nate Than Ever  meets The Parker Inheritance in this heartwarming mystery about finding your people and accepting others as they are.

Twelve-year-old Maren is sure theater camp isn't for her. Theater camp is for loud, confident, artsy people: people like her older sister, Hadley—the last person Maren wants to think about—and her cinema-obsessed, nonbinary bunkmate, Theo. But when a prank goes wrong, Maren gets drawn into the hunt for a diamond ring that, legend has it, is linked to the camp's namesake, Charlotte "Charlie" Goodman, a promising director in Blacklist Era Hollywood.
 
When Maren connects the clues to Shakespeare's Twelfth Night, she and her new friends are off searching through lighting booths, orchestra pits and costume storages, discovering the trail and dodging camp counselors. But they're not the only ones searching for the ring, and with the growing threat of camp closing forever, they're almost out of time. 
Book Links:
Goodreads: https://www.goodreads.com/book/show/58783431-twelfth 
Amazon: https://www.amazon.com/gp/product/0316669318/ref=x_gr_w_bb_sin?ie=UTF8&tag=x_gr_w_bb_sin_ca-20&linkCode=as2&camp=15121&creative=330641 
Barnes & Noble: https://www.barnesandnoble.com/w/twelfth-janet-key/1140137043?ean=9780316669313 
Book Depository: https://www.bookdepository.com/ 
Indigo: https://www.chapters.indigo.ca/en-ca/books/twelfth/9780316669313-item.html?ikwid=twelfth+janet+key&ikwsec=Home&ikwidx=0#algoliaQueryId=526c89bab0803c85591991b908acdc04 
IndieBound: https://www.indiebound.org/book/9780316669313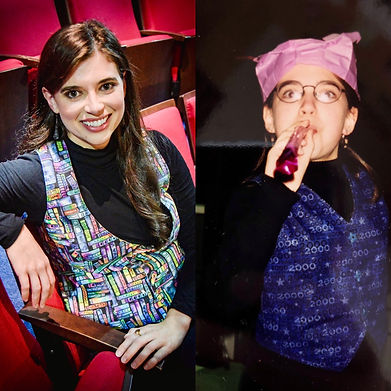 When Janet Key was twelve, she sang and danced onstage in the background of musicals, stayed up too late reading Shakespeare, and had a closet full of themed, handsewn vests.
This is her first novel. 
Author Links:
Website: https://www.janetkeybooks.com/ 
Instagram: https://www.instagram.com/janetkeybooks/ 
Goodreads: https://www.goodreads.com/author/show/21737421.Janet_Key 
Follow The Tour:
May 16th
Confessions of a YA Reader – Promotional Post
The Someday Librarian – Review
May 17th
Nine Bookish Lives – Promotional Post
Jen Jen Reviews – Review
May 18th
Stuck in Fiction – Promotional Post
May 19th
The Book Dutchesses – Promotional Post
Boys' Mom Reads! – Review
May 20th
Kait Plus Books – Interview
May 21st
Whispering Stories – Interview
PopTheButterfly Reads – Review
May 22nd
the nutty bookworm reads alot – Review
laura's bookish corner – Review
Instagram:
May 16th
tbrandbeyond – Promotional Post
thesomedaylibrarian – Blogger's Choice
May 17th
ninebookishlives – Blogger's Choice
augustisreading – Review & Favorite Quotes
May 18th
feliciareads11 – Blogger's Choice
May 19th
fangirlpixiebooks – Promotional Post
stillreadingat4am – Top 5 Reasons to Read Twelfth, Book Look
bibliovino – Review
May 20th
luna_reads_ – Journal Spread
May 21st
writingrosereads – Promotional Post
popthebutterfly – Blogger's Choice
May 22nd
stitchsaddiction – Review
booksandpops4000 – Blogger's Choice