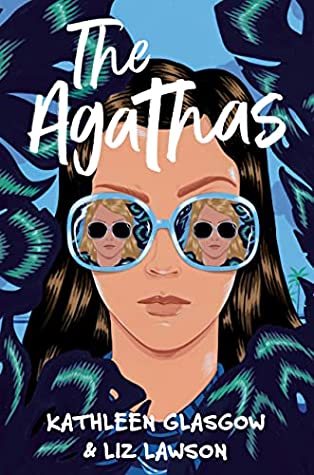 The Agathas by Kathleen Glasgow and Liz Lawson
Last summer, Alice Ogilve's basketball-star boyfriend Steve dumped her. Then she disappeared for five days. Where she went and what happened to her is the biggest mystery in Castle Cove, because she's not talking. Or it was, at least. But now, another one of Steve's girlfriends has vanished: Brooke Donovan, Alice's ex–best friend. And it doesn't look like Brooke will be coming back. . .
Enter Iris Adams, Alice's tutor. Iris has her own reasons for wanting to disappear, though unlike Alice, she doesn't have the money or the means. That could be changed by the hefty reward Brooke's grandmother is offering to anyone who can share information about her granddaughter's whereabouts. The police are convinced Steve is the culprit, but Alice isn't so sure, and with Iris on her side, she just might be able to prove her theory.
In order to get the reward and prove Steve's innocence, they need to figure out who killed Brooke Donovan. And luckily Alice has exactly what they need—the complete works of Agatha Christie. If there's anyone that can teach the girls how to solve a mystery it's the master herself. But the town of Castle Cove holds many secrets, and Alice and Iris have no idea how much danger they're about to walk into.
Expected publication: May 3rd 2022 by Delacorte Press
This was such a fun read. If I had more time, I probably would have read it in one day. It got hard to put down. I did figure out the killer early on, but it didn't matter. It was fun reading about Alice and Iris investigating.
Alice is a rich kid. She used to be best friends with the "mains". But her bff, Brooke, started dating Steve when Alice was gone for awhile during the summer. Steve and Alice were together before that and she was upset. So upset that she left without telling anyone. She was considered missing and the police were involved. But Alice came back on her own. It made her popular, but not in a good way. Everyone still talked about her and her need for attention. Alice goes to a party one night to talk to her old friends. She gets in an argument with Brooke. Steve walks Alice back to her car, but that causes Steve and Brooke to fight.
Iris isn't rich. She's trying to get enough money to move away with her mom. Her dad is abusive and they have a restraining order. He just ignores it and she's terrified. Iris starts tutoring Alice. She was offered $3000 and she couldn't pass it up. She and Alice have never been friends. They're super different. Iris is out walking the night of the party. She sees Alice drive away. Then she watched Steve and Brooke fighting. Brooke took off and Iris decided to follow her shortly after. But she never found Brooke.
The following day, people notice that Brooke isn't at school. She never went home, but her step dad didn't seem worried. He thought she was staying at Kennedy's house. But Kennedy said Brooke never showed up. Brooke's step dad is a coach at the school and well liked. He thinks that Brooke just went off, maybe even copying what Alice did. But Alice knows Brooke and knows she would never just leave without her stuff. Alice and Iris start talking about things. Alice got into Agatha Christie books and she decides she wants to find Brooke. Even though the police are involved, they don't seem to be doing much. Iris is friends with a few kids that study forensics and they get involved too. When out searching, they find Brooke dead below the cliffs. The police focus on Steve. After all, he disappeared that night and doesn't remember what happened. But Alice is sure Steve would never hurt Brooke. So the kids all work together along with Steve's attorney that used to babysit Iris. They start unraveling things that no one knew about different people. Both from that night and from the past.
The pacing was good and I really liked how Alice and Iris grew to be friends even though they didn't quite realize it. Alice doesn't really have anyone besides her nanny, Brenda. Iris doesn't want to get close to people because she's leaving. I would love another book with this friend group trying to solve more crimes. It's hinted at, so I hope it happens.
I gave this book 5 stars.
Thank you to the publisher and Netgalley for my earc.
Warnings for abuse (multiple kinds), neglect, drinking, drugs, death. The authors note does have resources included for people that might need help.
Have you read The Agathas?  Is it on your TBR?