Middle Grade May is back for TBR and Beyond!  You can join the challenge HERE.   Middle Grade May is a team challenge and is really fun.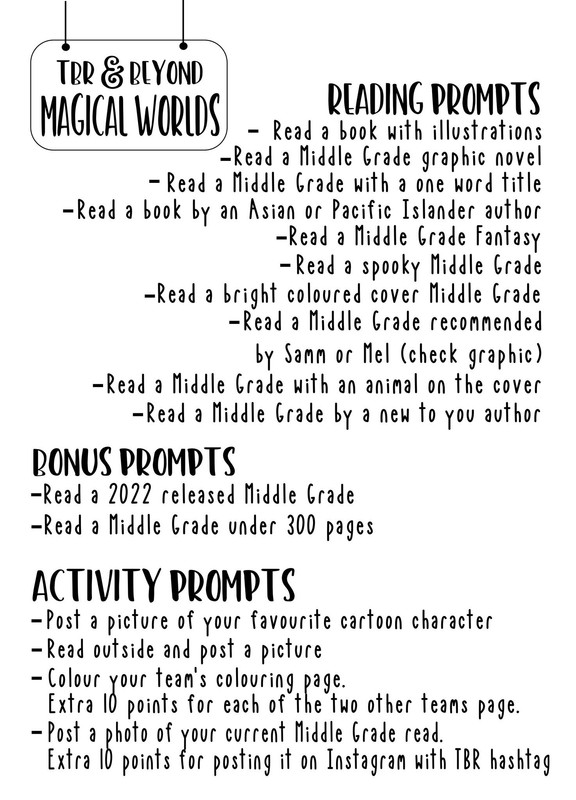 The Rules:
YES, your reads must be in the middle-grade category!
This month is a battle – there are THREE teams to choose from. Once you are assigned a team, you can start working on your reading prompts (on May 1st), which will earn points for you and your entire team. The team with the most points at the end of the month wins!
There will be two winners this month – Prize this month will be any book from Book Depository (up to $15 US). The winners will be randomly drawn from the winning team.
Prize Entries –
Each book read is worth 2 points
Bonus Prompts are worth 4 points
Each activity is worth 5 points
Bonus activities are worth 10 points EXTRA
Finish the game – 20 points EXTRA
Here are the prompts and activities:
Reading Prompts: 2 PTS each
– Read a book with Illustrations
– Read a Middle Grade Graphic Novel
– Read a Middle Grade book with a One Word Title
– Read a book by an Asian or Pacific Islander author
– Read a Middle Grade Fantasy
– Read a Spooky Middle Grade
-Read a Bright Colored Cover Middle Grade
– Read a Middle Grade Recommended by Samm or Mel
– Read a Middle Grade with an Animal on the Cover
– Read a Middle Grade by a New To You Author
Bonus Prompts: 4PTS each (Can't not be completed until all other prompts are done)
– Read a Middle Grade Released in 2022
– Read a Middle Grade Under 300 Pages
– If you read a middle grade book that does NOT fit any of the prompts, you will still get 1 point.
Activity prompts: 5PTS + extra PTS as mentioned
– Watch and Animated Movie and Post a Picture of It
– Read outside and post a picture
– Colour your team's colouring page. Extra 10 points for each of the two other teams page
– Post a photo of your current Middle Grade read. Extra 10 points for posting it on Instagram with TBR hashtag
#tbrandbeyond
My goal is to read at least 5 middle grade books.  I have a TBR, but not sure if I'll stick to it.  I'm hoping to read A Taste of Magic, Aru Shah and the Nectar of Immortality, Moonwalking, Witchlings, and Premeditated Myrtle.   I have a few others that might fit the prompts.
Are you joining this challenge?  If so, let me know which team you end up on.