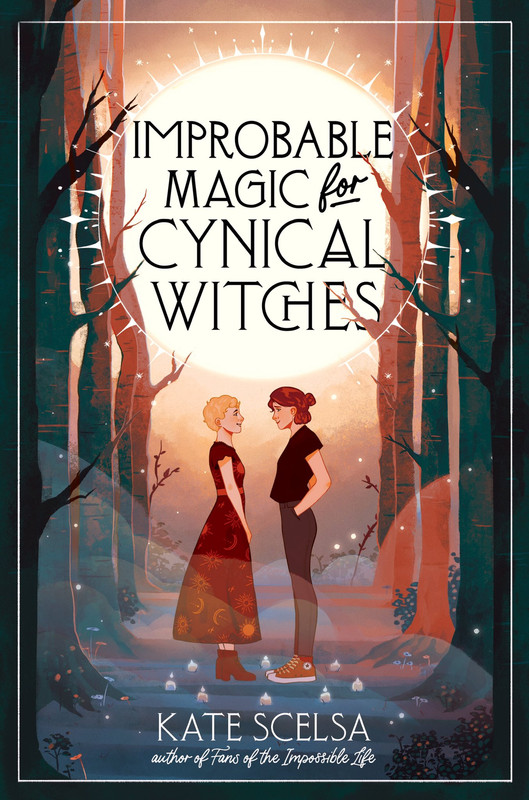 Improbable Magic for Cynical Witches by Kate Scelsa
A witchy, atmospheric lesbian contemporary romance set in Salem—from the acclaimed author of Fans of the Impossible Life. Perfect for fans of Nina LaCour and Becky Albertalli.
Seventeen-year-old Eleanor is the least likely person in Salem to believe in witchcraft—or think that her life could be transformed by mysterious forces. Ostracized by her classmates after losing her best friend and first love, Chloe, Eleanor has spent the past year in a haze, vowing to stay away from anything resembling romance.
But when a handwritten guide to tarot arrives in the mail at the witchy souvenir store where Eleanor works, it seems to bring with it the message that magic is about to enter her life. Cynical Eleanor is quick to dismiss this promise, until real-life witch Pix shows up with an unusual invitation. Inspired by the magic and mystery of the tarot, Eleanor decides to open herself up to making friends with Pix and her coven of witches, and even to the possibility of a new romance.
But Eleanor's complicated history in Salem continues to haunt her, and she is desperate to keep Pix from finding out the truth. Eleanor will have to reckon with the old ghosts that threaten to destroy everything, even her chance at new love.
Improbable Magic for Cynical Witches is an atmospheric and romantic coming-of-age about learning to make peace with the past in order to accept the beauty of the present.
Expected publication: May 31st 2022 by Balzer + Bray 
This was a super quick read and I loved it so much. It was exactly what I was in the mood for after reading a heavier book.
One of the first things I loved was the in between chapters. Each one was a tarot card with notes about it. It was such a cool addition and definitely made me love the book more.
Eleanor has been having a rough year. We know early on that something major happened and that no one in town likes her anymore. It has something to do with her best friend/secret love. That part of the story comes out slowly throughout the book. While working at a "witch" store in Salem, a weird package arrives. It's a book on tarot called The Major Arcana, A Magical Guide to the Story Cards of Smith Rider Waite Tarot Deck. Eleanor doesn't believe in that stuff, but finds herself reading it. That was the day that Pix came into the store. She was with another girl, Ofira. It's obvious to Eleanor right away that these girls are witches, not the tourists dressing up. Eleanor crushes on Pix right away and is happy when she sees her again. Eleanor is invited to something on a boat. It ended up being a coven ritual. Eleanor isn't a believer in magic, but there is something about the energy with the coven that pulls her in. Pix likes Eleanor too, but Eleanor doesn't think that she's loveable. Or even likeable. She struggles with her self esteem, trust, and anxiety. The coven are the only friends that she's had in a year.
The pacing of this was good and I liked how it went back in sections to the previous year. It made sense why Eleanor felt the way she did.
I gave this book 5 stars.
Thank you to the publisher and Edelweiss for my earc.
Warnings for bullying, homophobic slurs, attempted assault, drinking, drugs, anxiety, chronic illness.
Have you read this yet?  Is it on your TBR?