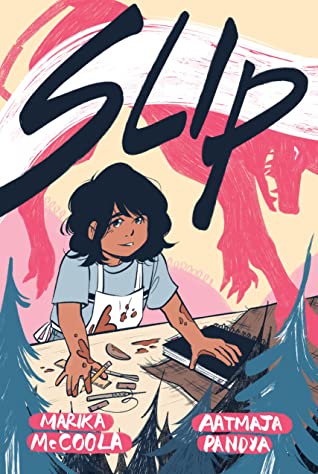 Slip by Marika McCoola illustrator Aatmaja Pandya
From Eisner-Award nominated writer Marika McCoola and debut artist Aatmaja Pandya, an emotional coming-of-age graphic novel for fans of Bloom and Laura Dean Keeps Breaking Up with Me.
Right before Jade is about to leave for a summer art intensive, her best friend, Phoebe, attempts suicide. How is Jade supposed to focus on herself right now?
But at the Art Farm, Jade has artistic opportunities she's been waiting for her whole life. And as she gets to know her classmates, she begins to fall for whimsical, upbeat, comfortable-in-her-own-skin Mary. Jade pours herself into making ceramic monsters that vent her stress and insecurities, but when she puts her creatures in the kiln, something unreal happens: they come to life. And they're taking a stand: if Jade won't confront her problems, her problems are going to confront her, including the scariest of them all—if Jade grows, prospers, and even falls in love this summer, is she leaving Phoebe behind?
Expected publication: June 7th 2022 by Algonquin Young Readers
Slip needs a trigger warning right away, even for my review. This book is about attempted suicide. Please don't read if that is something too hard for you.
Slip is a graphic novel about a girl named Jade. Right before leaving for art camp, her best friend tried to kill herself. She's in a hospital and doesn't want to see Jade. Jade's mom tells her that she still needs to go to camp. It's important for her future in art school. But Jade struggles the whole time. She can't stop thinking about Phoebe. Jade wonders how she missed signs. She wonders what caused Phoebe to try that. She just needs answers and doesn't know how to process her own feelings. Jade meets a love interest, Mary, but she doesn't confide in her. She's dealing with it alone. Jade makes these clay animals that look angry. Somehow, they come to life. Through her art, Jade starts to understand her feelings more and knows that Phoebe needs time.
I gave this book 4 stars. Thank you to Algonquin for sending me a copy for review.
Have you read Slip?  Is it on your TBR?