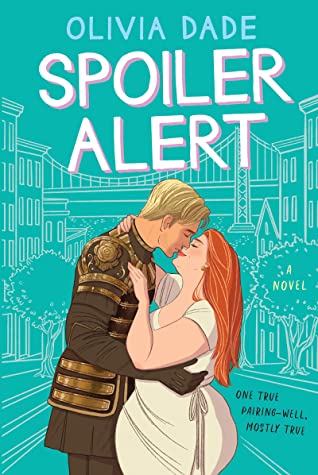 Spoiler Alert by Olivia Dade
Olivia Dade bursts onto the scene in this delightfully fun romantic comedy set in the world of fanfiction, in which a devoted fan goes on an unexpected date with her celebrity crush, who's secretly posting fanfiction of his own. 
Marcus Caster-Rupp has a secret. While the world knows him as Aeneas, the star of the biggest show on TV, Gods of the Gates, he's known to fanfiction readers as Book!AeneasWouldNever, an anonymous and popular poster.  Marcus is able to get out his own frustrations with his character through his stories, especially the ones that feature the internet's favorite couple to ship, Aeneas and Lavinia. But if anyone ever found out about his online persona, he'd be fired. Immediately.
April Whittier has secrets of her own. A hardcore Lavinia fan, she's hidden her fanfiction and cosplay hobby from her "real life" for years—but not anymore. When she decides to post her latest Lavinia creation on Twitter, her photo goes viral. Trolls and supporters alike are commenting on her plus-size take, but when Marcus, one half of her OTP, sees her pic and asks her out on a date to spite her critics, she realizes life is really stranger than fanfiction.
Even though their first date is a disaster, Marcus quickly realizes that he wants much more from April than a one-time publicity stunt. And when he discovers she's actually Unapologetic Lavinia Stan, his closest fandom friend, he has one more huge secret to hide from her.
With love and Marcus's career on the line, can the two of them stop hiding once and for all, or will a match made in fandom end up prematurely cancelled?
This was a fun read, but it did take me a bit to get into it. That tends to happen with fandom/fanfic type books. But the relationship with April and Marcus kept me wanting to read.
I didn't' like Marcus at first. It was hard to. That good looking celebrity that acts fake all the time. Not my thing. But I was really happy that he ended up being so smart and loving. I adored April. So much! Her strength and humor kept me rooting for her throughout the book. April was insecure at times about her weight, especially because of her parents and some guys she dated. But she was also someone who learned to not care what other people thought of her. She finally shared a cosplay picture with her face on twitter. When the trolls came out saying that someone like Marcus wouldn't date her, Marcus saw it and responded. He was genuinely attracted to April and asked her out on a date. He played the fake Marcus, but April saw parts of him that went deeper. When Marcus asked April what her fanfic name was, he realized that she was the person he's been talking to for the past two years. April had become his best online friend and now he's with her in person. But Marcus chooses to stay silent about who he is. He has his reasons, but mostly it was trust. Marcus and April start dating, but eventually the truth comes out and he breaks April's trust. She is broken and still has to see him at the upcoming con.
There were some steamy scenes in the book, but also parts that made me laugh. In between chapters, there are excerpts of some of the fanfic from the TV show.
I gave this book 4 stars.
Have you read Spoiler Alert?  Is it on your TBR?