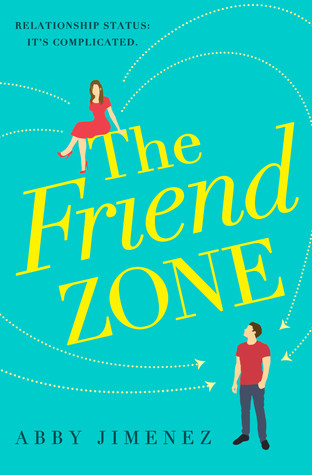 The Friend Zone by Abby Jimenez
Kristen Petersen doesn't do drama, will fight to the death for her friends, and has no room in her life for guys who just don't get her. She's also keeping a big secret: facing a medically necessary procedure that will make it impossible for her to have children.
Planning her best friend's wedding is bittersweet for Kristen—especially when she meets the best man, Josh Copeland. He's funny, sexy, never offended by her mile-wide streak of sarcasm, and always one chicken enchilada ahead of her hangry. Even her dog, Stuntman Mike, adores him. The only catch: Josh wants a big family someday. Kristen knows he'd be better off with someone else, but as their attraction grows, it's harder and harder to keep him at arm's length.
The Friend Zone will have you laughing one moment and grabbing for tissues the next as it tackles the realities of infertility and loss with wit, heart, and a lot of sass.
This book was a bit of a surprise for me. I expected a fun romance, but I got so much more. Including a woman that reminded me of myself. A lot. It also made me cry so hard that I had to stop reading for the night. The story was about love, friendship, loss, family, health, and infertility.
Kristen is a pretty independent woman, but her military boyfriend, Tyler, is coming home and moving in. The thought worries her a lot. They've spent most of their relationship with him away from home. But he's an attractive, smart, driven man that is ok with the fact that Kristen won't be able to have children. She has such horrible periods from her uterine fibroids that she's decided to get a hysterectomy even though she's in her mid 20's. It's something she's had to accept and Tyler doesn't even want kids. Kristen scheduled the surgery for after her best friend, Sloane's, wedding. Kristen is the maid of honor. She hasn't even told Sloane yet because she doesn't want to upset her before the wedding.
Josh just recently moved to California from South Dakota. He came from a big family with six older sisters and he wants a lot of kids. He's older and feels like he got started too late. But his last girlfriend decided she didn't want children, so they broke up. Josh is a firefighter and works with his best friend, Brandon. He's going to the best man in Brandon's wedding to Sloane.
Kristen and Josh meet after a small accident, but they meet for real because of wedding planning. Kristen is feisty and sassy and Josh is attracted to her right away. Kristen feels the same way, but there's Tyler. Josh and Kristen start spending time together and get close. They both realize that they've fallen in love. But Kristen knows that Josh wants a family and she won't take that from him. So she fights her feelings for months. There is a tragedy that brings them closer together. Josh doesn't care about the children. All he really cares about is Kristen.
I gave this book 4 1/2 stars rounded up to 5 on goodreads.
Warnings for infertility, blood, health issues, OCD, loss, grief.
Have you read The Friend Zone?  Is it on your TBR?