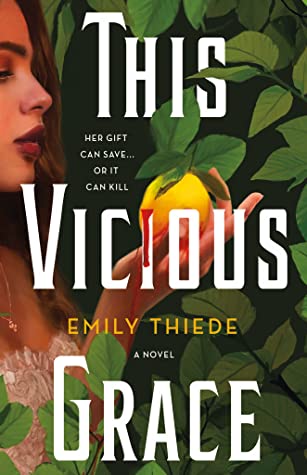 This Vicious Grace by Emily Thiede
Three weddings. Three funerals. Alessa's gift from the gods is supposed to magnify a partner's magic, not kill every suitor she touches.
Now, with only weeks left until a hungry swarm of demons devours everything on her island home, Alessa is running out of time to find a partner and stop the invasion. When a powerful priest convinces the faithful that killing Alessa is the island's only hope, her own soldiers try to assassinate her.
Desperate to survive, Alessa hires Dante, a cynical outcast marked as a killer, to become her personal bodyguard. But as rebellion explodes outside the gates, Dante's dark secrets may be the biggest betrayal. He holds the key to her survival and her heart, but is he the one person who can help her master her gift or destroy her once and for all?
Emily Thiede's exciting fantasy debut, This Vicious Grace, will keep readers turning the pages until the devastating conclusion and leave them primed for more! 
Expected publication: June 28th 2022 by Wednesday Books
I ended up really loving this and can't wait for the second book.
Alessa is such a great character. She was strong, but she also showed her weaknesses and wanted to change. I loved her growth. Dante is also great. I loved their banter throughout the book. He's tough on the outside, but super caring inside.
Alessa was chosen as the Finestra. Because of this, she can't touch people without taking their power/energy from them. She craves touch, but has to be fully covered. Most people shy away from her. When you're a Finestra, you have no name and no family. Finestras choose a Fonte, a person with power that they can use together to fight the demons that will come. Most of the time, the Finestra and Fonte work well together. But for Alessa, she keeps killing hers. The Finestra marries her chosen Fonte and Alessa has gone through three. She's not sure when the attack will come, but she needs to find a way to fight with a Fonte. Alessa gets death threats and someone tries to poison her. She hires a young man, Dante, to be her guard. She saw him fighting and thought he would be good. He was on the outside. But she was also attracted to him.
Alessa starts working with Dante and tries to find another Fonte. A small group shows up and they work together to choose. At first, they shied away from Alessa. But over time, a friendship grew with them. I loved the friend group and all the side characters. Alessa realizes that she's different than other Finestras so she needs to do things differently to give them a chance. Dante is hiding who he is from her and his secret can be the thing that saves her or curses her.
I gave this book 5 stars.
Thank you to the publisher and Netgalley for my earc.
Warning for lots of blood and gore.
Have you read This Vicious Grace?  Is it on your TBR?