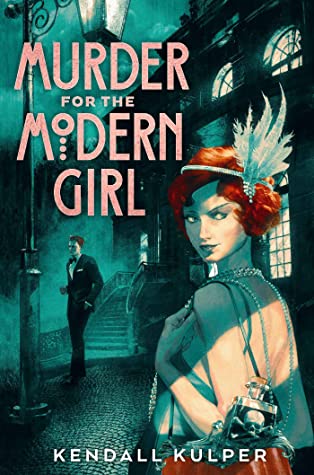 Murder for the Modern Girl by Kendall Kulper
Gatsby-era glamour, a swoon-worthy love story, and an indomitable heroine dazzle in this romp that captures the extravagance of the Roaring Twenties and the dangers of vigilante justice.
A ravishing young mind reader stalks the streets at night in kitten heels, prowling for men to murder.
A soft-spoken genius toils away in the city morgue, desperate to unearth the science behind his gift for shapeshifting.
It's a match made in 1928 Chicago, where gangsters run City Hall, jazz fills the air, and every good girl's purse conceals a flask.
Until now, eighteen-year-old Ruby's penchant for poison has been a secret. No one knows that she uses her mind-reading abilities to target men who prey on vulnerable women, men who escape the clutches of Chicago "justice." When she meets a brilliant boy working at the morgue, his knack for forensic detail threatens to uncover her dark hobby. Even more unfortunately: sharp, independent Ruby has fallen in love with him.
Waltzing between a supernaturally enhanced romance, the battle to take down a gentleman's club, and loyal friendships worth their weight in diamonds, Ruby brings defiant charm to every spectacular page of Murder for the Modern Girl—not to mention killer fashion. An irresistible caper perfect for fans of The Gentleman's Guide to Vice and Virtue.
This was a lot of fun!
I loved the characters in this book and found myself attached to them quickly. The chapters go back and forth between Ruby and Guy/Peter. But Ruby's best friend, Maggie, is amazing. I would love a book about her. When I first started this, I was a bit confused and wasn't sure I'd like the book. It was more of a cover/title request for me. I knew it was a murder book that took place in the 1920's in Chicago. What I didn't know is that Ruby and Peter were not normal people. Ruby can hear everyone's thoughts. But if she goes in for too long with a dying person, she could get stuck. Guy/Peter can change his face and body to look like anyone else he's seen. He usually stays male because he can't afford to buy women's clothes, too. Guy came to the Cook County Morgue to try to talk to a doctor that wrote a paper about his condition. No one else believes it can happen. But Guy is also very insecure and has hid his true face for years because of something that happened when he was young. He didn't want to see his own face. Ruby's dad is the state's attorney. He's been investigating corruption in the government and police department. He won't tell Ruby enough about it. Once he's hurt, Ruby decides to finish his work. But Ruby is also a killer. She uses poison to kill men that have horrible thoughts. The ones that are hurting people. Guy figures out that there is a murderer in the city and helps the doctor try to figure out who it is. He doesn't know it's Ruby and he's quickly falling for her.
I gave this book 5 stars. I just really enjoyed reading it.
Thank you to the publisher and Edelweiss for my earc.
Warnings for blood, poison, death, mentions of abuse, blackmail.
Have you read this yet?  Is it on your TBR?