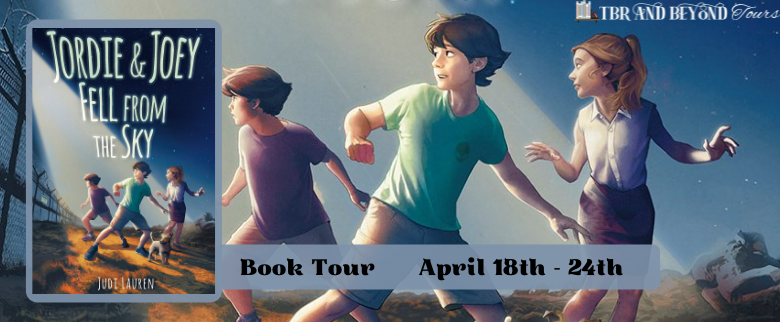 Welcome to my stop on the blog tour for Jordie & Joey Fell From the Sky by Judi Lauren.  This tour is being hosted by TBR and Beyond Tours.
Jordie and Joey Fell From the Sky by Judi Lauren
Genre: Middle Grade Contemporary
Publishing Date: April 19, 2022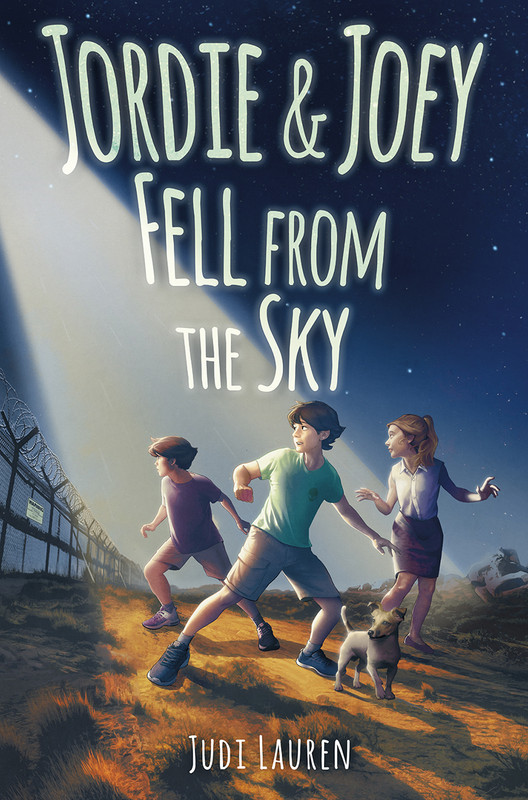 Twin brothers Jordie and Joey have never met their parents. Maybe it's because they aren't from this planet?
When another kid at school tried to force Jordie to show him the "crop circles" on his back that prove he's an alien, it was Joey who took the kid to the ground. And when the twins got kicked out of their foster home because Joey kissed the other boy who lived there, it was Jordie who told him everything would be okay. And as long as Jordie and Joey are together, it will be. But when the principal calls their current foster mother about a fight at school, the boys know she'll be done with them. And, from spying in their file, they also know they're going to be separated.
Determined to face the world side by side rather than without one another, Jordie and Joey set off to find their birth parents. From Arizona to Roswell to Area 51 in the Nevada desert, the twins begin a search for where they truly belong. But Jordie's about to discover that family isn't always about the ones who bring you into the world, but the ones who help you survive it.
Book Links:
Goodreads: https://www.goodreads.com/book/show/59040556-jordie-and-joey-fell-from-the-sky 
Amazon: https://www.amazon.com/Jordie-Joey-Fell-Judi-Lauren/dp/1631635816/ref=sr_1_1?keywords=9781631635816&linkCode=qs&qid=1642716170&s=books&sr=1-1 
Barnes & Noble: https://www.barnesandnoble.com/w/jordie-and-joey-fell-from-the-sky-judi-lauren/1140064581?ean=9781631635816 
Book Depository: https://www.bookdepository.com/Jordie-and-Joey-Fell-from-the-Sky-Judi-Lauren/9781631635816 
IndieBound: https://www.indiebound.org/book/9781631635816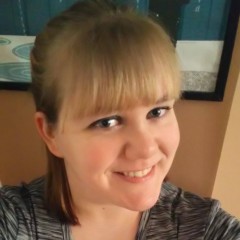 Judi Lauren was born in the Midwest and misses those winters. She now resides in an area where the bugs are way too large. She has an unnatural obsession with Chicago, Dean Winchester, and Friends (the TV show.)
Judi is represented by Heather Cashman of Storm Literary Agency, where she writes books for kids and teens about family, friendship, and surviving impossible things.
In her spare time, she also works as an editor at Radish Fiction. You can connect with her on Instagram @judilauren.
Author Links:
Website: https://judilauren.com/ 
Twitter: https://mobile.twitter.com/judi__lauren 
Instagram: https://www.instagram.com/judilauren/?hl=en 
Goodreads: https://www.goodreads.com/author/show/21824664.Judi_Lauren 
Follow The Tour:
April 18th
the nutty bookworm reads alot – Review
Lit Lemon Books – Review & Favorite Quote
April 19th
Stuck in Fiction – Interview
The Book Dutchesses – Promotional Post
Lily's Cozy Blog – Review, Favorite Quotes & TikTok
April 20th
Unconventional Quirky Bibliophile – Review & Mood Board
Confessions of a YA Reader – Promotional Post
laura's bookish corner – Top 5 Reasons to Read Jordie and Joey Fell From the Sky
April 21st
Nine Bookish Lives – Interview
Tirilu – Review
Sheaf and Ink – Promotional Post
April 22nd
The Bookwyrm's Den – Review
Twirling Book Princess – Promotional Post
April 23rd
Kait Plus Books – Interview
Jen Jen Reviews – Review
April 24th
Melancholic Blithe – Promotional Post
PopTheButterfly Reads – Review
Instagram:
April 18th
booking.with.janelle – Promotional Post
jl_books – Promotional Post
booksonthecouch – Review
April 19th
writingrosereads – Promotional Post
feliciareads11 – Blogger's Choice
lilly_sreads – Blogger's Choice
April 20th
quirkybibliophile – Blogger's Choice
booksandpops4000 – Blogger's Choice
April 21st
ninebookishlives – Blogger's Choice
sheafandink – Blogger's Choice
April 22nd
tbrandbeyond – Promotional Post
gryffindorbookishnerd – Review
April 23rd
jacleomik33 – Review
jenjenreviews – Blogger's Choice
April 24th
nurse_bookie – Top 5 Reasons to Read Jordie and Joey Fell From the Sky
popthebutterfly – Blogger's Choice