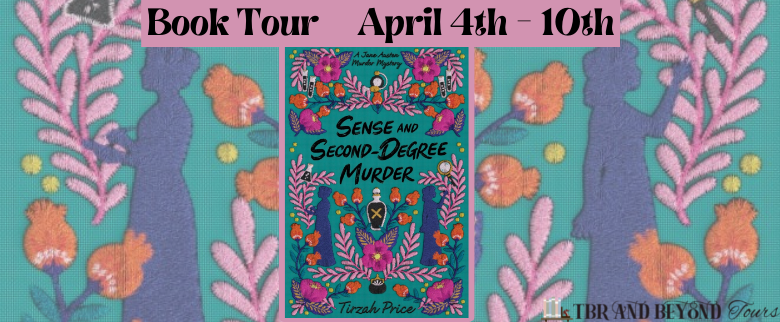 Welcome to my stop on the blog tour for Sense and Second-Degree Murder by Tirzah Price.  This tour is being hosted by TBR and Beyond Tours.
Sense and Second-Degree Murder (Jane Austen Murder Mystery #2) by Tirzah Price
Genre: Young Adult Historical Fiction Mystery
Publishing Date: April 5, 2022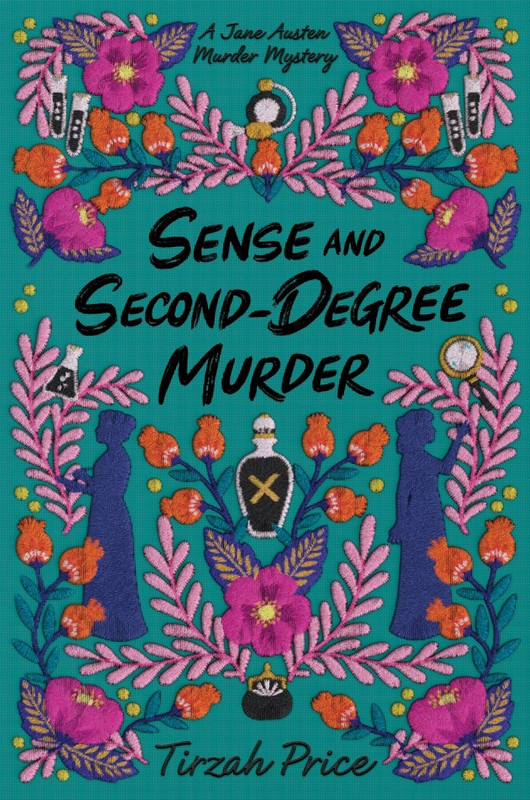 Three of Jane Austen's classic novels receive a murder mystery makeover in this romantic and thrilling three-book series that's perfect for fans of The Lady's Guide to Petticoats and Piracy and Stalking Jack the Ripper. In Sense and Second-Degree Murder, aspiring scientist Elinor Dashwood and her sister Marianne, a budding detective, work together to solve the mystery of their father's murder.
When eighteen-year-old aspiring scientist Elinor Dashwood discovers her beloved father slumped over the desk of his office study, she knows his death means dire straits for the Dashwood women. To make matters worse, an outdated will entails his estate—including Norland & Company, the private investigation firm where her younger sister Marianne worked as her father's partner and protégé—to their half-brother and his haughty wife, who waste no time in forcing the Dashwoods out of their home and into a cramped apartment on London's Barton Street.
But before they go, the Dashwood sisters make a startling discovery that points to foul play, and the killer might be family.
Obviously, the girls must investigate. It could be dangerous; it could ruin their reputations; and most importantly, it won't bring back their father. But if the Dashwood sisters can combine their talents and bring their father's murderer to justice, it may bring them all some comfort—and it might even lead to love.
Book Links:
Goodreads: https://www.goodreads.com/book/show/53171418-sense-second-degree-murder 
Amazon: https://www.amazon.com/Sense-Second-Degree-Murder-Austen-Mysteries/dp/0062889834/ref=sr_1_1?creative=330641&keywords=Sense+%26+Second-Degree+Murder&qid=1643928993&s=books&sr=1-1 
Barnes & Noble: https://www.barnesandnoble.com/w/sense-and-second-degree-murder-tirzah-price/1139798958?ean=9780062889836 
Book Depository: https://www.bookdepository.com/Sense-Second-Degree-Murder-Tirzah-Price/9780062889836?ref=grid-view&qid=1643929039965&sr=1-1 
Indigo: https://www.chapters.indigo.ca/en-ca/books/sense-and-second-degree-murder/9780062889836-item.html?ikwid=sense+and+second+degree+murder&ikwsec=Home&ikwidx=0#algoliaQueryId=b147b0aaf4511dd0dc6ce980a7cd673c 
IndieBound: https://www.indiebound.org/book/9780062889836 
I did review this book and you can read that HERE if you'd like.   I very much enjoyed this one (and the previous book).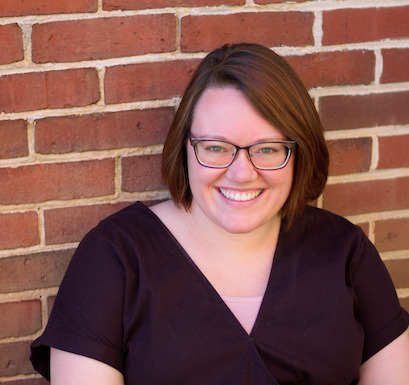 Tirzah Price grew up on a farm in Michigan, where she read every book she could get her hands on and never outgrew her love for YA fiction. She holds an MFA in Writing for Children & Young Adults from Vermont College of Fine Arts, and is a former bookseller and librarian. Now, she's a contributing editor at Book Riot, where she can be found recommending books on the site, newsletters, podcasts, and social media accounts. When she's not writing, reading, or thinking about YA books, she splits her time between experimenting in the kitchen and knitting enough socks to last the fierce Michigan winters.
Tirzah is pronounced TEER-zuh. Pronouns are she/her.
Author Links:
Website: https://tirzahprice.com/ 
Twitter: https://twitter.com/tirzahprice 
Instagram: https://www.instagram.com/tirzah.price/ 
Goodreads: https://www.goodreads.com/author/show/19982385.Tirzah_Price
Follow The Tour:
April 4th
Kait Plus Books – Interview
Worlds Unlike Our Own – Review
Books With Michelle – Top 5 Reasons to Read Sense and Second-Degree Murder & Mood Board
Stephanie Reads – Review
April 5th
Stuck in Fiction – Promotional Post
Bibliophile On Loose – Review & Mood Board
laura's bookish corner – Review
The Book View – Review & Mood Board
April 6th
Books and Strokes – Journal Spread
Pages & Plots – Promotional Post
Phannie the ginger bookworm – 15 Reactions While Reading Sense and Second-Degree Murder
Books Over Everything – Review
April 7th
The Book Dutchesses – Interview
Books Are Magic Too – Review
Book Notes by Athina – Promotional Post
Gwendalyn's Books – Review
April 8th
Nine Bookish Lives – Promotional Post
Fanna for Books – Review
The Blind Scribe – Book Look
Jill's Book Blog – Review
April 9th
Stuck in the Stacks – Review
decklededgess – Book Look
Confessions of a YA Reader – Promotional Post
The carly library – Review
April 10th
The Clever Reader – Interview
Ana en Noir – Review
Little Corner Reads – 15 Reactions While Reading Sense and Second-Degree Murder
teatimelit – Review
Instagram:
April 4th
bookswithonno – Top 5 Reasons to Read Sense and Second-Degree Murder
bookswithmichellee – Blogger's Choice
stp_reads – Blogger's Choice
April 5th
hturningpages – Top 5 Reasons to Read Sense and Second-Degree Murder & Favorite Quotes
feliciareads11 – Blogger's Choice
booksandpops4000 – Blogger's Choice
thebookviewblog – Blogger's Choice
April 6th
tbrandbeyond – Promotional Post
emmreadsbooks – Review & Candle Pairing
booksandstrokes – Blogger's Choice
books_over_everything – Blogger's Choice
April 7th
writingrosereads – Promotional Post
atrailofpages – Review
booknotes_athina – Blogger's Choice
gwendalyn_books – Blogger's Choice
April 8th
lady_westfall19 – Review
abisbookreviews – Review
ninebookishlives – Blogger's Choice
the_blind_scribe – Blogger's Choice
April 9th
says_books – Review & Favorite Quotes
stuck.in.the.stacks – Blogger's Choice
decklededgess – Blogger's Choice
thecarlylibrary – Blogger's Choice
April 10th
luna_reads – Journal Spread
anaennoir – Blogger's Choice
readbycait – Blogger's Choice