TBR and Beyond has another great challenge for April.  I missed out on posting for March with vacation, so I wanted to make sure to get this up.  You can join the challenge HERE.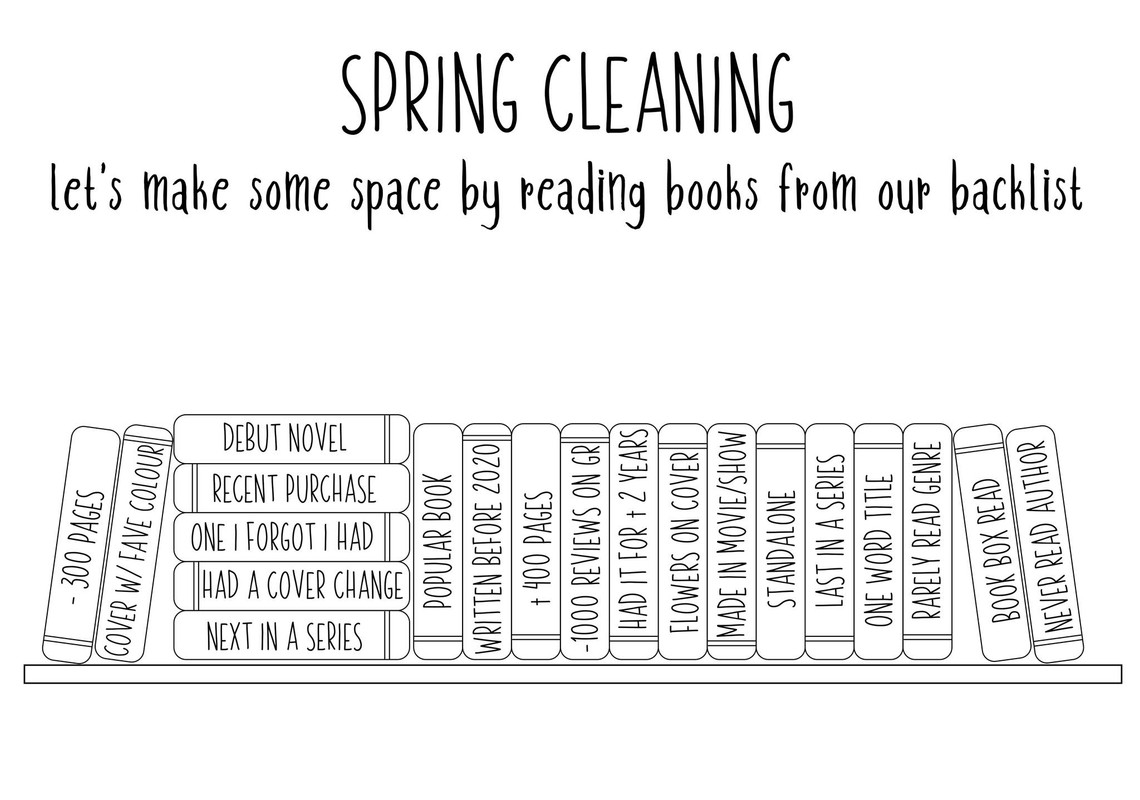 The Rules:
This month our challenge is Spring cleaning – catch up on your backlist!
How to play?
Very easy, try and complete as many prompts as you can with books from your backlist TBR. You don't have to complete every prompt. You can double up on this one. The graphics for the challenge is attached to this post, as well in the general group. Feel free to print it out and mark it up as you please.
You can interpret the words however you wish but the book needs to be from your backlist and fit the prompt requirement.
Prize this month will be any book from Book Depository (up to $15 US).
Prize Entries –
Each book read is worth one entry.
Finish 5 prompts – 5 extra entries.
Finish 10 prompts – 50 extra entries
This is a nice easy challenge. I hope you all have fun.
Read a book less than 300 pages
Read a book with your favourite colour on the cover
Read a debut novel
Read a book you purchase recently
Read a book you had forgotten you had
Read a book that had a cover change
Read the next book in a series you started
Read a popular book from your backlist
Read a book written before 2020
Read a book with more than 400 pages
Read a book with less than 1000 reviews on Goodreads
Read you book you've had for more than 2 years
Read a book with flowers on the cover
Read a book that was turned into a movie or series
Read a standalone
Read the last book of a series you've started
Read a book with a one-word title
Read a book from a genre you rarely read
Read a book you got in a book box subscription
Read a book by an author you haven't read before.
I'm pretty excited for this one since I have a lot of backlist books I want to read.  I still have a few arcs I will read, but I'm hoping to read at least 5 backlist books.
Are you joining us this month?  Have you made your TBR?