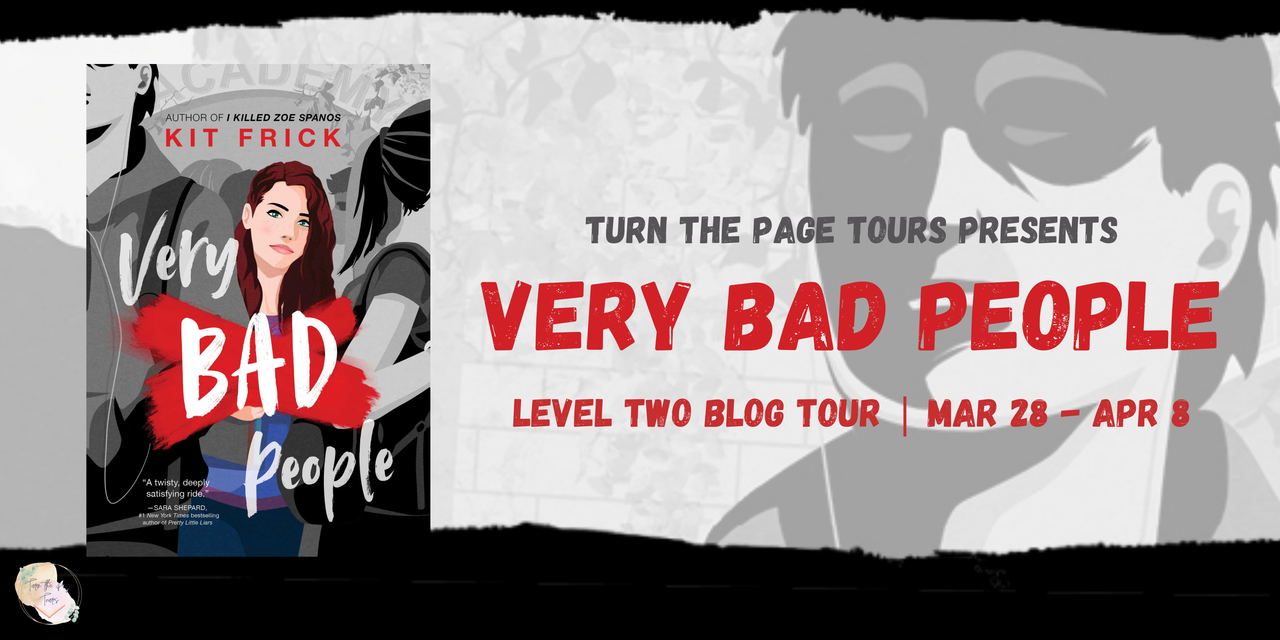 Welcome to my stop on the blog tour for Very Bad People by Kit Frick.  This tour is being hosted by Turn the Page Tours.
April 5th 2022 by Margaret K. McElderry Books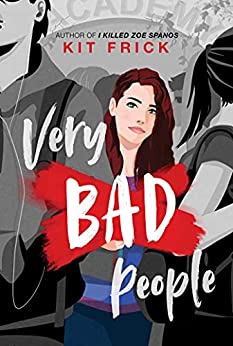 In this dark academia young adult thriller for fans of The Female of the Species and People Like Us, a teen girl's search for answers about her mother's mysterious death leads to a powerful secret society at her new boarding school—and a dangerous game of revenge that will leave her forever changed.
Six years ago, Calliope Bolan's mother drove the family van into a lake with her three daughters inside. The girls escaped, but their mother drowned, and the truth behind the "accident" remains a mystery Calliope is determined to solve. Now sixteen, she transfers to Tipton Academy, the same elite boarding school her mother once attended. Tipton promises a peek into the past and a host of new opportunities—including a coveted invitation to join Haunt and Rail, an exclusive secret society that looms over campus like a legend.
Calliope accepts, stepping into the exhilarating world of the "ghosts," a society of revolutionaries fighting for social justice. But when Haunt and Rail commits to exposing a dangerous person on campus, it becomes clear that some ghosts define justice differently than others.
As the society's tactics escalate, Calliope uncovers a possible link between Haunt and Rail and her mother's deadly crash. Now, she must question what lengths the society might go to in order to see a victory—and if the secret behind her mother's death could be buried here at Tipton.
Calliope, Lorelei, and Serafina are sisters. When Calliope, the oldest, was ten, her mom's vehicle went into the water. The girls got out, but their mom didn't. Their father and the girls have mostly moved on. They miss her, but they're ok not knowing what actually happened. But Calliope needs to know the truth. Did her mom do it on purpose? Was there anyone else involved? She decides to enroll in the same boarding school her mom went to. She thought that it would make her closer to her mom somehow. Shortly after she arrives, Calliope sees a man that looks familiar. She thinks he might have been there when their mom died. So she starts trying to find out who this man is.
Haunt and Rail is a secret society at the school. There are only ten juniors and ten seniors every year. Calliope gets an invite to join. At first, she is really excited. It seems like they fight for social justice causes. But the longer she's in, Calliope realizes that the society is darker than she thought. She also starts to figure out who the man is and how her mom died. Nothing at the school ends up as she hoped.
The ending was one of those kind of open ended ones. I think I know what she did, but I'm not sure. I would have loved more, but I also get why it ended the way it did.
I gave this book 4 stars. Thank you to the publisher and Netgalley for my earc.
Warnings for inappropriate sexual contact, teenage drinking, talk of suicide, mental illness/ptsd, death.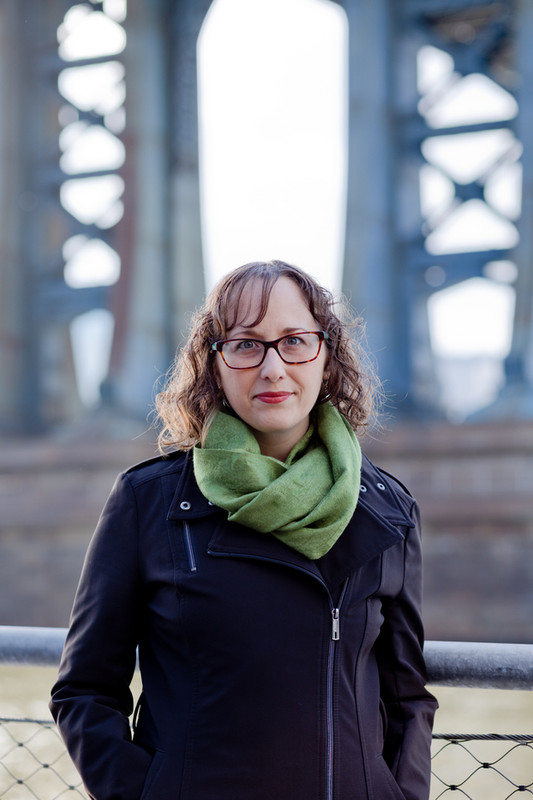 Kit Frick is the author of B&N YA Book Club pick and Thriller Award finalist I Killed Zoe Spanos as well as the young adult thrillers See All the Stars, All Eyes on Us, and Very Bad People, and the poetry collection A Small Rising Up in the Lungs.
Readers interested in signing up for a monthly newsletter including book news and giveaways should visit her website at kitfrick.com. Kit doesn't accept GR friend requests but you can still follow her here for updates or connect with her on Twitter and Instagram, where she is most active. 
Follow The Tour:
April 4
Struck by Stories – Book Review
April 5
Whispering Stories – Book Review
Literary Liza – Book Review, Favorite Quotes
April 6
Stories With Saima – Book Review, Book playlist
April 7
The Bookish Context – Book Review, Character interviews
Confessions of a YA Reader – Book Review
April 8
Book lover' s book reviews -Spotlight
Instagram:
March 30
@brinnsbooks – Book Review, Favorite Quotes
March 31
@beautynherbooks – Book Review, Favorite Quotes
April 1
Mochas_and_madness15 -Mood Board, Book Review
April 2
@Booksatlu  – Book Review
@ravenzreviewz – Favorite Things About Very Bad People
April 3