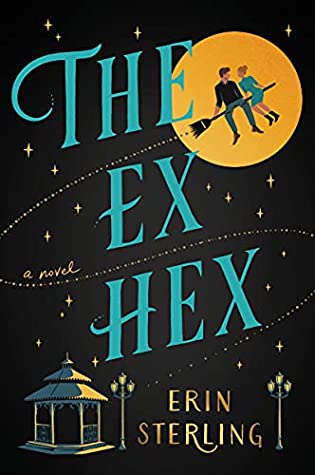 The Ex Hex by Erin Sterling
New York Times bestselling author Rachel Hawkins, writing as Erin Sterling, casts a spell with a spine-tingling romance full of wishes, witches, and hexes gone wrong.
Nine years ago, Vivienne Jones nursed her broken heart like any young witch would: vodka, weepy music, bubble baths…and a curse on the horrible boyfriend. Sure, Vivi knows she shouldn't use her magic this way, but with only an "orchard hayride" scented candle on hand, she isn't worried it will cause him anything more than a bad hair day or two.
That is until Rhys Penhallow, descendent of the town's ancestors, breaker of hearts, and annoyingly just as gorgeous as he always was, returns to Graves Glen, Georgia. What should be a quick trip to recharge the town's ley lines and make an appearance at the annual fall festival turns disastrously wrong. With one calamity after another striking Rhys, Vivi realizes her silly little Ex Hex may not have been so harmless after all.
Suddenly, Graves Glen is under attack from murderous wind-up toys, a pissed off ghost, and a talking cat with some interesting things to say. Vivi and Rhys have to ignore their off the charts chemistry to work together to save the town and find a way to break the break-up curse before it's too late.
The Ex Hex was a lot of fun and was exactly what I was hoping it would be. I wanted a light read and this worked well. I loved the characters and humor.
Vivi lives with her cousin and aunt. 9 years earlier, she met a boy from Wales. Rhys was her life for three months. Then he broke her heart. Vivi and Gwyn got drunk and did a curse on him. They knew it wouldn't work, but it felt good. Now, Rhys is back in Georgia to strengthen the ley lines there. Things go really wrong. Somehow, the ley lines got corrupted and they realize that Vivi's curse actually worked. And now the whole town is cursed. First there are skulls alive in the store. Then they meet an angry ghosts. Things are going so wrong, but Vivi and Rhys have reconnected. They have a lot of sex, but they do focus on the curse. It just seems that there's no way to break it. The ghost ends up being helpful and Vivi works on a way to save both Rhys and the town.
I loved Rhys and his need to humor to hide behind his feelings. Vivi was so strong, even when she knew she would get hurt again. I freaking adored Gwyn and need more from her. She made me laugh so many times throughout the book. My favorite thing was how she talked about Rhys.
"I think if you keep calling him 'The Dickbag', you can't also act like you're a matchmaking tween in a Disney movie."
The sex scenes were steamy, but not overly descriptive. Just enough.
I gave this book 4 stars.
Have you read this yet?  If so, will you read the next book?