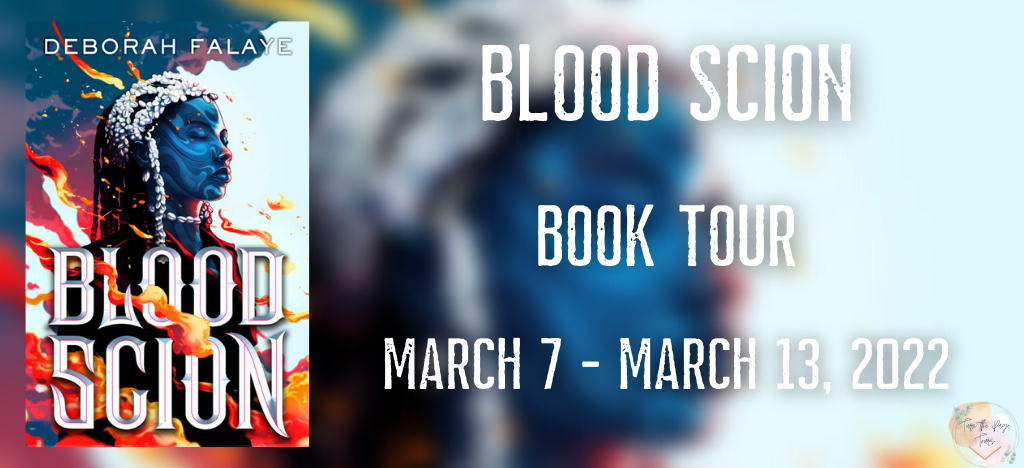 Welcome to my stop on the blog tour for Blood Scion by Deborah Falaye.  This tour is being hosted by Turn the Page Tours.
Book Title: Blood Scion (Blood Scion #!)
Author: Deborah Falaye
Publisher: HarperTeen
Release Date: March 8, 2022
Genres: Young Adult, Fantasy, Mythology
Goodreads link: https://www.goodreads.com/book/show/58329290-blood-scion 
Book Purchase link:
https://www.harpercollins.com/products/blood-scion-deborah-falaye?variant=39373024362530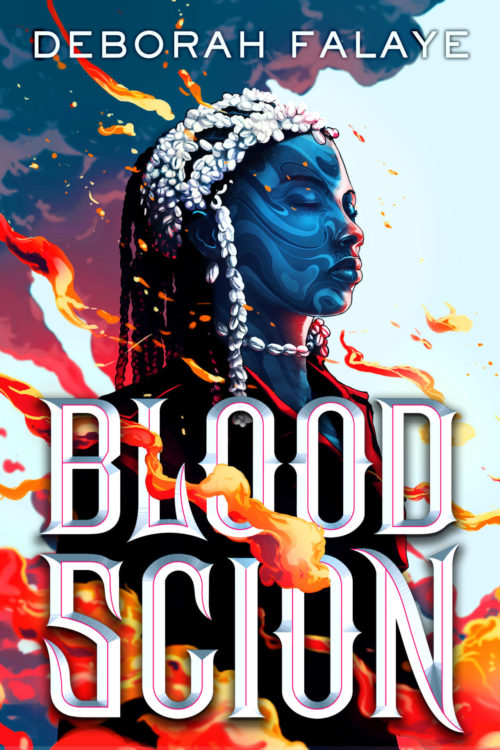 This is what they deserve. They wanted me to be a monster. I will be the worst monster they ever created.
Fifteen-year-old Sloane can incinerate an enemy at will—she is a Scion, a descendant of the ancient Orisha gods.
Under the Lucis' brutal rule, her identity means her death if her powers are discovered. But when she is forcibly conscripted into the Lucis army on her fifteenth birthday, Sloane sees a new opportunity: to overcome the bloody challenges of Lucis training, and destroy them from within.
Sloane rises through the ranks and gains strength but, in doing so, risks something greater: losing herself entirely, and becoming the very monster that she abhors.
Following one girl's journey of magic, injustice, power, and revenge, this deeply felt and emotionally charged debut from Deborah Falaye, inspired by Yoruba-Nigerian mythology, is a magnetic combination of A Song of Wraiths and Ruin and Daughter of Smoke and Bone that will utterly thrill and capture readers.
Blood Scion is hard to read, but it's so good. I had to take breaks often and read it slower than normal. That helped me a lot. This book is dark and brutal.
Sloane has been searching for answers as to what happened to her mom two years earlier. She and a man disappeared and the local villagers believe they ran away together. But Sloane is positive that her mom wouldn't have left her. Nightwalkers search the village every night after midnight and kill anyone out. Sloan is a Scion, descendant of Shango, the god of heat and fire. She has little control over her fire at times and has killed people with it. Being a Scion is a death sentence. The Lucis conquered their home centuries before and they control everything now. The Lucis started a Draft that puts fifteen year olds into service. If you try to run, you and your whole family are killed. And no one really comes back home after their three years as soldiers is up. Sloane just turned fifteen and was drafted. She doesn't know how she will do it. She'll be forced to kill innocent people just because of who they are. She will kill her own people. There is a test right away and Sloane has to murder someone just to get in. Sloane is abused and tortured. The army turns kids into monsters and Sloane is worried that she will be one of the worst. But she's determined to survive and find the answers to her mom's disappearance, no matter what.
This book is full of abuse. What they do to the recruits is horrible. The pacing was great. I cried more than once while reading. And there are some pretty major plot twists. I don't even know how many times I gasped while reading, but it was quite often. If you can handle reading about racism and the abuses, I suggest giving this one a try. I cannot wait to read book two once it's out.
I gave this book 5 stars and it's one of the best books I've read this year. Thank you to the publisher for sending me a link to Netgalley.
Warnings for attempted rape, death, torture, physical abuse, whipping, racism, fire, blood, violence, and gore. I'm probably forgetting some major ones. The author does go into details for some of these things.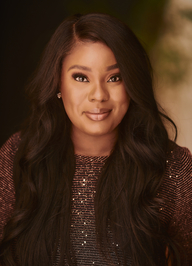 Deborah Falaye is a Nigerian Canadian young adult author. She grew up in Lagos, Nigeria, where she spent her time devouring African Literature, pestering her grandma for folktales, and tricking her grandfather into watching Passions every night. When she's not writing about fierce Black girls with bad-ass magic, she can be found obsessing over all things reality TV. Deborah currently lives in Toronto with her husband and their partner-in-crime yorkie, Major. Blood Scion is her first novel.
Author Links:
https://www.goodreads.com/author/show/19718492.Deborah_Falaye 
https://www.instagram.com/deborahfalaye/ 
Follow The Tour:
March 7
Turn the Page Tours – Welcome Post
Kait Plus Books – Spotlight
Rampant Reading Reviews – Book Review
Betwixt the Sheets – Top 3 Reasons to Read Blood Scion
March 8
Justice for Readers – Book Review
Radusreads – Book Review
Confessions of a YA Reader – Book Review
Balancing Books and Beauties – Book Review, Top 3 Reasons to Read Blood Scion
March 9
Cocoa with Books – Book Review, Favorite Quotes
The Momma Spot – Book Review
Southern Belle at Heart – Spotlight
March 10
Reading Stewardess – Book Review
Avni Reads – Book Review
Nonbinary Knight Reads – Spotlight
PoptheButterfly Reads – Book Review
March 11
Whimsical Blessings – Mood Board
Lost in a Bookstore – Book Review, Mood Board
One Book More – Book Review, Top 3 Reasons to Read Blood Scion
Yoda Reads – Book Review
Brinns Books – Book Review, Favorite Quotes
March 12
The Bookwrym's Den – Book Review
Book Lover's Book Reviews – Spotlight
Stuck in the Stacks – Book Review, Favorite Quotes
Baltimore Bibliophile – Book Review
March 13
Stacialovestoread – Book Review
Celia's Reads – Book Review, Favorite Quotes
Sadie's Spotlight – Spotlight
Book Butterfly in Dreamland – Book Review, Favorite Quotes
Instagram:
March 7
Turn the Page Tours – Welcome Post
Anovelkingdom – Spotlight
Rampant_reading – Blogger's Choice
Theink_slinger – Blogger's Choice
Thebrillianceofbookshelves – Spotlight
Takealookatmybookshelf – Spotlight
Biblio.jojo – Spotlight
March 8
Danzibooks – Spotlight
Justiceforreaders – Blogger's Choice
Simplybeccamee – Book Review
Gingerly_reading – Book Review
Radusreads – Blogger's Choice
Confessionsofayareader – Blogger's Choice
Balancing_books_and_beauties – Blogger's Choice
March 9
Allmyfriendsareinbooks – Book Review
Bookswith_brandie_shanae – Book Review
Thenerdynook – Book Review
Bookdragontbr – Blogger's Choice
The_shelf_love – Blogger's Choice
Bookstagramrepresent – Book Review
March 10
Skygoddess1 – Blogger's Choice
Her.bookish.diaries – Book Review
Nerdy_little_julith – Book Review
Avnireads – Blogger's Choice
Nonbinaryknight_reads – Blogger's Choice
Popthebutterfly – Blogger's Choice
g.reads – Book Review
March 11
Cocoawithbooks – Blogger's Choice
Velvet_vanguard – Book Review
Piscesbooklover – Book Review
Moonlight_rendezvous – Book Review
10streader – Blogger's Choice
1bookmore – Blogger's Choice
Yodareads12 – Blogger's Choice
Brinnsbooks – Blogger's Choice
March 12
Liyareadsya – Book Review
Thereadingroom444 – Instagram Reel
Jay.rae.reads – Book Review
Stuck.in.the.stacks – Blogger's Choice
Theenchantedshelf – Book Review
Jypsylynn – Book Review
Bmorebiblio – Blogger's Choice
March 13
Antonique_reads – Book Review
Herbookish._.obsession – Book Review
Stacialovestoread – Blogger's Choice
Celiamcmahonreads – Blogger's Choice
Sadiespotlight – Blogger's Choice
Purpleshadowhunter – Blogger's Choice
Mulberryreads – Book Revie