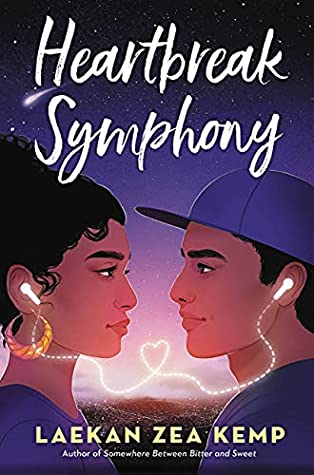 Heartbreak Symphony by Laekan Zea Kemp
Clap When You Land meets On the Come Up in this heart-gripping story about navigating first love and overcoming grief through the power of music.
Aarón Medrano has been haunted by the onstage persona of his favorite musician ever since his mother passed away. He seems to know all of Aarón's deepest fears, like that his brain doesn't work the way it should and that's why his brother and father seems to be pushing him away. He thinks his ticket out is a scholarship to the prestigious Acadia School of Music. That is, if he can avoid blowing his audition.
Mia Villanueva has a haunting of her own and it's the only family heirloom her parents left her: doubt. It's the reason she can't overcome her stage fright or believe that her music is worth making. Even though her trumpet teacher tells her she has a gift, she's not sure if she'll ever figure out how to use it or if she's even deserving of it in the first place.
When Aarón and Mia cross paths, Aarón sees a chance to get close to the girl he's had a crush on for years and to finally feel connected to someone since losing his mother. Mia sees a chance to hold herself accountable by making them both face their fears, and hopefully make their dreams come true. But soon they'll realize there's something much scarier than getting up on stage—falling in love with a broken heart.
Expected publication: April 2022 by Little Brown and Company
When I first started this book, I wasn't sure I would like it. It just felt sad. But after a little while, I really started seeing all the things the book focuses on. There is a lot about grief. But it's also about family, love, music, and community. It's about two teens who feel broken and they find strength in each other and from the people around them. It also focuses on the crappy immigration policies in this country.
Aaron lost his mom eight months earlier. His twin basically hates him and his dad mostly ignores him. They don't openly mourn the way Aaron does. But Aaron was so close to his mom. In his grief, she's created this robot that talks to him. It's based off his favorite musician that has been missing. Aaron is determined to find out what happened to him. Aaron also works on music and is trying to apply for a scholarship.
Mia's mom left when she was young and her dad died shortly after. Her two other brothers raised her. Mia missed her dad a lot, but had a lot of anger at her mom. Her parents fought a lot and it scarred her. Mia plays the trumpet and she's also applying for the scholarship. But her stage fright and doubt keeps her from going through with it.
Aaron and Mia start spending more time together. They share their fears and the things from their past. They watch as people in their community are being taken by ICE and deported. There is a big protest planned and they both want to help. They see how each person in the community comes together and provides their own strengths in things. Aaron and Mia start to fall in love, even through their sadness.
The writing in this book is beautiful and powerful. The pacing was a bit slow, but it worked. I found myself really drawn into the whole community.
I gave this book 4 1/2 stars rounded up to 5 on Goodreads.
Lots of warnings on this one. Grief and loss, anxiety, depression, health issues, addiction, absent parents, immigration and police issues, abuse.
Have you read this yet?  Is it on your TBR?