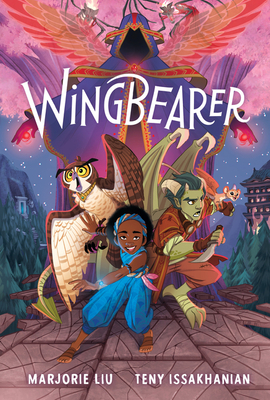 Wingbearer by Marjorie Liu illustrated by Teny Issakhanian
A young girl must stop a threat to her magical world in this epic graphic novel from New York Times bestselling author Marjorie Liu and remarkable debut illustrator Teny Issakhanian.
Zuli is extraordinary–she just doesn't realize it yet. Raised by mystical bird spirits in the branches of the Great Tree, she's never ventured beyond this safe haven. She's never had to. Until now.
When a sinister force threatens the life-giving magic of the tree, Zuli, along with her guardian owl, Frowly, must get to the root of it. So begins an adventure bigger than anything Zuli could've ever imagined–one that will bring her, along with some newfound friends, face-to-face with an ancient dragon, the so-called Witch-Queen, and most surprisingly of all: her true identity.
This captivating middle grade graphic novel, the first of a series, is perfect for fans of the Amulet books and the Wings of Fire series.
A Junior Library Guild Selection
Zuli doesn't know who she is. She was left with a bracelet at the Great Tree. She's been raised by some guardians, including Frowly, her owl. The tree is where the bird spirits go and then they're reborn. But something is wrong and no birds come. They hear that no birds are being born. Zuli and Frowly go out into the world to see what is happening. The world isn't how Frowly remembers it. Time moves differently at the Great Tree. Zuli meets new friends, but also faces threats, including the Witch-Queen that wants her. While she's out there, she starts to find out about magic and why she is special.
I loved everything about this. The story and characters are great and the artwork is beautiful. I can't wait to see the finished book.
I gave this 5 stars.
Thank you to Quill Tree Books for my physical arc for review.
Is this on your TBR?  Have you already read it?