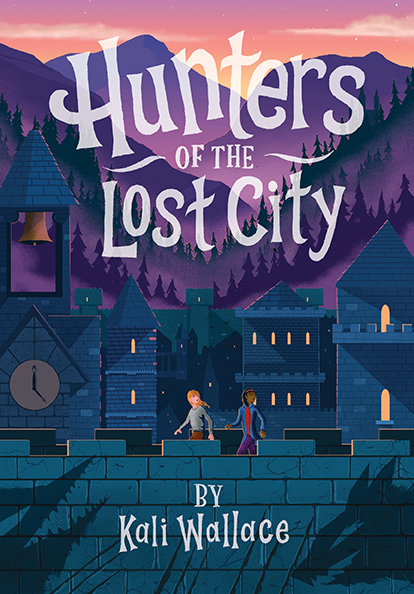 Hunters of the Lost City by Kali Wallace
Packed with shocking twists, frightening monsters, and dark magic, this is a page-turning fantasy adventure for middle-grade fans of Holly Black and Tamora Pierce.
Twelve-year-old Octavia grew up believing the town of Vittoria was the only one left in the world. The sole survivors of a deadly magical war and plague, the people of Vittoria know there's no one alive outside the town walls—except the terrible monsters that prowl the forest.
But then the impossible happens: Octavia meets another girl beyond the walls, someone who isn't Vittorian. Everything she's ever believed is thrown into question, and there's no going back.
In her quest for the truth, Octavia discovers a world full of lies, monsters, and magic. She'll have to use every scrap of her skill, wits, and courage to uncover what's real about Vittoria and the rest of the world.
Expected publication: April 26th 2022 by Quirk Books
Hunters of the Lost City reminded me a bit of a lighter Extasia.
Octavia was easy to like. She's a twelve year old girl living in the last city left in the world. They close all the gates at night because there are creatures that kill. No one is let back in, even if they're begging for help. Octavia's sister, Hana, was a hunter. She never came back, but they found some bloody items of hers. Octavia wants to be a hunter and Hana was teaching her. So she sneaks out when she can. Octavia stayed out too late on time and was being stalked by a Ferox. A girl showed up out of no where and helped her. Sima explained to Ocatvia that there are other people in the world. There are other cities. Octavia wants to tell everyone, but things don't go well when she brings Sima back with her. Octavia decides that she needs to help Sima find her missing family and find out the truth about the past that people have lied about for the past fifty years.
I feel like Octavia and Sima would be more than friends, but the author never specifically said it. But I felt there was something there and I was all for it. I adored Sima, too.
I gave this book 4 stars.
Thank you to Quirk Books for my review copy.
Warnings for talk of plague, blood, manipulation, death.
Have you read this yet?  Is it on your TBR?