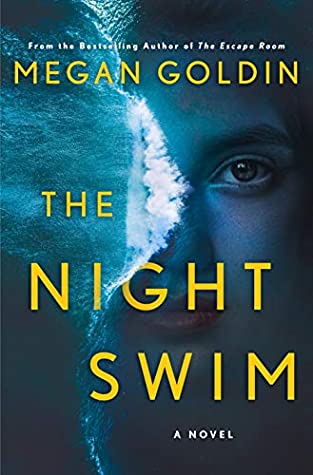 The Night Swim by Megan Goldin
After the first season of her true crime podcast became an overnight sensation and set an innocent man free, Rachel Krall is now a household name―and the last hope for thousands of people seeking justice. But she's used to being recognized for her voice, not her face. Which makes it all the more unsettling when she finds a note on her car windshield, addressed to her, begging for help.
The small town of Neapolis is being torn apart by a devastating rape trial. The town's golden boy, a swimmer destined for Olympic greatness, has been accused of raping a high school student, the beloved granddaughter of the police chief. Under pressure to make Season Three a success, Rachel throws herself into interviewing and investigating―but the mysterious letters keep showing up in unexpected places. Someone is following her, and she won't stop until Rachel finds out what happened to her sister twenty-five years ago. Officially, Jenny Stills tragically drowned, but the letters insists she was murdered―and when Rachel starts asking questions, nobody seems to want to answer. The past and present start to collide as Rachel uncovers startling connections between the two cases that will change the course of the trial and the lives of everyone involved.
Electrifying and propulsive, The Night Swim asks: What is the price of a reputation? Can a small town ever right the wrongs of its past? And what really happened to Jenny?
The Night Swim was a quick read that was hard to put down. The book has chapters from Rachel, Hannah, and also Rachel's podcast. I really liked this format.
Rachel was heading to a small coastal town called Neapolis. She was going to cover a rape case for her third podcast season. With her podcast, Rachel tries to show evidence from both sides and what is going on at court so that the listeners can decide what they think. She knew this would be a tough case. The town was already torn. The boy was a star athlete with a future in the Olympics. The girl had to change schools twice. The author did a good job talking about how there is so much put onto the accusers and it's worse that what is on the accused.
While in Neapolis, Rachel started receiving letters left for her by a woman named Hannah. Hannah wanted Rachel to help solve the 25 year old case of her sister's death. Hannah's sister, Jenny, was found in the water by the beach jetty. The police called it a drowning. But Hannah knew it was murder. It took her a long time, but she started telling the truth of what she knew happened that night. At first, Rachel isn't interested. But there was something in Hannah's letters that she couldn't ignore. So Rachel went to court every day, worked on her podcast, and looked into Jenny's death. The truth of what happened finally comes out at the end of the book.
I gave this book 4 stars.
Have you read The Night Swim?  Is it on your TBR?