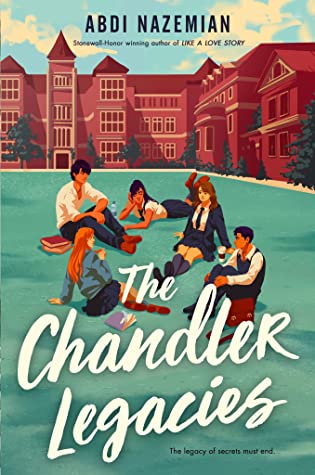 The Chandler Legacies by Abdi Nazemian
From the Stonewall Honor–winning author of Like a Love Story comes a revelatory novel about the enclosed world of privilege and silence at an elite boarding school and the unlikely group of friends who dare challenge the status quo through their writing.
Beth Kramer is a "townie" who returns to her sophomore year after having endured a year of judgment from her roommate, Sarah.
But Sarah Brunson knows there's more to that story.
Amanda Priya "Spence" Spencer is the privileged daughter of NYC elites, who is reeling from the realization that her family name shielded her from the same fate as Sarah.
Ramin Golafshar arrives at Chandler as a transfer student to escape the dangers of being gay in Iran, only to suffer brutal hazing under the guise of tradition in the boys' dorms.
And Freddy Bello is the senior who's no longer sure of his future but has fallen hard for Spence and knows he has to stand up to his friends after what happened to Ramin.
At Chandler, the elite boarding school, these five teens are brought together in the Circle, a coveted writing group where life-changing friendships are born—and secrets are revealed. Their professor tells them to write their truths. But is the truth enough to change the long-standing culture of abuse at Chandler? And can their friendship survive the fallout?
The Chandler Legacies has some warnings in the beginning of the book that you should read before picking this up. Also, please read the author's note because this book was based off some of his experiences at a boarding school in the US.
The Chandler Legacies has five points of view, but it was very easy to tell each one apart right away. Chandler is a private boarding school with mostly rich kids. They have dorms, but some kids are local and others stay with a teacher. Like so many high schools, there are some major problems that are covered up. This book takes place in 1999, just a little while after I finished school. I remember the hazing that went on and I can only imagine what I didn't see.
The five students, Freddy, Spence, Brunson, Beth, and Ramin all become part of The Circle which is a coveted writing group. It's very hard to get into. At first, they just spend a small amount of time together. But as the months go on, they all grow very close. Freddy is popular and is training for the Olympics. Spence has a famous model mom and is beautiful. She's very into acting and wants to be able to write her own stories. Beth is local and deals with bad anxiety. Brunson still deals with how she felt when her mom had cancer and she's also hiding something. Ramin had to leave Iran after he was caught with his boyfriend. The students all seem very different, but they all write. And over time, they start to see similarities. Some relationships start. But there are also a lot of bad things. There is a huge amount of hazing that is abusive. The boys are very anti gay/homophobic. And then there are the issues with some teachers. The kids all decide that something needs to be done, but it's not easy taking on a private school that allowed these things to happen for decades.
I found myself very invested in each of the students' lives and I loved the friendship that grew. It was also a great story about how you can't change things if you don't do something.
I gave this book 4 1/2 stars rounded up to 5 on Goodreads.
Thank you to the publisher for sending me a finished copy for review.
Just a few of the many warnings are homophobia, abuse, and hazing.
Have you read The Chandler Legacies?  Is it on your TBR?