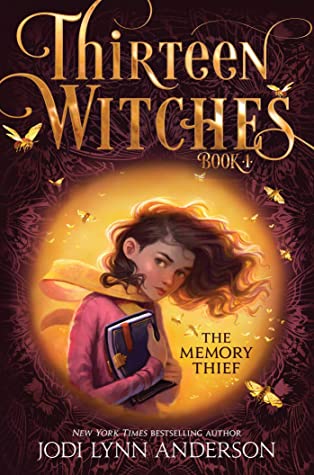 The Memory Thief (Thirteen Witches) by Jodi Lynn Anderson
Twelve-year-old Rosie Oaks's mom is missing whatever it is that makes mothers love their daughters. All her life, Rosie has known this…and turned to stories for comfort. Then, on the night Rosie decides to throw her stories away forever, an invisible ally helps her discover the Witch Hunter's Guide to the Universe, a book that claims that all of the evil in the world stems from thirteen witches who are unseen…but also unstoppable. One of these witches—the Memory Thief—holds an insidious power to steal our most precious treasures: our memories. And it is this witch who has cursed Rosie's mother.
In her quest to save her mom—and with her wild, loyal friend "Germ" by her side—Rosie will find the layers hidden under the reality she only thought she knew: where ghosts linger as shades of the past, where clouds witness the world, and a ladder dangles from the moon leading to something bigger and more. Here, words are weapons against the darkness, and witch hunters are those brave enough to wield their imaginations in the face of the unthinkable. The knowledge of her beloved stories is an arsenal in this world, but to unlock their power, Rosie must dare to have hope and believe in herself in the face of daunting odds.
This was a great start to a series.
Rosie is a young girl with a mom that doesn't seem to remember anything. She doesn't even know how to love Rosie. Rosie has done everything on her own for as long as she can remember. But she does have a best friend, Germ. But they're getting older and Germ is spending more time with other people. It upsets Rosie and she gets jealous. But she's kind and quiet and tries to be ok with it. Rosie writes stories, but Germ tells her that they need to grow up. After Rosie burns them all, she starts to see ghosts. Somehow, Germ can see them, too. They meet a young boy ghost, Ebb, and he tells them some secrets. There is a book about witches hidden in the house that Rosie's mom wrote. She was a witch hunter, but them the Memory Thief took all her memories the day Rosie was born. Her mother was cursed and that's why she acts the way she does. The Memory Thief thought she ended the witch hunter line, but she finds out about Rosie and vows to end her, too. Rosie needs to find the strength to fight back. Not only to save herself, but also her mother, Germ, Ebb, and all the other ghosts she's come to know.
This book is full of friendship and adventure. I adored both Rosie and Germ. The love they had for each other showed throughout the book. I can't wait to see where the next adventure/hunt takes them.
I gave this book 4 1/2 stars rounded up to 5 on Goodreads.
Thank you to Simon and Schuster for sending me a finished copy for review.
Have you read this yet?  If so, will you read book two?  Is this on your TBR?