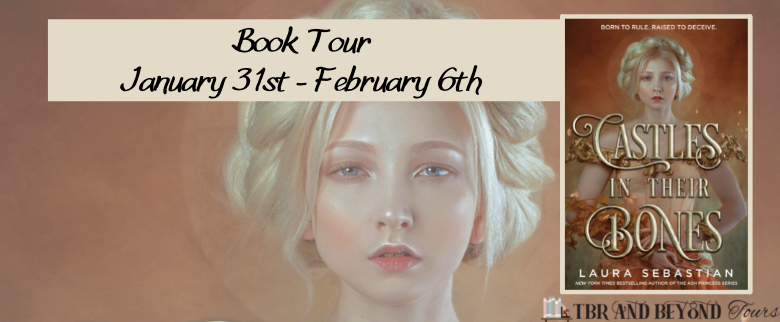 Welcome to my stop on the blog tour for Castles in Their Bones by Laura Sebastian.  This tour is being hosted by TBR and Beyond Tours.
Castles in Their Bones (Castles in Their Bones #1) by Laura Sebastian
Genre: Young Adult Fantasy
Publishing Date: February 1, 2022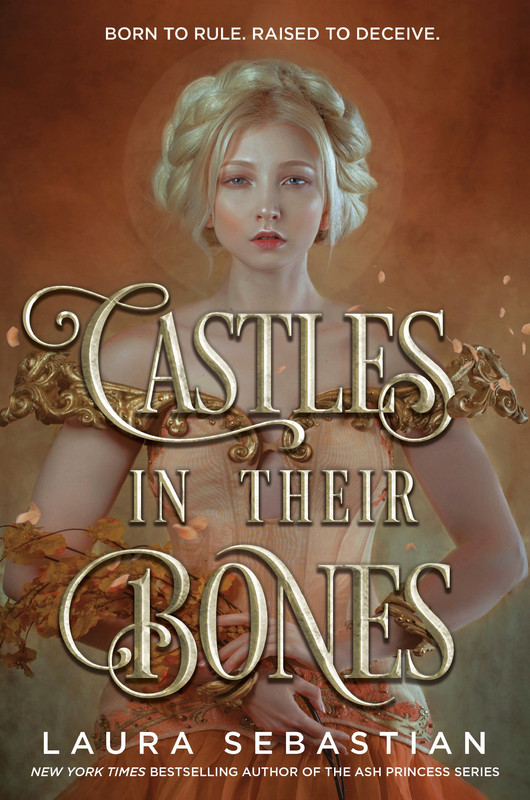 A spellbinding story of three princesses and the destiny they were born for: seduction, conquest, and the crown. Immerse yourself in the first book in a new fantasy trilogy from the author of the New York Times bestselling Ash Princess series.
Empress Margaraux has had plans for her daughters since the day they were born. Princesses Sophronia, Daphne, and Beatriz will be queens. And now, age sixteen, they each must leave their homeland and marry their princes.
Beautiful, smart, and demure, the triplets appear to be the perfect brides—because Margaraux knows there is one common truth: everyone underestimates a girl. Which is a grave mistake. Sophronia, Daphne, and Beatriz are no innocents. They have been trained since birth in the arts of deception, seduction, and violence with a singular goal—to bring down monarchies— and their marriages are merely the first stage of their mother's grand vision: to one day reign over the entire continent of Vesteria.
The princesses have spent their lives preparing, and now they are ready, each with her own secret skill, and each with a single wish, pulled from the stars. Only, the stars have their own plans—and their mother hasn't told them all of hers.
Life abroad is a test. Will their loyalties stay true? Or will they learn that they can't trust anyone—not even each other?
Book Links:
Goodreads: https://www.goodreads.com/book/show/57631700-castles-in-their-bones 
Amazon: https://www.amazon.com/gp/product/0593118162/ref=x_gr_bb_amazon?ie=UTF8&tag=x_gr_bb_amazon_ca-20&linkCode=as2&camp=15121&creative=330641 
Barnes & Noble: https://www.barnesandnoble.com/w/castles-in-their-bones-laura-sebastian/1139741169?ean=9780593118160 
Book Depository: https://www.bookdepository.com/Castles-Their-Bones-Laura-Sebastian/9780593118160?ref=grid-view&qid=1636467036452&sr=1-1 
Indigo: https://www.chapters.indigo.ca/en-ca/books/castles-in-their-bones/9780593118160-item.html?ikwid=castles+in+their+bones&ikwsec=Home&ikwidx=0#algoliaQueryId=8ad1db8fb043aa97aa2e4fe02b7f19e0 
IndieBound: https://www.indiebound.org/book/9780593118160 
I am so sad to finish this book. And that ending? Holy crap! It's going to be a long year+ until the second book is out.
I loved the Ash Princess trilogy, but was wondering if I would like everything else by Laura Sebastian. I think this book answered my question and I'll be buying everything the author writes.
There are points of view from all three triplets. Sophronia (Sophie), Beatriz (Triz), and Daphne have been raised with a goal since birth. Their mother, the empress, betrothed them to three princes right after they were born. The goal was to go into these countries and cause problems/war. Then the empress would come in and take over everything. The girls weren't raised with love, but each wanted to do what their mother said was right. She convinced them that it was the best way for everyone. Beatriz is the beautiful flirty one that can use that to get what she wants. Daphne is good with poisons. Sophronia is good with codes. Sophie is the soft one. The weak link and my favorite. She was falling for her betrothed just by his letters, but she was still determined to do her duty.
When they end up with their princes, things aren't as easy as they thought. Sophie does fall in love and questions her moms plans. One of the princes dies and will be replaced with another person. And one prince isn't into women which is illegal in their country. There are rebel groups and people working together secretly. The empress is into everything and doesn't always update her daughters. For her, winning is everything and she doesn't care if her children end up hurt.
There is a unique magic system based off the stars and stardust. It's illegal in one country. The girls are star born, so their eyes are silver. One girl must hide that with eye drops. Anyone caught using magic in her country is killed right away. One king is going mad. Things are just a mess everywhere.
I loved everything about this book. The sisters are all very unique and so are their princes. The empress is evil. There is a lot of magic, politics, friendship, betrayal, and even love.
I gave this book 5 stars and it's a new favorite. Thank you to the publisher and Netgalley for my review copy.
Warnings for blood, death, fighting, poison, talk of sexual assault, parental abuse, mentions of sex.
Quotes:
We're three stars of the same constellation.  Distance won't change that.
"You wish to appear smaller?" she asks, shaking her head.  "You are a queen.  Why shouldn't you take up every bit of space you deserve?"
People like looking for an excuse for their failures.  And if they can blame a woman, all the better.
"It's always easier to love people who need us than people we need, I think.  Being needed makes one powerful.  Needing, though, makes one vulnerable."
Poison is a woman's weapon because it's a smart weapon.
But I've learned that the absence of war does not equal peace.
Laura Sebastian was born and raised in South Florida (the Redlands and Key Largo) and has always loved telling stories–many apologies to her little brother who often got in trouble because of them. She got her BFA in Performing Arts from Savannah College of Art and Design before realizing she preferred the other side of storytelling.
When Laura isn't writing, she's probably reading, cooking/baking, or buying more clothes than her overstuffed closet can fit. She currently lives in London with her two dogs, Neville and Circe.
Her New York Times Bestselling series, Ash Princess, is out now from Delacorte (Penguin Random House. Keep an eye out for her debut adult fantasy book, Half Sick Of Shadows, out Summer 2021, and the first book in her new YA series, Castles In Their Bones.
Author Links:
Website: https://laurasebastianwrites.com/ 
Twitter: https://twitter.com/sebastian_lk 
Instagram: https://www.instagram.com/lauraksebastian/ 
Goodreads: https://www.goodreads.com/author/show/15945524.Laura_Sebastian 
Follow The Tour:
January 31st
Lost in Neverland – Review
perusewithcoffee – Review & Favorite Quotes
Justice For Readers – Review
February 1st
The Book Dutchesses – Promotional Post
And On She Reads – Review
PopTheButterfly Reads – Review
Books Over Everything – Review
February 2nd
The Reading Raccoon – Review
Kait Plus Books – Journal Spread
The Bookish Coven – Top 5 Reasons to Read Castles in Their Bones & Favorite Quotes
The Wanderer In Books – Review
February 3rd
Becky's Book Blog – Review
thisbellereadstoo – Review, Favorite Quotes & Mood Board
Eye-Rolling Demigod's Book Blog – Review & Favorite Quotes
Books We Love – Review
February 4th
Stuck in Fiction – Promotional Post
The Ink Slinger – Top 5 Reasons to Read Castles in Their Bones & Mood Board
Discover Elysian – Review & Favorite Quotes
Sara Mackenzi Reads – Review & Playlist
February 5th
Nine Bookish Lives – Promotional Post
Quills and Stardust – Review
Jenerally Reading – Review & Favorite Quotes
thebookwiccan – Review & Playlist
February 6th
Stuck in the Stacks – Review & Favorite Quotes
Ms. G in the Library – Review & Mood Board
Confessions of a YA Reader – Review & Favorite Quotes
Instagram:
January 31st
dhirviepages – 15 Reactions While Reading Castles in Their Bones
thebook_smuggler_ – Promotional Post
bamamele.reads – Review
justiceforreaders – Blogger's Choice
February 1st
simplybeccamee – Review
thebookdutchesses – Blogger's Choice
popthebutterfly – Blogger's Choice
books_over_everything – Blogger's Choice
February 2nd
writingrosereads – Promotional Post
thereadingraccoon – Blogger's Choice
the_bookish_coven – Blogger's Choice
zanjabeel_z – Blogger's Choice
February 3rd
thebookwebb – Review
katiereads23 – Review
eyerollingdemigod – Blogger's Choice
bookswelove – Blogger's Choice
February 4th
belle.bookcorner – Review & Favorite Quotes
feliciareads11 – Blogger's Choice
aamnaiswriting_ – Blogger's Choice
saramackenzi_reads – Blogger's Choice
February 5th
tbrandbeyond – Promotional Post
ninebookishlives – Blogger's Choice
jenerallyreading – Blogger's Choice
thebookwiccan – Blogger's Choice
February 6th
biblio.jojo – Review
littlefootreader – Review
reading_with_chloe – Review
stuck.in.the.stacks – Blogger's Choice