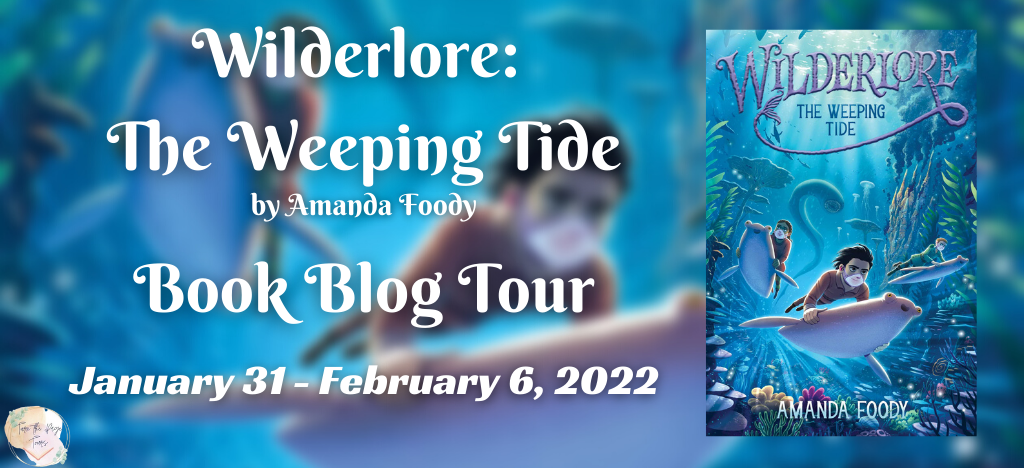 Welcome to my stop on the blog tour for Wilderlore:  The Weeping Tide by Amanda Foody.  This tour is being hosted by Turn the Page Tours. 
Book Title: Wilderlore: The Weeping Tide (Book #2)
Author: Amanda Foody
Publisher: Margaret K. McElderry Books
Release Date: February 1, 2022
Genres: Middle Grade, Fantasy, Adventure
Goodreads link: https://www.goodreads.com/book/show/53257700-the-weeping-tide 
Book Purchase link:
https://www.simonandschuster.com/books/The-Weeping-Tide/Amanda-Foody/Wilderlore/9781534477599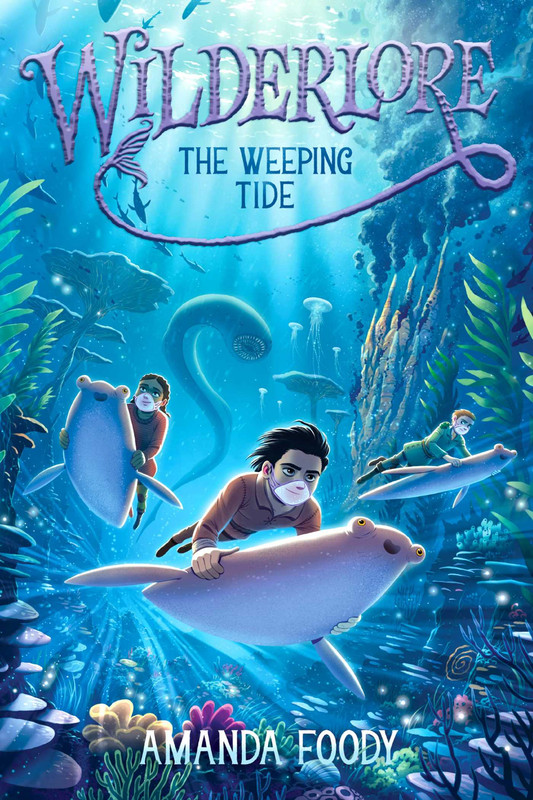 Barclay and his friends must save an island city from the Legendary Beast of the Sea in this exciting second book in the Wilderlore series, perfect for fans of Nevermoor and How to Train Your Dragon.
Something is wrong at the Sea. The weeping tide, a carnivorous algae bloom, is eating up all the fish. Beasts are terrorizing the nearby Elsewheres. And Lochmordra, the Legendary Beast, is rising at random and swallowing ships whole.
Barclay's teacher, the famous Guardian Keeper Runa Rasgar, has been summoned to investigate, and as her apprentice, Barclay gets to join too. But Runa's nemesis has also been called to the Sea, and he's brought apprentices of his own. When the not-so friendly competition between them grows fierce, it's Barclay—the only one from the Elsewheres—who can't seem to keep up.
The key to stopping Lochmordra lies in his mythical home, but as the flood of the weeping tide encroaches, time is running out to find it. If the rival groups can't cast aside old grudges and learn to work together, soon the Sea will be destroyed completely. And all the while Barclay must ask himself: is there truly a place for him in the Wilderlands?
Amanda Foody has always considered imagination to be our best attempt at magic. After a double life as an accountant preparing taxes for multinational corporations, she now spends her free time brewing and fermenting foods much more easily obtained at her local grocery store. She lives in Boston, MA with a hoard of books guarded by the most vicious of feline companions, Jelly Bean.
She is the author of THE SHADOW GAME series and more. Her middle grade debut, WILDERLORE: THE ACCIDENTAL APPRENTICE, is available now and ALL OF US VILLAINS, co-written with Christine Lynn Herman, releases in November 9, 2021.
Author Links:
https://www.instagram.com/amandafoody/ 
https://www.goodreads.com/author/show/15269309.Amanda_Foody 
Enter to win one (1) of three (3) sets of the first two books in the WILDERLORE series! The first two books include WILDERLORE: THE ACCIDENTAL APPRENTICE and WILDERLORE: THE WEEPING TIDE. Open USA only. There will be 3 winners.
Giveaway starts: Monday, January 31, 2022
Giveaway ends: Monday, February 7, 2022 at 12:00 a.m. CST
Follow The Tour:
January 31
Turn the Page Tours – Welcome Post

February 1
Stacialovestoread – Spotlight
The Bookwrym's Den – Book Review
February 2
The Momma Spot – Book Review
Book Butterfly in Dreamland – Book Review
February 3
A Court of Coffee and Books – Spotlight
Lauren's Bookshelf – Book Review, Favorite Quotes
February 4
WritingRoseReads – Book Review
Uponthebooktower – Book Review
February 5
Confessions of a YA Reader – Spotlight
Kait Plus Books – Book Review
February 6
Books, Tea, Healthy Me – Book Review
Balancing Books and Beauties – Book Review