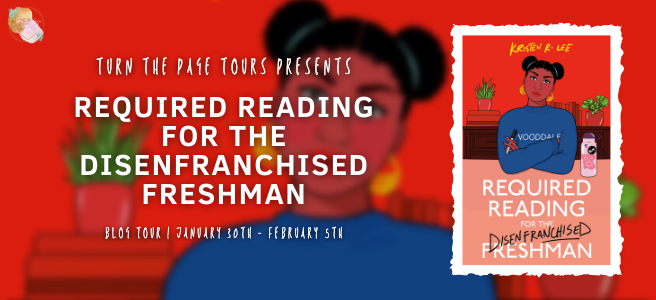 Welcome to my stop on the blog tour for Required Reading for the Disenfranchised Freshman by Kristen R. Lee.  This tour is being hosted by Turn the Page Tours.
TITLE: Required Reading for the Disenfranchised Freshman
AUTHOR: Kristen R. Lee
PUBLISHER: Crown Books for Young Readers
RELEASE DATE: February 1st, 2022
GENRES: New Adult Fiction—Contemporary
BUY LINK: https://bookshop.org/a/11727/9780593309155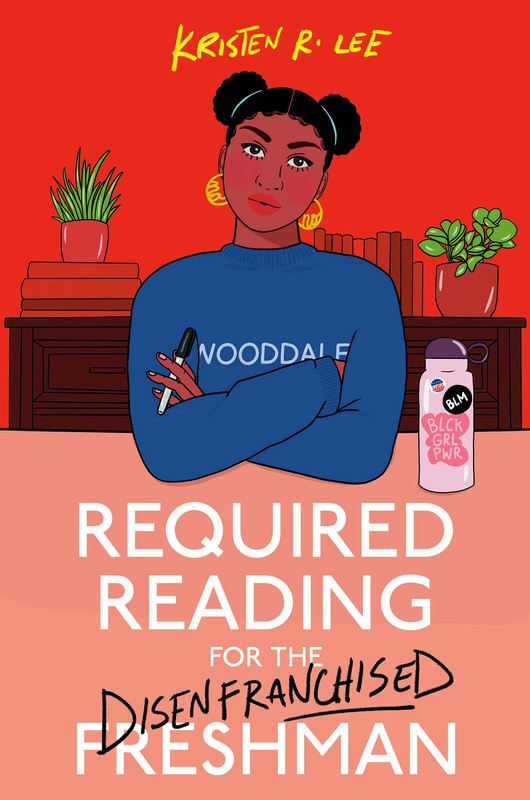 A striking debut novel about racism on elite college campuses. Fans of Dear White People will embrace this activist-centered contemporary novel about a college freshman grappling with the challenges of attending an elite university with a disturbing racist history–that may not be as distant as it seems.
Savannah Howard sacrificed her high school social life to make sure she got into a top college. Her sites were set on an HBCU, but when she is accepted to the ivy-covered walls of Wooddale University on a full ride, how can she say no?
Wooddale is far from the perfectly manicured community it sells on its brochures, though. Savannah has barely unpacked before she comes face-to-face with microaggressions stemming from racism and elitism. Then, Clive Wilmington's statue is vandalized with blackface. The prime suspect? Lucas Cunningham, Wooddale's most popular student and son to a local prominent family. Soon, Savannah is unearthing the hidden secrets of Wooddale's racist history. But what's the price for standing up for what is right? And will telling the truth about Wooddale's past cost Savannah her own future?
A stunning, challenging, and timely debut about racism and privilege on college campuses.
I really love reading books where teens find their voice and stand up against injustices.
This book takes place in college and I hope we see more of that in YA. Savannah grew up in a poor area of Memphis with her single mom. She worked her butt off and got a full scholarship to a college out of state. It's a top school, but Savannah worries that it's mostly white. She'd much rather go to a school with kids that look like her. But her mom is proud and wants her to get the job offers she would get with this degree. Right away, Savannah sees that her roommate's mom says things that are racist. Small things, but still. Walking around, she sees mostly white kids, but does meet two other black students, Benji and Tasha. They become close. But Benji is really rich and friends with an asshole, Lucas. He said they aren't friends anymore, but they grew up really close. When there is racist graffiti, Savannah knows that it has to be Lucas. When Savannah goes to people at the school, she quickly learns that Ivy league schools protect the rich. Things continue to get worse and Savannah wants to leave. But she also wants Lucas to pay for what he's done and she starts going public about the things she knows.
I wanted to share a few quotes that I really liked in this book. The writing was great, especially for a debut.
Black culture…loved by folks of every color unless that culture comes from acutal Black folk. Then we called hood. Ghetto. Trashy.

Uppity, but Black nevertheless. Do they still know that? Or does their vision become cloudy after they reach a certain tax bracket.

It's headaches, heartaches, depression, anxiety, and stress all rolled up into a shiny fifty-thousand-a-year package.
I gave this book 4 1/2 stars rounded up to 5 on Goodreads.
Thank you to the publisher and Netgalley for my earc.
Warnings for racism, drinking, harassment, teen pregnancy, privilege.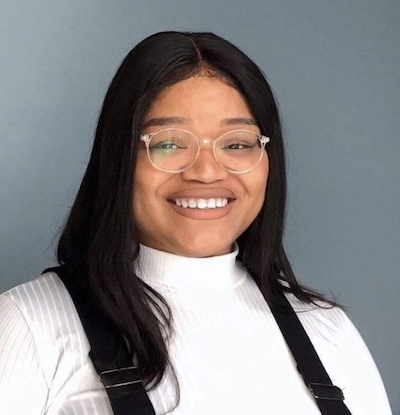 Kristen R. Lee is a native of Memphis, Tennessee. After graduating from college, she began to write her experiences attending a predominantly white institution, which led to the first draft of Required Reading for the Disenfranchised Freshman. She's worked as a mentor for foster youth and has interned in a school setting, where she counseled middle-school-aged children. Writing stories that reflect often-unheard voices is what she strives to do. Learn more about Kristen at kristenleebooks.com.
Up for grabs we have THREE (3) finished copies of Required Reading for the Disenfranchised Freshman by Kristen R. Lee. This giveaway will be open to US residents only, three separate winners will be chosen. This giveaway will run from January 30th to February 6th at 12 AM. To enter, click the link below!
Follow The Tour:
January 30th
Turn the Page Tours – Welcome Post
Ruby Rae Reads – Review
January 31st
Infinite Pages – Review
February 1st
Books Tea Healthy Me – Author Interview
Struck by Stories – Review
February 2nd
Read with Carly – Review
February 3rd
Leann Reads Books – Review
February 4th
Inking & Thinking – Review
Confessions of a YA Reader – Review
February 5th
Kait Plus Books – Guest Post
Belle's Archive – Review