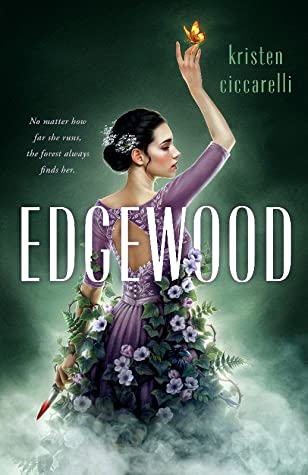 Edgewood by Kristen Ciccarelli
No matter how far she runs, the forest of Edgewood always comes for Emeline Lark. The scent of damp earth curls into her nose when she sings and moss creeps across the stage. It's as if the woods of her childhood, shrouded in folklore and tall tales, are trying to reclaim her. But Emeline has no patience for silly superstitions.
When her grandfather disappears, leaving only a mysterious orb in his wake, the stories Emeline has always scoffed at suddenly seem less foolish. She enters the forest she has spent years trying to escape, only to have Hawthorne Fell, a handsome and brooding tithe collector, try to dissuade her from searching.
Refusing to be deterred, Emeline finds herself drawn to the court of the fabled Wood King himself. She makes a deal—her voice for her grandfather's freedom. Little does she know, she's stumbled into the middle of a curse much bigger than herself, one that threatens the existence of this eerie world she's trapped in, along with the devastating boy who feels so familiar.
With the help of Hawthorne—an enemy turned reluctant ally who she grows closer to each day—Emeline sets out to not only save her grandfather's life, but to right past wrongs, and in the process, discover her true voice.
Haunting and romantic, Kristen Ciccarelli's Edgewood is an exciting novel from a bold, unforgettable voice in fantasy.
I loved Kristen Ciccarelli's first three books, so I knew I had to request this one, too. I'm usually not a fan of fae type books, but this one changed that!
Emeline is finally starting to live her dream. She left her grandfather and is trying to make it as a singer. She knows she's close to getting a record deal and is getting ready to start a tour. But weird things keep happening when she sings. It's like the forest comes alive around her. Plants start to grow by her and bugs show up. She's not sure if she's going crazy or if others ever notice it. And she has no idea why it happens. Emeline grew up with her Pa. Her mom left her as a baby and she didn't know her dad. Pa started having issues with dementia, so he went into a nursing home. Emeline receives a call that he's missing and she goes back home to find him.
Home is over in Edgewood. The people there told Emeline stories growing up about a Wood King and other creatures. They said there's a whole city in the woods. Emeline never believed it, but the people there leave a tithe every season for the Wood King. Emeline is worried that her grandpa went into the woods, so she enters them. She finds danger quickly, including a charming boy, Hawthorne Fell, that tries to keep her out. She finds another boy, Rooke, that agrees to help her get to the Wood King. But he's been going crazy and the woods are dying. Emeline finds out that there's a curse that's slowly killing everything. She does find her grandpa, but she needs to sing and please the king in order to free him. Emeline finds secrets from her past and realizes that she has a connection with Hawthorne that she can't explain. She makes friends and finds herself torn between the possibility or love or her future career doing the thing she's best at.
The writing is beautiful and I loved the characters, especially Hawthorne. The book wasn't super fast paced, but it pulled me in quickly and I read this way faster than I read most fantasy books.
I gave this book 5 stars.
Thank you to the publisher and Edelweiss for my earc.
Warnings for dementia, absent parents, sex, alcohol, manipulation.
Have you read this yet?  Is it on your TBR?