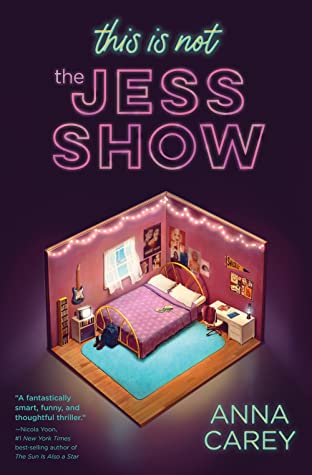 This Is Not the Jess Show by Anna Carey
Black Mirror meets My So-Called Life in this fast-paced, timely YA thriller about separating fact from fiction–and how far we'll go to create our own version of reality.
Like any other teenager, Jess Flynn is just trying to get through her junior year without drama … but drama seems to keep finding her. Between a new crush on her childhood best friend, overprotective parents cramping her social life, and her younger sister's worsening health, the only constant is change–and her hometown of Swickley, which feels smaller by the day.
Swickley is getting weirder by the day, too. Half the population has been struck down by a mysterious flu. Conversations end awkwardly when Jess enters the room. And then one day, a tiny, sleek black device–with an apple logo on it–falls out of her best friend's backpack and lands at Jess's feet.
This Is Not the Jess Show was a really quick, fun read. It was hard to put down and I read it in one day (two sittings).
Jess lives with her parents and sister, Sara, in a town called Swickley. They never go anywhere else and things have been fine. Jess has best friends and a crush on one of them. She goes to parties and school. Things are normal except that her sister has a disease that will likely kill her in a couple years. Jess and Sara are really close. They have a nurse that is a family friend and they all enjoy their time together. Jess's mom is uptight about her appearance though. She wants her to dress a certain way and wear make-up all the time. Her dad seems a bit distant and doesn't share many emotions.
Things start to get weird when Jess sees a weird device her friend dropped. She said it was just some top secret thing from her dad's work. But Jess isn't buying it. She starts to pay attention more and things just seem off. She is determined to figure out what is going on.
I loved all the 90's references in this. It's when I grew up, so it was fun going back in time for a bit. I liked the pacing and the twists. I'm definitely looking forward to the second book which I'm reading next.
I gave this book 4 stars.
Thank you to the publisher for my paperback copy to review.
Have you read this yet?  Is it on your TBR?