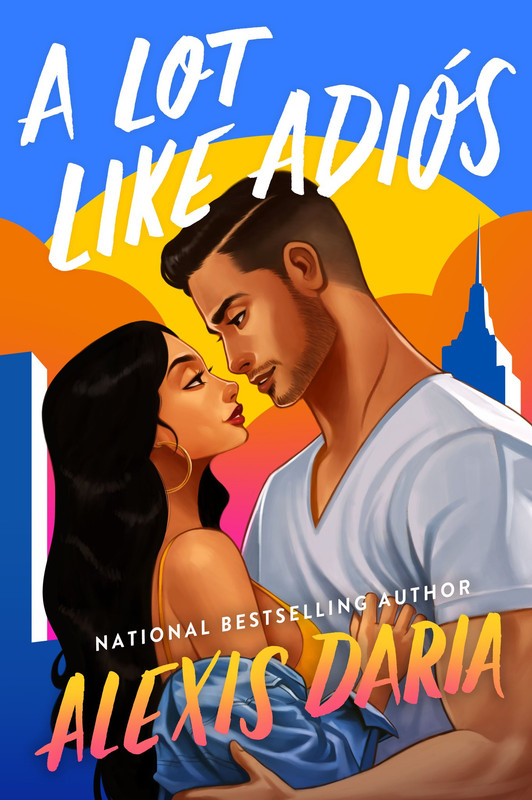 A Lot Like Adios by Alexis Daria
Hi Mich. It's Gabe.
After burning out in her corporate marketing career, Michelle Amato has built a thriving freelance business as a graphic designer. So what if her love life is nonexistent? She's perfectly fine being the black sheep of her marriage-obsessed Puerto Rican-Italian family. Besides, the only guy who ever made her want happily-ever-after disappeared thirteen years ago.
It's been a long time.
Gabriel Aguilar left the Bronx at eighteen to escape his parents' demanding expectations, but it also meant saying goodbye to Michelle, his best friend and longtime crush. Now, he's the successful co-owner of LA's hottest celebrity gym, with an investor who insists on opening a New York City location. It's the last place Gabe wants to go, but when Michelle is unexpectedly brought on board to spearhead the new marketing campaign, everything Gabe's been running from catches up with him.
I've missed you.
Michelle is torn between holding Gabe at arm's length or picking up right where they left off—in her bed. As they work on the campaign, old feelings resurface, and their reunion takes a sexy turn. Facing mounting pressure from their families—who think they're dating—and growing uncertainty about their futures, can they resolve their past mistakes, or is it only a matter of time before Gabe says adiós again?
I'm not a huge romance reader, but I really liked You Had Me At Hola. So I preordered A Lot Like Adios and don't regret it at all. I actually liked this one even more.
I really loved Michelle. She was so confident and independent while still being insecure at times. She guarded her heart ever since her best friend, Gabe, moved away right after high school. He broke her heart and she didn't hear from him for years. Gabe was likeable, but I also wanted to smack him at times. He left because of issues with his dad and cut almost everyone out of his life. He moved to LA to prove that he could do things on his own. And he was successful and mostly happy. But after going back home and spending time with Michelle, he started to wonder what he really wanted in life. They fake dated for a bit while having sex the whole time he was there. But what Gabe does most often is leave. He walks away from stress and conflict. Michelle knew he was only in New York for a short amount of time, but she fell back in love with him quickly and hoped she could get him to stay.
I loved the families and the relationship in this. The sex scenes were steamy, but not overly so.
I gave this 4 1/2 stars rounded up to 5 on Goodreads.
Have you read this yet?  Is it on your TBR?