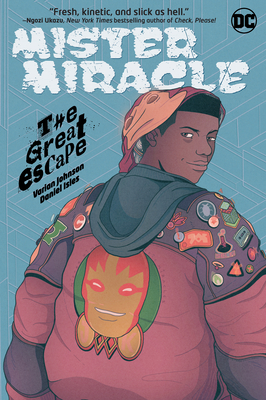 Mister Miracle: The Great Escape by Varian Johnson and Daniel Esles
Falling in love was never part of the escape plan.

Scott Free is a student at the Goodness Academy, on the planet Apokolips, ruled by Lord Darkseid. Sounds pretty cool, right? Wrong. Scott Free wants nothing more than to leave Apokolips for planet Earth; the only problem is that no one has ever left Apokolips of their own free will…or alive.
Scott Free has a plan, a foolproof plan, a plan that his found family depends on for their own freedom. But that plan never involved falling in love with the head of the Female Furies, Big Barda-the one person tasked with ensuring he never escapes.
From the Coretta Scott King Honor-winning author of The Parker Inheritance, Varian Johnson, and afrofuturist artist Daniel Isles (DirtyRobot) comes the story of an escape plan that will take a miracle to pull off. Lucky for Scott, everyone calls him MISTER MIRACLE! Okay, fine, no one calls him that…yet.
Just a quick review since this is a graphic novel.
This book surprised me. I wasn't sure at first if I'd like it, but it ended up being really good. Scott Free wanted to escape and had help from an older man. This man's granddaughter had heart issues and he wanted Scott to take her to Earth. Things got more complicated when Scott falls in love. He wants to save his friends and his new girlfriend, but it's impossible to escape from Granny. Scott also doesn't know who he really is and a little bit of his secret past comes out. Scott needs to fight hard to find a way to get everything he wants without dying.
I gave this book 4 1/2 stars rounded up to 5 on Goodreads.
Thank you to DC for my earc for review.
#InPartnershipWithDC
Varian Johnson is the author of several novels for children and young adults, including The Parker Inheritance, which won both Coretta Scott King Author Honor and Boston Globe/Horn Book Honor awards; The Great Greene Heist, an ALA Notable Book for Children and Kirkus Reviews Best Book; and the graphic novel Twins, illustrated by Shannon Wright, which won a BCALA Children & Youth Literary Award for best graphic novel and was named an Eisner Award nominee. Originally from Florence, South Carolina, he received an MFA in writing for children and young adults from Vermont College of Fine Arts and is honored to now be a member of the faculty. Varian currently lives outside of Austin, Texas, with his family.
Daniel Isles is a professional artist committed to artistic practice, observation, themes, and expression to create entire worlds of his own. His unique illustration style has been used within many industries including fashion, music, authorship, and technology. He has worked and collaborated with Apple, DC Comics, Sega, Mighty Jaxx, Kidrobot, Timberland, and Owsla.