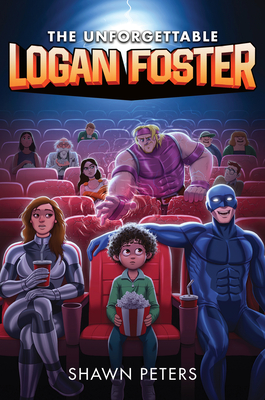 The Unforgettable Logan Foster by Shawn Peters
Packed with superheroes, supervillains, and epic showdowns between good and evil, The Unforgettable Logan Foster from debut author Shawn Peter shows that sometimes being a hero is just about being yourself.
Logan Foster has pretty much given up on the idea of ever being adopted. It could have something to with his awkward manner, his photographic memory, or his affection for reciting curious facts, but whatever the cause, Logan and his "PP's" (prospective parents) have never clicked.
Then everything changes when Gil and Margie arrive. Although they aren't exactly perfect themselves–Gil has the punniest sense of humor and Margie's cooking would have anyone running for the hills–they genuinely seem to care.
But it doesn't take Logan long to notice some very odd things about them. They are out at all hours, they never seem to eat, and there's a part of the house that is protected by some pretty elaborate security.
No matter what Logan could have imagined, nothing prepared him for the truth: His PP's are actually superheroes, and they're being hunted down by dastardly forces. Logan's found himself caught in the middle in a massive battle and the very fate of the world may hang in the balance. Will Logan be able to find a way to save the day and his new family?
I read this book in one sitting and loved it.
Logan is a 12 year old foster kid. He doesn't remember his parents or if his name is actually Logan. He has an eidetic memory and has Autism Spectrum Disorder. He is crazy smart and doesn't really hide what he's thinking. He can be blunt. He also does lists in his head when he's nervous. Logan has always been returned by his foster parents. He's almost given up hope of ever being adopted. But a couple come in and they ask if he would come home with them. He likes them, but they keep lying to him. He can recognize tells and they keep a lot of secrets. He never sees Gil eat and could swear Margie's skin was silver when it got hot. One good thing that happens quickly is that Logan makes a real friend. Probably his first. Elena is two years older and lives next store. But they're only a grade apart since Logan skipped two grades. Elena is nice to him when most kids pick on him.
Things start to get really crazy when Logan, Gil, and Margie are attacked by a supervillain at the movie theater. Logan finds out that his parents are actually superheroes and they're part of a local group. They kind of went rogue to foster him and worry that he's going to get hurt. But no one wants to give up on them becoming a family, even when their lives are at stake.
I loved the family and friendship in this book. And it was full of action which kept the pacing great.
I gave this book 4 stars.
Thank you to Harper for providing me with a finished copy for review.
Have you read this yet?  Is it on your TBR?