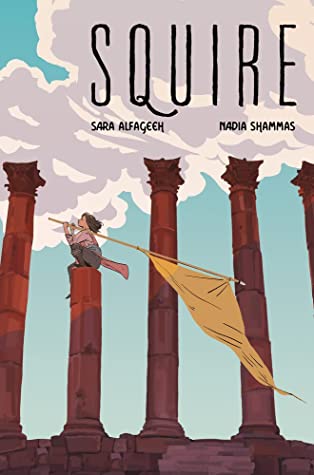 Squire by Sara Alfageeh and Nadia Shammas 
Born a second-class citizen, Aiza has always dreamt of becoming a Knight. It's the highest military honor in the once-great Bayt-Sajji Empire, and as a member of the Ornu people, her only path to full citizenship.

Now, ravaged by famine, Bayt-Sajji finds itself on the brink of war once again. This means Aiza can finally enlist to the competitive Squire training program.

The camp is nothing like she imagined. Hiding her Ornu status in order to blend in, Aiza must navigate friendships, rivalries, and rigorous training under the merciless General Hende. As the pressure mounts, Aiza realizes that the "greater good" Bayt-Sajji's military promises might not include her, and that the recruits might be in more danger than she ever imagined."
I'm not great at reviewing graphic novels, so this might be a bit short.
Aiza wants to be a Squire. She finally convinces her parents to let her sign up for the army, but she has to cover her arm. She is Ornu and they have tattoos (or what looks like tattoos). Ornu are looked down upon by most people. Aiza struggles with her sword and meets a janitor that corrects how she's holding it. She convinces the janitor to help train her in private. The challenges are hard and most don't make it through all of them. The ones that don't go straight to the front lines. Aiza makes friends, but when they find out she's Ornu, she's accused of being a spy and traitor.
I really like the artwork and story. The characters were great, too.
I gave this book 4 1/2 stars rounded up to 5 on Goodreads.
Thank you to the publisher for my review copy.
Have you read Squire?  Is it on your TBR?