Every year, the mods and admin for TBR and Beyond pick our most anticipated books to share.  My list will likely change as more books are announced, but this is my current list of books that have covers.
I didn't include any books that I've already read an ARC of.  There have been a lot of good ones though.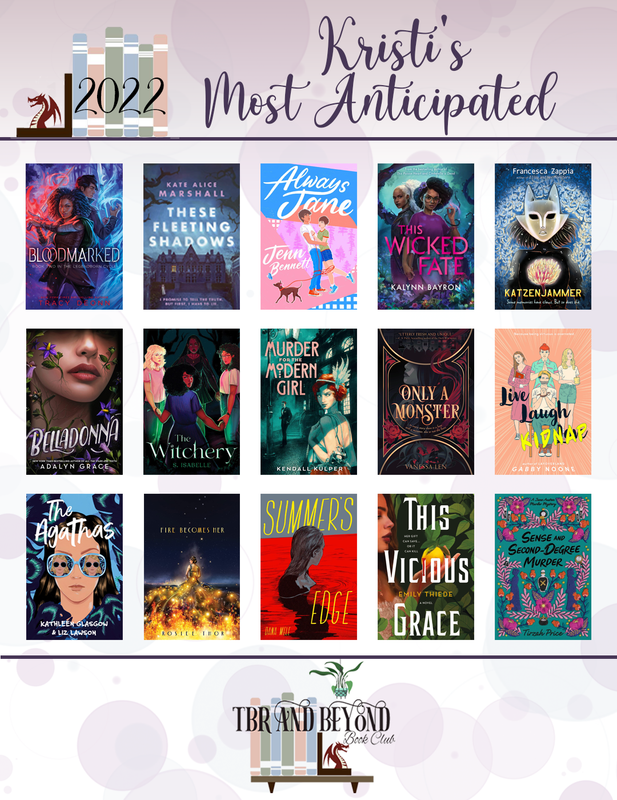 Bloodmarked by Tracy Deonn
The powerful sequel to the instant New York Times bestselling and award-winning Legendborn—perfect for fans of Cassandra Clare and Margaret Rogerson!
The shadows have risen, and the line is law.
All Bree wanted was to uncover the truth behind her mother's death. So she infiltrated the Legendborn Order, a secret society descended from King Arthur's knights—only to discover her own ancestral power. Now, Bree has become someone new:
A Medium. A Bloodcrafter. A Scion.
But the ancient war between demons and the Order is rising to a deadly peak. And Nick, the Legendborn boy Bree fell in love with, has been kidnapped.
Bree wants to fight, but the Regents who rule the Order won't let her. To them, she is an unknown girl with unheard-of power, and as the living anchor for the spell that preserves the Legendborn cycle, she must be protected.
When the Regents reveal they will do whatever it takes to hide the war, Bree and her friends must go on the run to rescue Nick themselves. But enemies are everywhere, Bree's powers are unpredictable and dangerous, and she can't escape her growing attraction to Selwyn, the mage sworn to protect Nick until death.
If Bree has any hope of saving herself and the people she loves, she must learn to control her powers from the ancestors who wielded them first—without losing herself in the process.
These Fleeting Shadows by Kate Alice Marshall
The Haunting of Hill House meets Knives Out in a bid for an inheritance that will leave Helen Vaughan either rich…or dead.
Helen Vaughan doesn't know why she and her mother left their ancestral home at Harrowstone Hall, called Harrow, or why they haven't spoken to their extended family since. So when her grandfather dies, she's shocked to learn that he has left everything—the house, the grounds, and the money—to her. The inheritance comes with one condition: she must stay on the grounds of Harrow for one full year, or she'll be left with nothing.
There is more at stake than money. For as long as she can remember, Harrow has haunted Helen's dreams—and now those dreams have become a waking nightmare. Helen knows that if she is going to survive the year, she needs to uncover the secrets of Harrow. Why is the house built like a labyrinth? What is digging the holes that appear in the woods each night?And why does the house itself seem to be making her sick?
With each twisted revelation, Helen questions what she knows about Harrow, her family, and even herself. She no longer wonders if she wants to leave…but if she can.
Always Jane by Jenn Bennett
A chauffer's daughter finds herself in the middle of a love triangle with the sons of her boss's wealthy next-door neighbors in this delightfully romantic story from the author of Alex, Approximately, Jenn Bennett.
Love—and Fen Sarafian—do not care about your summer plans.
Eighteen-year-old chauffeur's daughter Jane Marlow grew up among the domestic staff of a wealthy LA rock producer, within reach of bands she idolizes, but never a VIP. Every summer, Jane and her father head to the Sierras to work at the producer's luxury lodge at Lake Condor—a resort town and the site of a major musical festival.
The legendary family who runs the festival are the Sarafians, and Jane's had a longtime crush on their oldest son, Eddie—doltish but sweet. So when a long-distance romance finally sparks between them, she doesn't hesitate to cross class lines.
But Jane's feelings about Eddie are thrown into question after she returns to the lake and reconnects with his alluringly intense brother, the dark horse of her placid summer plans. A fellow lover of music—and hater of the game—Fen Sarafian has been ousted from the family and is slumming it at a vinyl record shop. He burns for Jane like a house on fire and will do anything to sabotage his older brother, even if it means taking a wrecking ball to a multi-million-dollar music festival. Or Jane's heart.
This Wicked Fate by Kalynn Bayron
How much would you risk to save the ones you love? Would you tempt even the most dangerous fate? Bestselling author Kalynn Bayron continues the story of Briseis and her family's deadly magic in the sequel to This Poison Heart.
Briseis has one chance to save her mother, but she'll need to do the impossible: find the last fragment of the deadly Absyrtus Heart. If she is to locate the missing piece, she must turn to the blood relatives she's never known, learn about their secret powers, and take her place in their ancient lineage. Briseis is not the only one who wants the Heart, and her enemies will stop at nothing to fulfill their own ruthless plans. The fates tell of a truly dangerous journey, one that could end in more heartache, more death. Bolstered by the sisterhood of ancient magic, can Briseis harness her power to save the people she loves most?
The second book in this empowering and inclusive fantasy duology is perfect for fans of Legendborn and Lore.
Katzenjammer by Francesca Zappia
From acclaimed author Francesca Zappia, American Horror Story meets the dark comedy of Kafka's The Metamorphosis as Cat searches for a way to escape her high school. Katzenjammer is a tale of family, love, tragedy, and masks—the ones others make for us, and the ones we make for ourselves. Eerie and thought-provoking, this novel will haunt fans of Chelsie Pitcher's This Lie Will Kill You and E. Lockhart's We Were Liars. Features illustrations by the author throughout.
Cat lives in her high school. She never leaves, and for a long time her school has provided her with everything she needs. But now things are changing. The hallways contract and expand along with the school's breathing, and the showers in the bathroom run a bloody red. Cat's best friend is slowly turning into cardboard, and instead of a face, Cat has a cat mask made of her own hardened flesh.
Cat doesn't remember why she is trapped in her school or why half of them—Cat included—are slowly transforming. Escaping has always been the one impossibility in her school's upside-down world. But to save herself from the eventual self-destruction all the students face, Cat must find the way out. And to do that, she'll have to remember what put her there in the first place.
Told in chapters alternating between the past and the present, Francesca Zappia weaves a spine-tingling, suspenseful, and haunting story about tragedy and the power of memories. Much like the acclaimed Eliza and Her Monsters, Katzenjammer features black-and-white illustrations by the author throughout the novel. Fans of Marieke Nijkamp's This Is Where It Ends and Karen McManus's One of Us Is Lying will lose themselves in the pages of this novel—or maybe in the treacherous hallways of the school.
Belladonna by Adalyn Grace
A girl confronts Death—and her own deathly powers—to solve a murder in this Gothic-infused, romantic young adult fantasy.
Orphaned as a baby, nineteen-year-old Signa Farrow has been raised by a string of guardians more interested in her wealth than her well-being—all of whom have died of mysterious circumstances. Her last remaining relatives are the Hawthornes, an eccentric family who live at Thorn Grove, a manor as glittering as it is gloomy.
Thorn Grove's patriarch, Elijah, mourns his late wife, Lillian, through liquor and wild parties, while son Percy grapples to maintain the family's waning reputation and daughter Blythe suffers from the same mysterious illness that killed her mother. But when Lillian's spirit confronts Signa and claims it was poison that killed her and not an illness, Signa realizes that Blythe will be next to die unless the murderer is found.
Signa's best chance of uncovering the culprit and solving Lillian's murder is an alliance with Death himself—the very man she hates most. And Death, that fascinating, dangerous shadow who has never been far from her side, shows her that their connection may be more powerful than she ever dared imagine.
The Witchery by S. Isabelle
A bewitching debut by S. Isabelle, perfect for fans of Maggie Stiefvater, Zoraida Córdova, and Leigh Bardugo!
THE HAUNTING SEASON IS HERE AND THE WOLVES ARE AWAKE.
Haelsford, Florida is a Hellmouth. Or at least, that's what Logan, a baby witch struggling to control her powers, thinks as she arrives to the witchtown to begin the new school year at Mesmortes Coven Academy. She is immediately taken under the wing of the infamous Red Three. Iris is a deathwitch who wants nothing more than to break the town's curse; Jailah is one of the most powerful witches at the academy but her thirst for power may lead her down a dark path; and Thalia, the talented greenwitch, is on the run from her religious family and a past that still haunts her.
Fear and prejudice still fuel the uneasy truce between humans and witches who are forced to work together when the Haunting Season begins and Wolves rise from the swamp to feed. With this approaching, two Hammersmitt boys prepare to make their first sacrifices to the witches in exchange for protection. But as they become involved with the Mesmortes witches' plan to end the Wolves' reign of terror once and for all, old dangers lie in wait.
The cost to break the curse may be greater than any witch or human could ever know.
Murder for the Modern Girl by Kendall Kulper
Gatsby-era glamour, a swoon-worthy love story, and an indomitable heroine dazzle in this romp that captures the extravagance of the Roaring Twenties and the dangers of vigilante justice.
A ravishing young mind reader stalks the streets at night in kitten heels, prowling for men to murder.
A soft-spoken genius toils away in the city morgue, desperate to unearth the science behind his gift for shapeshifting.
It's a match made in 1928 Chicago, where gangsters run City Hall, jazz fills the air, and every good girl's purse conceals a flask.
Until now, eighteen-year-old Ruby's penchant for poison has been a secret. No one knows that she uses her mind-reading abilities to target men who prey on vulnerable women, men who escape the clutches of Chicago "justice." When she meets a brilliant boy working at the morgue, his knack for forensic detail threatens to uncover her dark hobby. Even more unfortunately: sharp, independent Ruby has fallen in love with him.
Waltzing between a supernaturally enhanced romance, the battle to take down a gentleman's club, and loyal friendships worth their weight in diamonds, Ruby brings defiant charm to every spectacular page of Murder for the Modern Girl—not to mention killer fashion. An irresistible caper perfect for fans of The Gentleman's Guide to Vice and Virtue.
Only A Monster by Vanessa Len
With the sweeping romance of Passenger and the dark fantasy edge of This Savage Song, this standout YA contemporary fantasy debut from Vanessa Len, is the first in a planned trilogy.
It should have been the perfect summer. Sent to stay with her late mother's eccentric family in London, sixteen-year-old Joan is determined to enjoy herself. She loves her nerdy job at the historic Holland House, and when her super cute co-worker Nick asks her on a date, it feels like everything is falling into place.
But she soon learns the truth. Her family aren't just eccentric: they're monsters, with terrifying, hidden powers. And Nick isn't just a cute boy: he's a legendary monster slayer, who will do anything to bring them down.
As she battles Nick, Joan is forced to work with the beautiful and ruthless Aaron Oliver, heir to a monster family that hates her own. She'll have to embrace her own monstrousness if she is to save herself, and her family. Because in this story . . .
. . . she is not the hero.
Live, Laugh, Kidnap by Gabby Noone
From the author of Layoverland comes another bitingly clever, laugh-out-loud funny novel, about a group of teen girls going up against an exploitative megachurch in their small Montana town.
The only thing Genesis, Holly and Zoe seem to have in common is being stuck in Violet, Montana. Well, that and the fact that Hope Harvest Ministries is trying to ruin their lives.
Genesis lives on a commune that is now an echo of the New Age cult it once was. She's witnessed power couple Pastor Jay and Ree Reaps transform their sleepy small town into a haven for online Influencers, who flock to Violet, bible in one hand and Ree's bestselling ACT LIKE A LADY, PRAY LIKE A BOSS in the other. Now, the Reaps have decided it's God's Will™ that they take over Gen's ranch.
Holly is a begrudging tourist, forced to spend the summer with her estranged father as punishment for her unsavory behavior back in LA. To Holly, Hope Harvest is nothing but a gimmicky marketing ploy, but it's threatening to put her father's diner out of business and, for some reason, Holly cares.
All Zoe wants is to leave Violet, working thankless shifts at the diner to scrape together enough cash to start a new life with her girlfriend. But Zoe's mother has lost everything to the church's multilevel marketing schemes so the little money that Zoe manages to make goes right to debt collectors.
The only solution to their problems is to scam the scammers and protect what's theirs. It shouldn't take much – the Reaps' golden son, an accidental kidnapping, some light blackmail – and the Reaps' fortune will be in the girls' much more deserving hands. As long as everything goes according to plan…
The Agathas by Kathleen Glasgow and Liz Lawson
Last summer, Alice Ogilve's basketball-star boyfriend Steve dumped her. Then she disappeared for five days. Where she went and what happened to her is the biggest mystery in Castle Cove, because she's not talking. Or it was, at least. But now, another one of Steve's girlfriends has vanished: Brooke Donovan, Alice's ex–best friend. And it doesn't look like Brooke will be coming back. . .
Enter Iris Adams, Alice's tutor. Iris has her own reasons for wanting to disappear, though unlike Alice, she doesn't have the money or the means. That could be changed by the hefty reward Brooke's grandmother is offering to anyone who can share information about her granddaughter's whereabouts. The police are convinced Steve is the culprit, but Alice isn't so sure, and with Iris on her side, she just might be able to prove her theory.
In order to get the reward and prove Steve's innocence, they need to figure out who killed Brooke Donovan. And luckily Alice has exactly what they need—the complete works of Agatha Christie. If there's anyone that can teach the girls how to solve a mystery it's the master herself. But the town of Castle Cove holds many secrets, and Alice and Iris have no idea how much danger they're about to walk into.
Fire Becomes Her by Rosiee Thor
In Rosiee Thor's lavish fantasy novel with a Jazz Age spark, a politically savvy teen must weigh her desire to climb the social ladder against her heart in a world where magic buys votes.
Flare is power.
With only a drop of flare, one can light the night sky with fireworks . . . or burn a building to the ground — and seventeen-year-old Ingrid Ellis wants her fair share.
Ingrid doesn't have a family fortune, monetary or magical, but at least she has a plan: Rise to the top on the arm of Linden Holt, heir to a hefty political legacy and the largest fortune of flare in all of Candesce. Her only obstacle is Linden's father who refuses to acknowledge her.
So when Senator Holt announces his run for president, Ingrid uses the situation to her advantage. She strikes a deal to spy on the senator's opposition in exchange for his approval and the status she so desperately craves. But the longer Ingrid wears two masks, the more she questions where her true allegiances lie.
Will she stand with the Holts, or will she forge her own path?
Summer's Edge by Dana Mele
I Know What You Did Last Summer meets The Haunting of Hill House  in this atmospheric, eerie teen thriller following an estranged group of friends being haunted by their friend who died last summer.
Emily Joiner was once part of an inseparable group—she was a sister, a best friend, a lover, and a rival. Summers without Emily were unthinkable. Until the fire burned the lake house to ashes with her inside.
A year later, it's in Emily's honor that Chelsea and her four friends decide to return. The house awaits them, meticulously rebuilt. Only, Chelsea is haunted by ghostly visions. Loner Ryan stirs up old hurts and forces golden boy Chase to play peacemaker. Which has perfect hostess Kennedy on edge as eerie events culminate in a stunning accusation: Emily's death wasn't an accident. And all the clues needed to find the person responsible are right here.
As old betrayals rise to the surface, Chelsea and her friends have one night to unravel a mystery spanning three summers before a killer among them exacts their revenge.
This Vicious Grace by Emily Thiede
Three weddings. Three funerals. Alessa's gift from the gods is supposed to magnify a partner's magic, not kill every suitor she touches.
Now, with only weeks left until a hungry swarm of demons devours everything on her island home, Alessa is running out of time to find a partner and stop the invasion. When a powerful priest convinces the faithful that killing Alessa is the island's only hope, her own soldiers try to assassinate her.
Desperate to survive, Alessa hires Dante, a cynical outcast marked as a killer, to become her personal bodyguard. But as rebellion explodes outside the gates, Dante's dark secrets may be the biggest betrayal. He holds the key to her survival and her heart, but is he the one person who can help her master her gift or destroy her once and for all?
Emily Thiede's exciting fantasy debut, This Vicious Grace, will keep readers turning the pages until the devastating conclusion and leave them primed for more!
Sense & Second-Degree Murder by Tirzah Price
Three of Jane Austen's classic novels receive a murder mystery makeover in this romantic and thrilling three-book series that's perfect for fans of The Lady's Guide to Petticoats and Piracy and Stalking Jack the Ripper. In Sense and Second-Degree Murder, aspiring scientist Elinor Dashwood and her sister Marianne, a budding detective, work together to solve the mystery of their father's murder.
When eighteen-year-old aspiring scientist Elinor Dashwood discovers her beloved father slumped over the desk of his office study, she knows his death means dire straits for the Dashwood women. To make matters worse, an outdated will entails his estate—including Norland & Company, the private investigation firm where her younger sister Marianne worked as her father's partner and protégé—to their half-brother and his haughty wife, who waste no time in forcing the Dashwoods out of their home and into a cramped apartment on London's Barton Street.
But before they go, the Dashwood sisters make a startling discovery that points to foul play, and the killer might be family.
Obviously, the girls must investigate. It could be dangerous; it could ruin their reputations; and most importantly, it won't bring back their father. But if the Dashwood sisters can combine their talents and bring their father's murderer to justice, it may bring them all some comfort—and it might even lead to love.
What books are you most excited for in 2022?