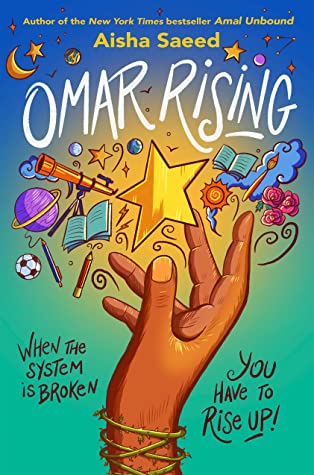 Omar Rising by Aisha Saeed
Omar knows his scholarship to Ghalib Academy Boarding School is a game changer, providing him – the son of a servant – with an opportunity to improve his station in life. He can't wait to experience all the school has to offer, especially science club and hopefully the soccer team; but when he arrives, his hopes are dashed. First-year scholarship students aren't allowed to join clubs or teams – and not only that, they have to earn their keep doing menial chores. At first Omar is dejected – but then he gets angry when he learns something even worse – the school deliberately "weeds out" kids like him by requiring them to get significantly higher grades than kids who can pay tuition, making it nearly impossible for scholarship students to graduate. It's a good thing that in his favorite class, he's learned the importance of being stubbornly optimistic. So with the help of his tightknit new group of friends – and with the threat of expulsion looming over him – he sets out to do what seems impossible: change a rigged system.
Amal Unbound is a favorite that I recommend all the time, so I was so excited to hear that there would be another book.
In Omar Rising, the book focuses on Amal's best friend, Omar. Amal is in it a bit, but only while Omar is at home. Omar was accepted into a private boarding school on scholarship. He can't wait to get there. Omar has plans to join lots of clubs including soccer and astronomy. His roommate was someone he met over the summer. While he misses home, things are going well at first. He plays soccer outside with other kids and they have movie nights. It doesn't take long to find out that scholarship kids aren't treated the same. They aren't allowed to join in clubs. They have to work at the school for 5 hours a week. And worse, they must maintain an A plus average. That's nearly impossible and most scholarship kids are sent home after a year. Omar studies all the time. He stops doing anything fun. Everything is work, just to stay at the school. Omar realizes how unfair this all is and gets the other kids to work together to try to change the school rules.
I really loved this and hope it ends up in the hands of a lot of kids. It really shows how standing up to wrongs can cause change.
I gave this 4 1/2 stars rounded up to 5 on Goodreads.
Thank you to the publisher, author, and Netgalley for my earc.
Have you read this yet?  Is it on your TBR?