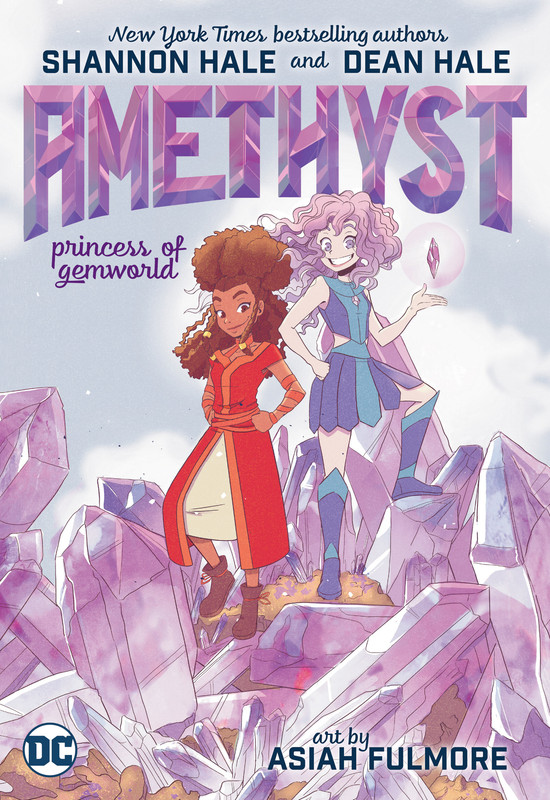 Amethyst: Princess of Gemworld  by Shannon Hale & Dean Hale art by Asiah Fulmore
Amaya, princess of House Amethyst in Gemworld, is something of a troublemaker. She and her brother have great fun together until a magical prank goes much too far and her parents ground her…to Earth! They hope a whole week in the mundane world will teach her that magic is a privilege…and maybe washing dishes by hand will help her realize the palace servants should be respected.
Three years later, Amy has settled into middle school and ordinary life. She doesn't remember any other home. So when a prince of the realm brings her home and restores her magical destiny, how will she cope?
Amethyst: Princess of Gemworld introduces a new generation to a fantastical place and a truly fantastic princess.
#InPartnershipWithDC
This was really cute!
Amaya was 9 in the beginning of the book. She and her younger brother got into a lot of trouble with pranks. When things went really wrong, Amaya took the blame and was sent to earth for one week. Her brother, Quartz, slipped a small piece of their keystone to her without her knowing and it broke everything in Gemworld. Amaya and her guardian, Citrine (Trina), forgot everything. They were stuck on earth for three years. One day, Amaya and her best friend were pulled back into Gemworld by Prince Topaz. He explained to them that Amaya was a princess and that her family went missing. There was a creature destroying things and no one knew what was wrong. The magic had been messed up for years. Amaya needs to figure out how to save everyone.
This was fun to read and definitely great for younger kids. There is some bullying and talk of divorce. Definitely a bit on privilege, too.
I gave this 4 stars. Thank you to the publisher for my earc for review.
 Excerpt: