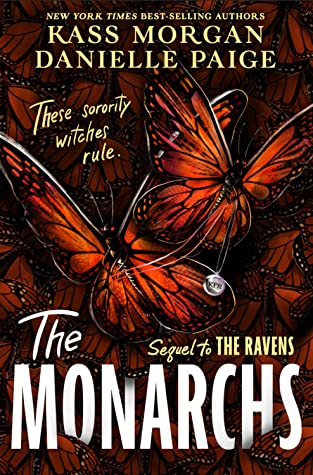 The Monarchs by Kass Morgan and Danielle Paige
In this thrilling conclusion to New York Times best-selling authors Kass Morgan and Danielle Paige's The Ravens, the sorority witches are tested when a rival threatens to usurp their place on campus and the forces of hell come knocking on their door.
The sorority girls at Kappa Rho Nu—the Ravens—are determined to restore balance to the world. After destroying an ancient talisman and barely saving their sorority in the process, they'll go to any lengths to keep their secret as Westerly's most powerful coven of witches.
Scarlett Winter, a legacy Raven, has finally gotten what she's always wanted: the Kappa Rho Nu presidency. After the disaster that killed the sorority's last president, Scarlett is determined that no sister will fall under the sway of wicked magic ever again. But the powers of the presidency have their own pitfalls—and Scarlett has big shoes to fill.
Vivi Devereaux, a freshman, finally knows what it feels like to belong. For the first time ever, she's got it all: her Kappa Rho Nu sisters and a sweet (and hot) boyfriend. When Scarlett assigns Vivi the coveted role of social chair, Vivi is determined to live up to her Big's expectations—even if that means dabbling in a new form of magic.
Unbeknownst to the Ravens, new rivals and ancient evils lurk on Westerly's campus. With Kappa Rho Nu's future on their shoulders and their pasts still haunting them, will Scarlett and Vivi be able to save their sisterhood once again?
This is a book two, so there could be spoilers from book one below.
The Monarchs has points of view from both Scarlett and Vivi again. They are still dealing with the deaths from The Ravens and Scarlett is the new Kappa president. She wants to be the best one they've had. Scarlett appoints Vivi to be the social chair and her first party is a huge success. At first. Then all the magic starts to fail at once. Vivi has been seeing things and it's possible there is unknown magic. Things start to fall apart at the house. The girls aren't getting along well, their love lives are not going well, and there is another sorority competing to host the spring fling. When everyone at Kappa loses their magic, things get even worse. Scarlett and Vivi are pretty sure something bad went wrong when they destroyed the talisman and they don't know how to survive what's to come. Something is trying to destroy the Ravens.
I loved the friendship/sisterhood in both of these books. While I really enjoyed The Monarchs, I enjoyed The Ravens a bit more. This was still good and I thought it all wrapped up well.
I gave this book 4 stars. Thank you to the publisher and Netgalley for my earc.
Warnings for blood magic (cutting), manipulation, drinking, fire, and death.
Have you read The Monarchs?  Is it on your TBR?